We got up earlier that day and decided to give the resort Food Court a try. Well, once we made it to the Food Court it was crowded and there was nothing that we desperately needed to try so we headed to Downtown Disney and have another breakfast at Wolfgang Puck's Express. We both ordered our drinks, a bottle of orange juice each and Tom had some coffee, while I ordered some hot tea. Our main courses were omelettes that day.
Tom had the Denver, Denver omelette - peppers, ham, onions, mushrooms, cheddar and mozzarella cheeses, served with garlic roasted potatoes. I love melted cheeses, so I had the Three Cheese, Tomato and Basil omelette - mozzarella, parmesan and creamy goat cheese, served with garlic roasted potatoes as well. Both were huge and so good! We then went to the art shop to pick up a cross stitch picture and a print for Tom and went over to where they are now doing the "Design your own T-shirt". We watched for a while before we decided we wanted some of those T-shirts for a friend's grandkids.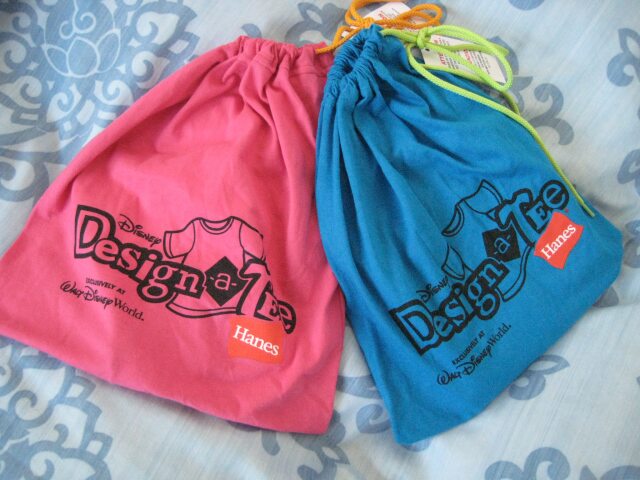 There were lots of designs to play with but in the end we came up with two really nice shirts for a six year old and a one year old. It takes some time to make them, so we had an hour to kill and decided on doing more exploring the shops. Since we wanted to avoid the crowds we finally went to the walkway to the back of the shops to found this fun winter display. Tom and his sunburn fitted in nicely. There was still time left, so we went into Ghirardelli's for a chocolate sample and since there were so many empty tables at the Soda Fountain we decided to have an ice-cream sundae as well. Tom decided on the Strike It Rich - Butterscotch Hot Fudge Sundae - butter pecan ice cream with butterscotch and golden almond nuggets under a layer of vanilla ice cream, hot fudge, whipped cream, chopped almonds and a cherry. I had my heart set on the Gold Rush - Peanut Butter Hot Fudge Sundae - Vanilla ice cream with hot fudge and melted peanut better throughout. Topped with whipped cream, roasted peanut halves, cherry and Ghirardelli Squares milk chocolate. Both were huge and so good! We did our best but neither of us could finish it. Once we were done we picked up our stuff and walked over to pick up the T-shirts – they came out really wonderful.
It was time to go to Epcot for our lunch reservation, so we went to the parking lot, packed everything into the trunk and drove over to Epcot. We arrived at Le Cellier about 10 minutes prior to our reservation, signed in and waited to be called. It did not take long and we were led to a tiny table in the middle of the room. Our server was a fast talker and it was hard following her. We both decided against an appetizer since we were still not very hungry. We ordered Diet Cokes and she brought out the Bread sticks. Tom ordered the New York Strip Steak - with bercy butter, balsamic red onions, watercress, and roasted Yukon potatoes, which he had had before and it did not disappoint. I had the Le Cellier Mushroom Filet Mignon - with wild mushroom risotto, white truffle and herb butter sauce. The filet was very good, tender and melt in your mouth, the risotto was long grain rice and rather mushy, but still the taste was nice.
For dessert Tom ordered the Seasonal Sorbet, which was pumpkin spice, which we later found out was cinnamon flavour. It was too strong for me, even though Tom liked it, but he didn't finish it and it haunted him for quite a while. I wanted to try something new and picked the Apple-Rhubarb Crumble - served with Maple Granola Ice Cream. I was very happy with my choice. After we had settled the bill we walked out through the International Gateway and took a Friendship over to the Hollywood Studios.
What a nice and laid back way to travel. We entered the Studios and there were lots of people. We thought we'd check out the lines at Toy Story Mania, but just as we had thought it was over 90 minutes. So we strolled over to New York Street, had a few photopass photos taken and took a few photos ourselves, before we walked back towards the Sorcerer's Hat and over to American Idol. They were already letting people into the pre-show area outside the theatre, so we just got in line and joined the crowd inside. We were entertained well, there were several CMs warming up the audience and a just a little while later the doors to the theatre opened. That's when we got really lucky. Instead of pushing and shoving like most of the other people we just went with the flow and scored seats right in the middle of a row, without having to leave some seats open, like others did who later had to move over. Our seats were perfect.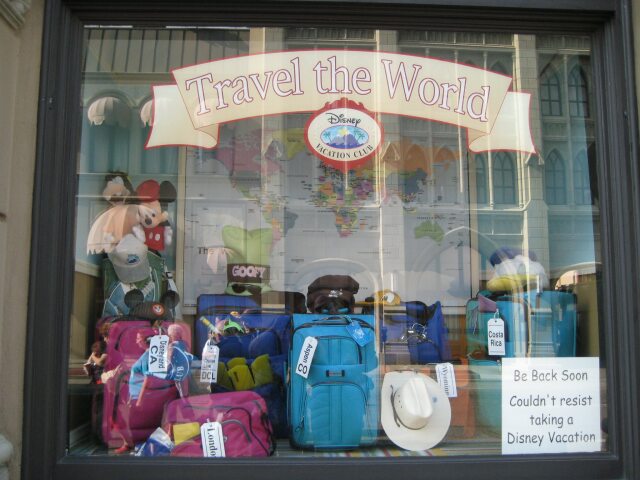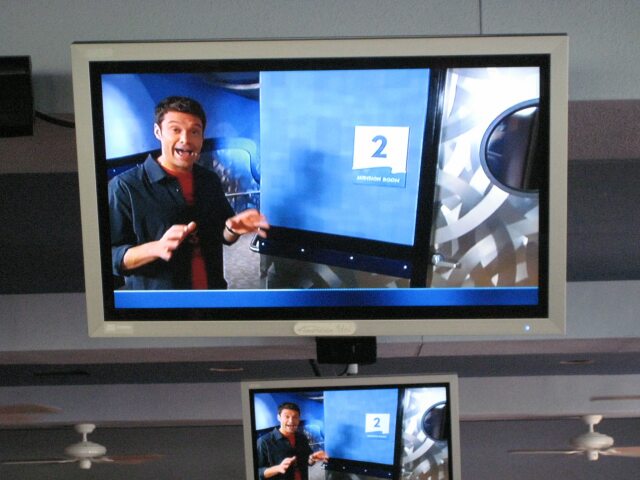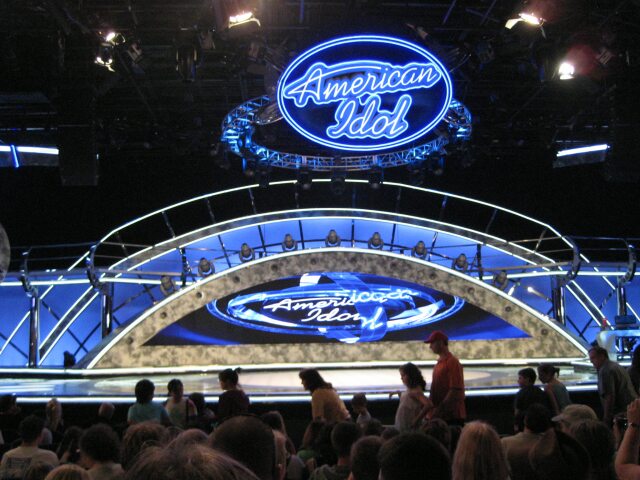 The three performers and the three judges were introduced. The performers sang all quite well and you could see how nervous they actually were. The judges gave their verdict and then the audience was allowed to vote for their favourite. In the end the girl won and was allowed to go on to the final show of the day. After we had left the theatre we checked out the wait times for the rides, but they were still too long, so we decided to head back to the Boardwalk and Epcot to pick up our car.
There was a boat coming in, but the line seemed very long, but we were able to board. When we arrived at the Swan and Dolphin the skipper mentioned that if anyone wanted to go to the Boardwalk it would be faster to walk over than to use the boat, which was going to the Yacht Club first.
So we got off the boat and walked over to the Boardwalk which was about a 5 minute walk and we arrived at the Boardwalk right when the boat arrived at the Yacht Club. We explored the Boardwalk and took some photos before we picked up a Mickey Head Cake at the Boardwalk bakery for breakfast the next morning. Having done our shopping we left the area and went back to the car to drive back to the Caribbean Beach Resort.
It was a beautiful day and we decided to snap a few more photos of the beach area near our room. When it got dark we went back to our room and rested for a while before we headed back to the Contemporary for our dinner at the California Grill. We had the car valet parked and headed for the check in counter on the second floor. Unfortunately our waiter friend wasn't working that day, so we had to give the little present we had brought for him to the restaurant manager to give to him the next day. The manageress was very astonished that guests would bring a present from halfway around the world for a waiter, but she seemed to like the praise for him. We were handed a beeper and wanted to walk out on the platform that overlooks the Magic Kingdom when our beeper went off.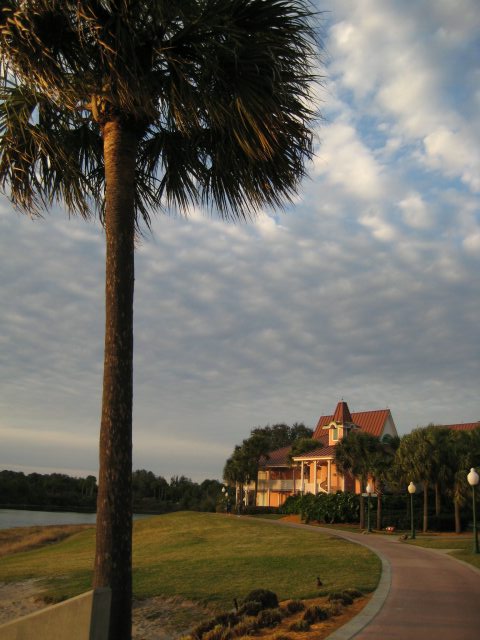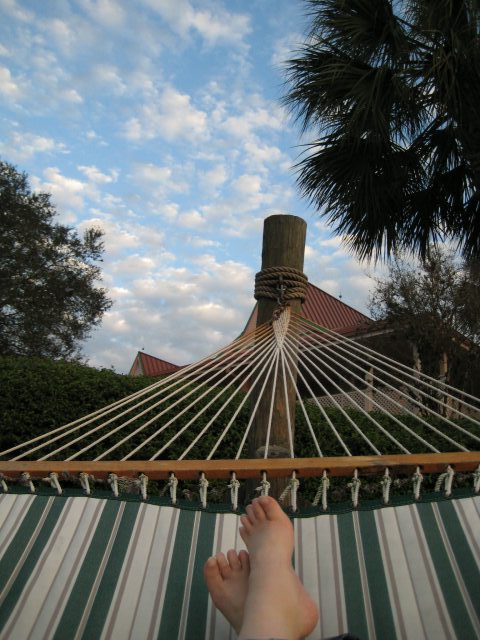 A two minute wait at the most – wow! Our greeter took us to a nice four top in the wine room. We had never been there before and it was a really nice little hideway. When we sat down the Wishes was only 5 minutes away and we thought about asking the server if we could go outside to watch it. She took the drinks order then "sent" us outside to watch the fireworks.
We made it in time for the fireworks to start and it was wonderful as always. They pipe in the music and it is such a different experience. After the fireworks we watched the Water Pageant for about 2 minutes until we went back to our table. Our drinks were already waiting for us. We both had ordered a Diet Coke each and Tom had a Whisky Sour, while I had another Strawberry Daiquiri, my all time favourite drink there. Right there at our table we were treated to another firework – we could see Illuminations from our table. The server took our order for our starter, the slow roasted "Adobo" pork with Fire roasted Tomato Sauce, Queso Fresco and Avocado Crema Flatbread which we shared and it was so good. All their flatbreads are very adventurous and delicious. Next came the Sourdough bread and olive oil for dipping. For his main course Tom had chosen the Ostrich filet, cooked medium over pulled brussel sprouts, mushrooms and butternut squash and a very tasty red wine reduction.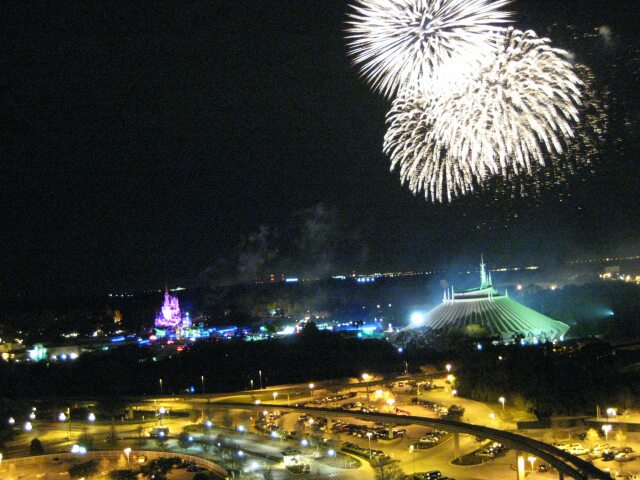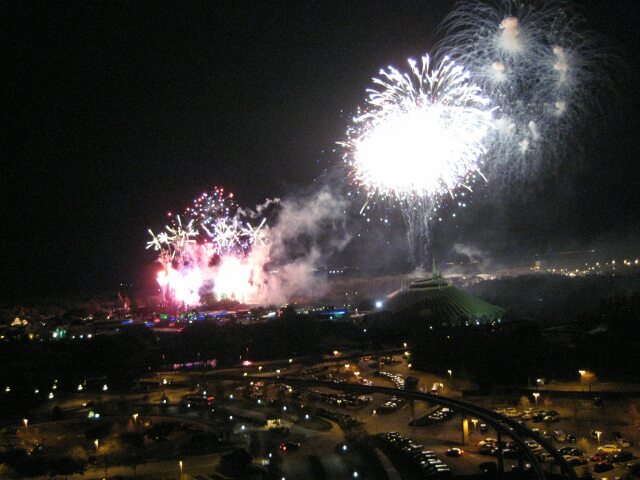 My choice of the evening was the Crispy Salmon on a bed of lentils and wild mushrooms, silky mash and red wine reduction and onion confit. Both were disneylicious! We had already had a lot to eat but you have to have dessert at the California Grill and we both chose the same dessert. Valrhona Chocolate Cake and Raspberry - Warm chocolate cake with molten center, housemade raspberry ice cream and raspberry sauce, heaven on earth!
It took a while to finish it and by the time we left the restaurant was half empty. We went down and left the Contemporary and went back to the Caribbean Beach Resort. I did a little more packing since we were leaving in two days time, before we both called it a day and went to bed.