We did not believe our eyes when we saw the load of people at our tiny airport that morning. Thankfully they didn't all want to go to Frankfurt, so our queue wasn't that long. We checked in, got the seats I had reserved half a year before and went through security. No problems there and we had time to spare, so we went and checked out the duty free shop. We picked up a souvenir mug for Joe and then got on our plane to Frankfurt.
The flight itself was uneventful, the food on the 50 minute flight was nice. A sugar waffle and some coffee or tea and some water. We arrived in Frankfurt on time and checked out where the connecting flight was leaving from, crossed the whole airport and finally found our gate. There was quite some time to kill so we picked up some snacks and had a second breakfast. Tom picked the Pretzel roll with ham and cheese, while I had a sourdough roll with cooked ham, lettuce and tomato.
We both chose some Diet Coke to wash it down. Our plane to Miami left on time at 9.45am and soon we were served some pretzels and drinks. I chose some water and had some medication to prevent cramps. About two hours into the flight some lunch was served. The starter was some cold ratatouille with cubes of "cheese". Tom's main course was duck with "spaetzle" noodles, carrots and sugar snap peas. He wasn't too impressed. I chose the beef Stroganoff with scalloped potatoes and again, carrots and peas. The potatoes were nice, the vegetables nothing special and the beef very tough. Dessert was stewed red berries and cream. Not really my favourite.
After lunch we decided it was time to sleep for a while and we both took some sleeping aid and finally dozed off for quite some time. We woke up right in time to fill in the visa forms and another lunch. This time Tom chose the chicken which he said was quite dry and brown rice with, yes you guessed it, more carrots and sugar snap peas. I thought I'd play it safe and go for the pasta. Two different kinds of pasta, slightly overcooked, with two different sauces, but quite nice.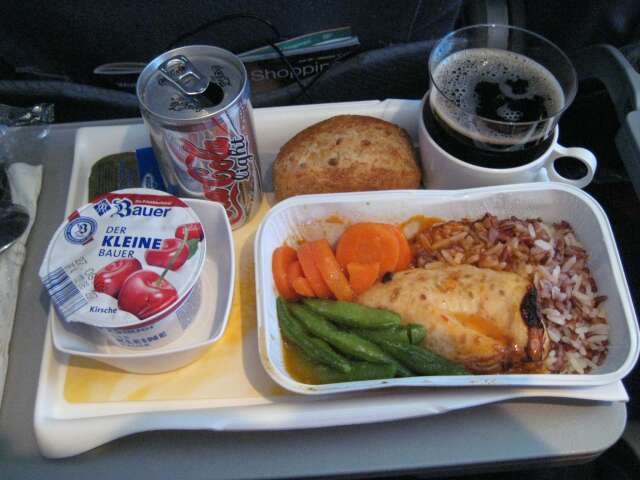 We were only about 1 ½ away from our destination …. we thought!!!! This was when they made the announcement that we would have to do a d-tour because of some strong storms in the Miami area.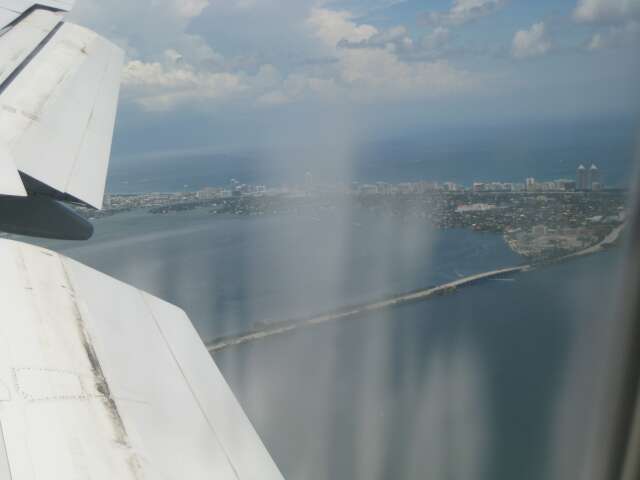 When we finally flew towards Miami it was fun to look out the window, what a view! We had such a wonderful view of Miami Beach! We arrived about half an hour late and were heading towards immigration. No long lines anywhere, so we got in line and waited, and waited and waited and waited some more. There was only one family ahead of us, but the finger scanners and cameras weren't working right so it took forever to get through immigration. We actually waited for an hour before it was our turn.
Needless to say that by that time our luggage had been taken off the conveyor belt and we had to search for it. Once we had found it off we went in search for the rental car company. Since we didn't see any signs we decided to ask someone with NO success. We "don't habla espanol" so no luck! Tom finally waved down the Hertz bus, which took us offsite to the rental station. Another line!!! Finally it was our turn. The lady took down all of the information about Tom and we then asked about the second driver fee which was covered with our voucher. No such thing in their system. We showed her the voucher and confirmation, but NO she would not acknowledge it. She then offered Tom a VW beetle as a "special car". NO WAY would I be seen driving around in this thing for three weeks. I was pretty angry by that time and asked for a manager because of the second driver issue. There was no manager available, but the lady first came up with a number to call and then with an irresistible offer. Instead of the Sebring convertible we had booked she offered Tom a Mustang convertible, his all time favourite car. Well, I can kiss my second driver voucher goodbye for this upgrade! We had to wait for another half hour because this car had to be cleaned. When it was ready we discovered that the trunk was quite small and needed some clever "loading". But after a few minutes we were off to the Best Western Atlantic Beach on Collins Avenue.
We checked in and went to check out our room on the 7th floor. Wow! What a view. Our room had a balcony overlooking the Atlantic. Yes, that view was worth the struggle through immigration! We carried up all our luggage, freshened up and off we went to do some shopping and to have some dinner.
We went to Bayside Marketplace, strolled around for a while and then went to Bubba Gump's for dinner. Bubba Gump's is one of our favourite restaurants and whenever there is one in town we will dine there.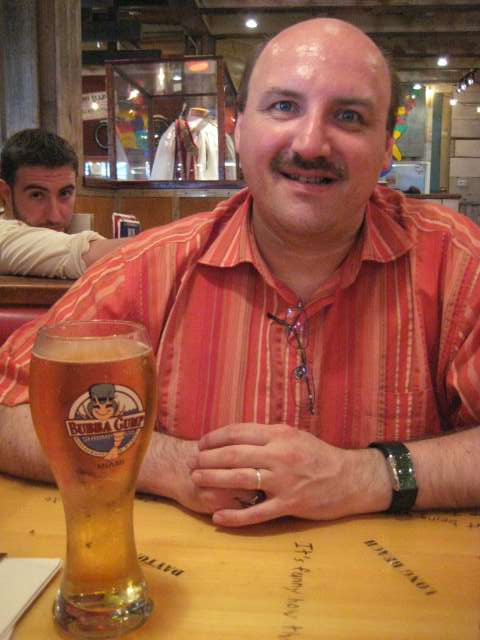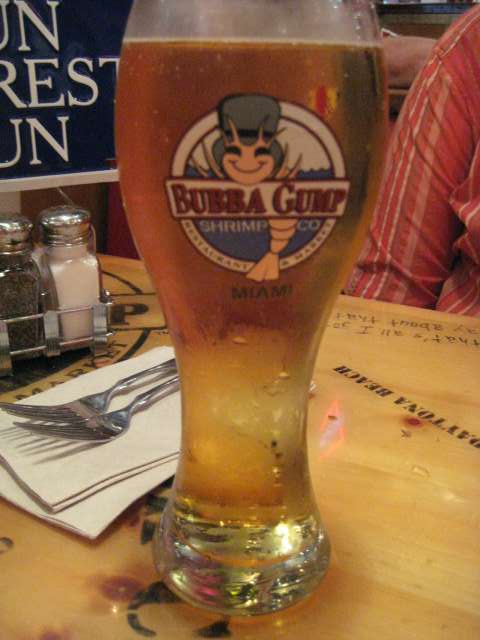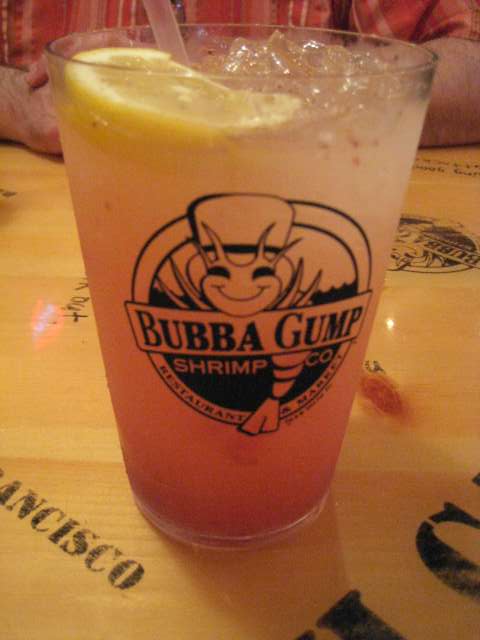 Tom ordered a beer in a souvenir glass – yeah, another one for his Bubba Gump collection while I had my favourite drink, Strawberry Speckled Lemonade.
We decided that our starter had to be the Cajun Shrimp. Shrimp sautéed in their hot and spicy Cajun butter sauce that one can sop up with a helping of garlic bread. That was so yummy! For our main courses we chose the Bubba's After the Storm Bucket of Boat Trash - deep fried shrimp, slipper lobster and Mahi Mahi, served with fries and the Dumb Luck Coconut Shrimp served with Cajun marmalade and fries! Both are old favourites like the Cajun shrimp.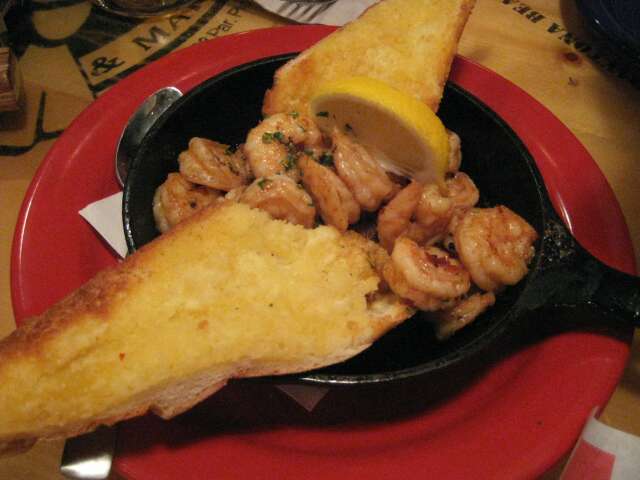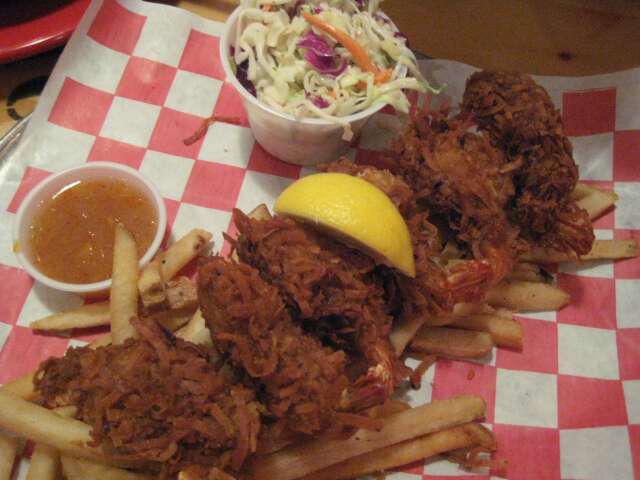 We enjoyed our dinner very much and since our day had been very long we were ready to leave and go back to our hotel after dinner. On the way back we passed a Walgreens and picked up some drinks and snacks, so we would have something to nibble on while watching TV at the hotel. The parking for the hotel was actually 2 blocks from the hotel, but in the end just a short walk away and we were back at our hotel to enjoy the view from our balcony.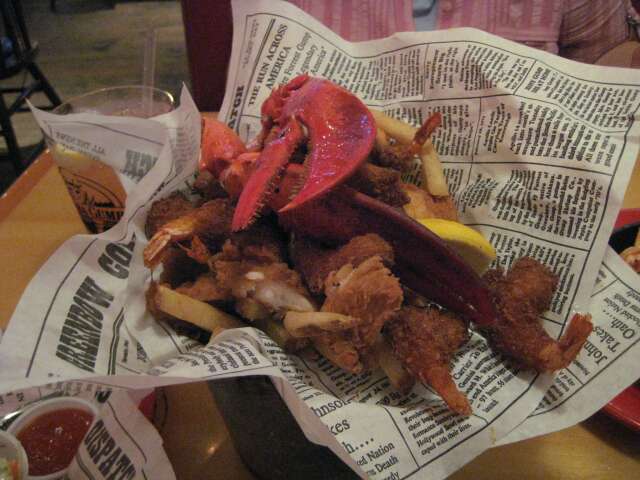 Unfortunately we were too tired to enjoy it for too long. Our day had been very long by then and we went to bed a little earlier than expected.