We got up at 3.30 on this cold December morning. Since we had both been at work all the previous week a lot of things had been left to the last minute and had been done the day before. We had only gone to bed at around 11.30, so we barely had had 4 hours of sleep. It took a while to get "going", but we needed to make a move on. We had a quick breakfast of tea, rolls and some cold cuts before we went to the airport.
Once at the airport we parked the car in their lot and slip slided over the icy parking lot to the departure hall. There aren't many flights leaving at 6 in the morning so check in was fast and our plane was on time.We got on and off we went. They were serving hot and cold drinks and we just had a cold drink and a "Linzerkipferl" that they handed out. We arrived in Frankfurt right on time and we started our LOOOOONG trek across the airport to our connecting flight. When we arrived we still had some time left and we bought some Diet Coke and had some brioche we had brought with us. We sat there for quite some time until our plane was ready for boarding. Boarding itself was fast and we actually took off right on schedule. So far it had been a good start to our vacation. On our second flight we got a sandwich, some Coke and a chocolate bar and we were approaching Paris Charles de Gaulle airport.
It takes forever at that airport for the luggage to make it to the conveyer belt, so to beat the crowds Tom went to get our rental car, while I waited for our luggage. Well, I waited and waited and waited and finally some pieces of luggage appeared, not ours, so I waited some more and then some more and a few more pieces of luggage. I was watching the overhead board and it said they were still delivering luggage from our plane and there were still a few people around, but I was getting anxious.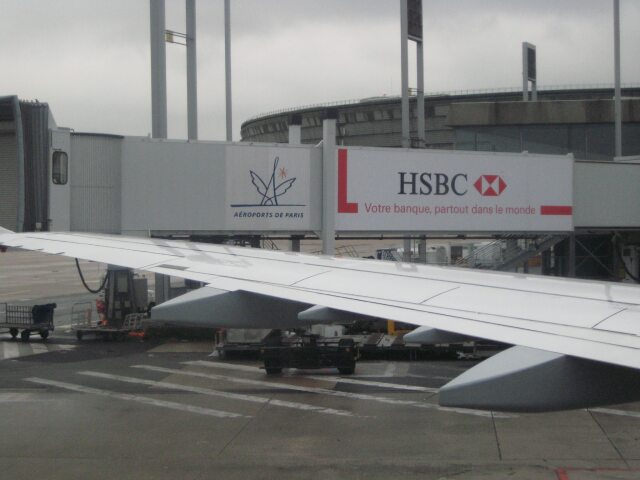 More than once our luggage had not arrived and I was picturing myself at lost luggage. Finally an hour of waiting later the last few suitcases arrived and ours was one of them. I was VERY relieved. By then it was past 11am and I headed outside to meet Tom. He had waited outside for ¾ of an hour and could not believe that it had taken SO long for the suitcase to be delivered. But at least we had a car and so we went to the elevator to go to the rental parking lot to pick up our car. We checked to car for damages and there was a wide crack where the metal of the hood was supposed to meet and a long scratch at the side. So I tracked down one of the Hertz people to have them make a note of both and he did make a note of the scratch, but told us "They make them so" when pointing to the crack. "They make them so" has now become a running gag between Tom and I, since they do NOT make them so!
We got into the car after all, put on our navigation device and started our journey to Disneyland Paris. After about 5 minutes on the motorway we hit the first traffic jam. We got onto another motorway and we were STUCK in another traffic jam. There are about 50 km between the airport and Disneyland Paris and we had managed to go about 30 km so far. A little while later we came to an overhead roadsign that read – DISNEYLAND PARK – complétement – DISNEYLAND PARK – FULL!!!!! Just what you want to read on the way to THAT park. The traffic jam stretched all the way to Disneyland Resort and it took twice as long as it usually does. By then it was past 1pm and we took a chance and checked into our hotel, the Kyriad.
According to their internet website check in time is 3pm and maybe we would get lucky. So we went up to the front desk, filled in all the forms and she got a key ready …………….. then asked if we were okay with just one bed in the room. NO! Well, a twin room was not ready, but we were handed a small card and told to come back at 3pm and our room would be ready then. So, we decided to go shopping instead. We went over to the Auchan market, where we picked up some food and drinks for our first evening and some other things we had wanted to bring home. We even checked out the Disney store that is in that shopping center and the 2 hours were gone by fast. Back to the hotel we went. We handed the girl at the front desk our card and she didn't even look at it, just told us to sit down and wait for another hour – check in would be after 4pm. Well, I don't travel that far to sit and watch her chewing gum.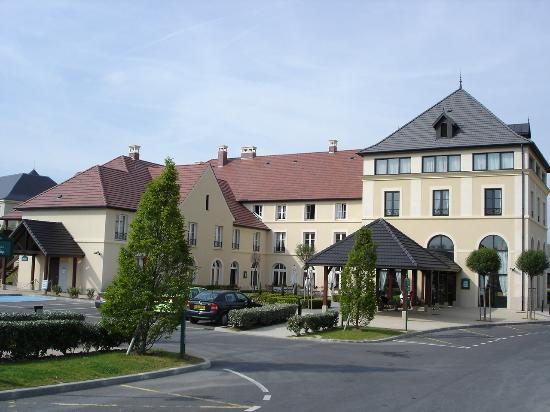 We left again and this time went to the Disney main parking lot. There were two booths open and when we got to it we were told that they would let us park but we could not enter Disneyland Park because they were full to capacity, but we could go to the Disney Studios. We asked if we at least would be able to buy an annual pass there and she doubted that. That's when I had enough and asked if we could leave without the parking ticket. Yes, there was a return to the real world. At that time I was so fed up I really felt like NOT renewing my annual pass and spend the time sightseeing in Paris. But there was one more thing we could try. We went to the Disney Village, parked at their parking structure and went over to the Studios. We were able to buy our annual pass there, but it needs to be exchanged on your first visit. So we asked if there was anywhere inside the Studios where we could exchange them. Yes, actually outside the Studios you can exchange the pass, but the wait time was around 90 minutes (the park was going to close in 2 hours, LOL)!
We decided to try later and went inside. When we asked at Guest relations how long the annual passholder office was open we got an answer that was different to the one before. They are NOT very helpful there and I complained that as a European it is VERY easy to buy an annual pass for Walt Disney World or Disneyland, but you aren't able to buy an annual pass for Disneyland Paris. One of the ladies than handed me an application form which I would be able to send in with a photo and the money and they would send me an annual pass. LADY, I already bought the pass – I just need it exchanged. Reaction – shrugged shoulders. We left and checked out the wait times, but we both could not be bothered with waiting for 90 minutes to ride the Tower of Terror. So we left the park and tried our luck at the Disneyland Park. The main gates were closed, but the gates to the far right were open and we got in. Yeah! The park was packed!!
We used the connecting passage at the side to walk through to the back of the park and try if we could get our pass exchanged there. Once we had made it to the annual passholder office we were surprised to see that there were hardly any people there. It took us all of 10 minutes to get our passes exchanged and we got on our way. There was no way to get on any of the rides at that day, ALL the lines were at least 90 minutes long.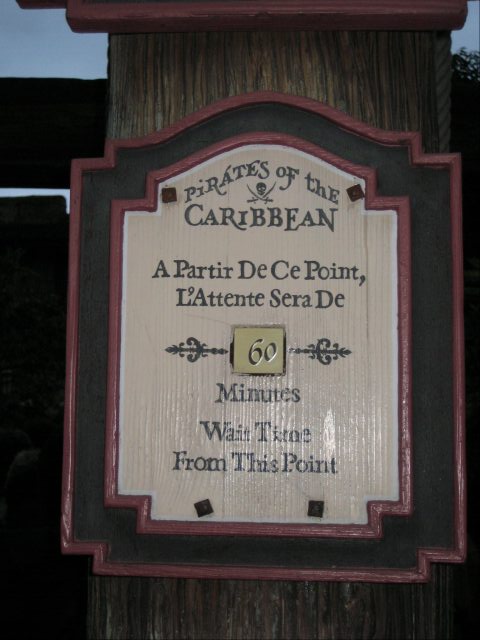 We both had no desire to wait so long, so we just strolled through the park, went from shop to shop and made our dining reservation at Walt's for the third day. By then it was past 6.30pm and we decided to call it a day and go back to the hotel and have an early night, even though the park would be open until 10pm. We left the park and went through Disney village, checking out the merchandise in the shops and we wanted to make a reservation at the Steakhouse in Disney Village for the next day. We got there to find the doors closed because they were having a private party.
So, something else to do the next day, so we picked up the car and went back to the hotel a third time. Handed over the card and another lady handed us our room key. Key in hand we went upstairs to have a look at the room. Guess what, it had just one double bed. So back to check in and we were assigned another room. This time it was a twin room, just a little further than the other room. All our stuff was still in the car so we started hauling everything up. When we finally got settled in the room we were happy we had left the drinks in the car – they were really nicely chilled. We hadn't eaten since the morning, so we picnicked in the room and were in bed by 9.30. It had been a LONG day indeed. Let's hope for a better one the next day.