While we were there the restaurant started filling up and once we left there were even a few people waiting in the foyer. We went back to our room, got ready, packed our backpack and handbag and were ready to leave for the park but before that we took one more look out the window and were just amazed. There was a HUGE line OUTSIDE the breakfast restaurant! Now it got really crowded. We were so happy that we had been lucky to get that 7.30am voucher.
This crowd was nothing I would have liked to be stuck in. We decided on driving over to the parks ourselves instead of using the free shuttle and in the end were glad we did. Since parking is free at the resort hotels for annual passholders we went to the Hotel New York and parked there. You have to walk through the hotel and through the Disney Village to get to the parks. Once we had reached the square in front of the parks we decided to skip Disneyland Park for the moment since practically everyone was heading that way.
So we went over to the Walt Disney Studios. We were surprised to find that they were packed as well. But nevertheless we tried to find some shorter lines. First we picked up a Fastpass for Tower of Terror which was for about 2.5 hours later, before we went over to Crush's Coaster.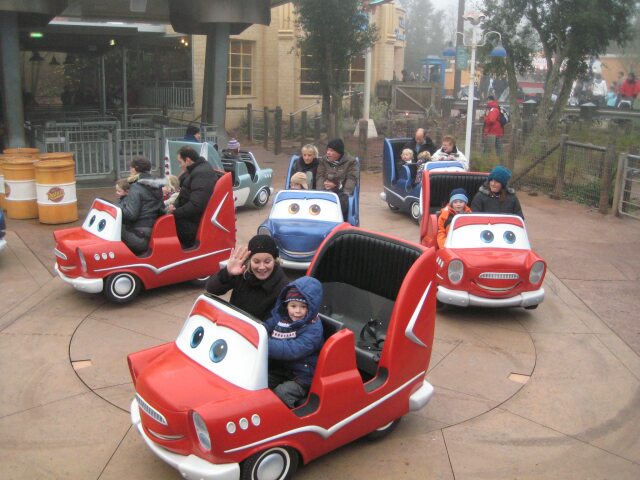 It had a more than 90 minute wait and it may be a fun ride, but definitely not worth the wait in the cold. It was very foggy and we decided to walk over to the Cars ride and watched for a while. Then we walked over to the Backstage Tour, maybe we could get on that. Hm, with a 120 minute wait, I actually don't think so. Since we passed the Tower of Terror we decided to warm up a bit inside the shop and even bought a few bits and pieces. There was still time left until our Tower of Terror Fastpass were going into effect.
So we decided to try and get Guest Relations to book our table at the Steakhouse. As soon as we went into Guest Relations in the Walt Disney Studios I could tell it were the same people as the day before and we were no longer trusting them.So we decided to change parks and go to Disneyland Park to try and make the reservation and maybe pick up a Fastpass. Once we were inside Disneyland Park we could see that there were again a lot of people there.
We went to City Hall and got the reservation for the Steakhouse and we were told why the parks were so crowded. December 6 is St Nicolas day and that is one of the biggest holidays in France, so this is why "everybody" seemed to be in the parks. When we walked through the Emporium we heard Disneyland's Character Caravan approach.
We went outside to take some photos and back to Lilly's Boutique and then took the shortcut into Frontierland. Maybe there would be a Fastpass for Big Thunder Mountain to be obtained. Yip there still were some and even for a reasonable time. We got in line and when we got to the machine we discovered that it was broken and a Castmember was handing out Fastpasses without putting them into the machine – GOOD!!! – means we can get another Fastpass somewhere else.
We went over to the Indiana Jones ride and it said it was only a 25 minute wait, so we got in line and it was a 25 minute wait, but it is a really nice ride and worth the wait. By then it was time for our Tower of Terror Fastpass, so we were leaving the park, but on the way out we picked up another Fastpass for Space Mountain.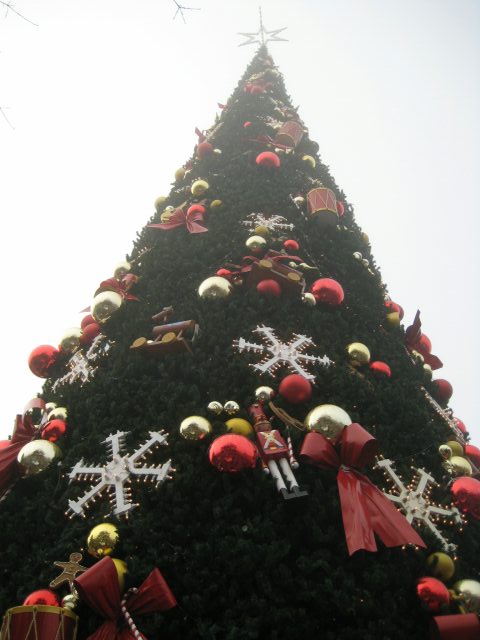 Back in the Walt Disney Studios we got on Tower of Terror and even though the narration is in French it is always a fun ride. After the ride we wanted to go down to the Rock'n'Rollercoaster but when we passed the new Stitch Live! we just wanted to have a look when the next show in English would be, and they were just telling people to get in for the English show.
We squeezed in with the rest of the people without a minute of queuing up – nice! We were in the actual theatre within 5 minutes and got a seat in the last row. The theater was packed and Stitch appeared on the screen. He showed off his spaceship then turned to the audience. First he joked with the audience than he pointed out someone who had no hair on his head but plenty in his face.
Everyone was looking around until Stitch pointed him out, he was sitting next to me in the last row! Stitch had picked Tom. They had a brief conversation about where they could have met and then Stitch revealed the truth. He addressed Tom as an old acquaintance from Space Prison!! Stitch then turned towards a young woman sitting towards the front and a child but we were in stitches about Stitch picking Tom.
Back we went to the Disneyland Park. Thank god it is just a very short walk from one park to the other. We went up to the train station to take a few photos, then down Mainstreet in search of a restaurant where we could get a bite to eat and while searching we picked up another Fastpass, with rather a short wait, for the Indiana Jones ride.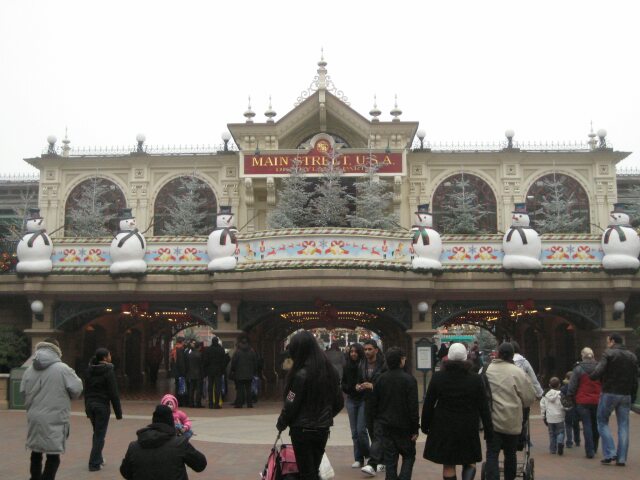 But ALL the restaurants were packed, so we got Mickey cookies, Chocolate Mint Fudge and Chocolate Coconut Fudge at the Boardwalk Candy Palace and some hot chocolate. While we were standing outside on Main Street munching our goodies we could not believe our eyes, but there was snow on Main Street and on Main Street only. So we had a little Christmas spirit before we went over to Big Thunder Mountain to ride the runaway mine train.
Needless to say that we did pick up another Fastpass before we went on the ride. We slowly walked through the park, checked the Phantom Manor, 65 minutes, no thank you, then went over to Pirates of the Caribbean, too long a wait and no way you could ride anything in Fantasyland.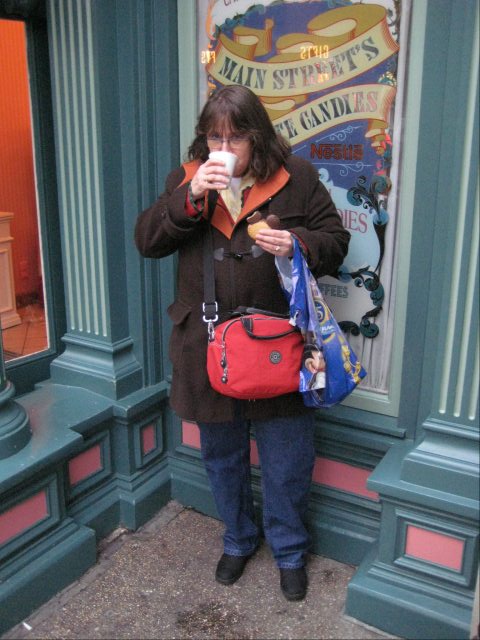 So finally we made it over to Space Mountain and got into the Fastpass line. As always it was clogged with people waiting for their Fastpass time to start, so we went up to the Castmember and showed our Fastpasses and were allowed in and were stuck right after we had entered the building. It was packed! It took about half an hour until we were able to ride it. This is one ride I can only ride once. It pushes you around too much and you bump various bodyparts several times. So, after we got off we marched back over to Frontierland, doing a bit of window shopping until we could use our Indiana Jones Fastpass. And it came in very handy as the regular line was more than 90 minutes.
After that adventure we left and walked towards the Disney Village. Our reservation for the Steakhouse was for right at opening time and we spent a little time in the shops at the Disney Village to decide on what to buy later. Once we arrived at the Steakhouse there was already a line and finally a lady looked for people who had reservations. So when we were checked in it only took about two minutes to be shown to our table. After we were seated and handed our menus our waiter brought out some rolls and some D'Isigny butter. Tom had the State Side Steak'n'Shrimp. Surf and Turf skewer of filet steak served with king prawns, baked potato, onion rings, mixed salad and sauce Bernaise. It was a generous portion and he liked it very much. I had chosen the Kobe Burger. The Connoisseur's choice of burger made from Australian Kobe beef, topped with "Di Buffalo" mozzarella, bacon, red onions, tomatoes, rocket, served with fries and onion ring. It was nice, but not as nice as I had expected. Naturally we had to try dessert as well. Tom had the Steakhouse Profiterole. Giant Profiterole – Puff Pastry stuffed to the brim with Max Havelaar vanilla ice-cream, whipped cream and hot chocolate sauce. They were right, it was a giant profiterole and far too much for one person. I wanted to try the Irish Coffee Tiramisu. Well, it didn't remind me of tiramisu at all, but it was nice and far too rich. So we paid our bill and went back to the park.
We took a few photos of the park at night, but the park was still too crowded to get on any rides, so after walking around for a while and doing some shopping.
We went back to the Disney Village to do some more shopping. Loaded with bags we went back to the car and drove to the hotel. After we had relaxed for a little while we started packing and then we noticed that one of the T-shirts we had picked out and paid for was missing. Well, there was always the chance of picking one up the next day, but it did cut into our discount savings, having to pay for it twice. We got to bed at round 11pm and it didn't take us long to fall asleep.