We picked up another one of the shirt that we had not received the day before, paid for it and then I asked the Castmember if she could remind her other colleague to check if he had put everything in the bag before he handed it out.We showed her the name on the receipt and she asked us to tell her the whole story then got on the phone and got another Castmember over and handed us the money back for the shirt.
She called it Disney customer service! We were stunned. Happy we went over to the park which was to open in about 30 minutes. They start letting people in at that time, so that was no problem. But the regular guests can only go up to the hub.
Only Disney Resort Guests and Annual Passholders can go through to Fantasyland for Morning Extra Magic Hours. We approached the Castmember who was waving Hotel Guests through, but stopped us when we showed her our annual passes. She explained in great detail that only hotel guests were allowed and I told her annual passholders were allowed to. Well after a short discussion she asked another Castmember who told her WE were right.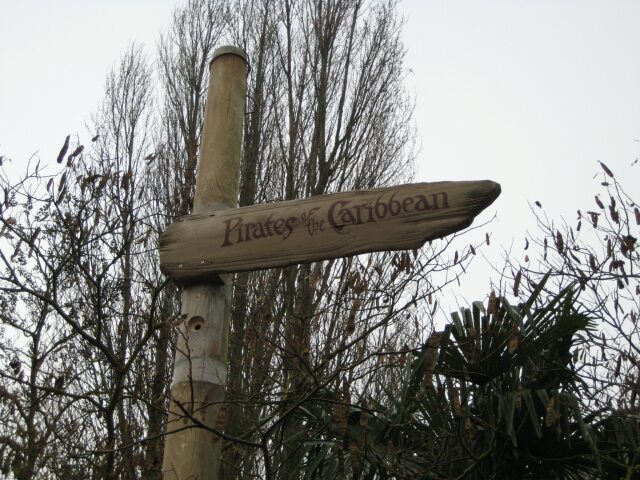 Not really the customer service I would expect from Disney. Guests knowing more than the actual Castmembers. So we went up to the castle and strolled through Fantasyland. It's a small world was still closed, Peter Pan had a HUGE line and the shops that were already open were crowded. But since it was only 5 minutes until rope drop we went over to the entrance to Adventureland to be able to go on Pirates of the Caribbean.
Once the rope was dropped we followed the people over to Pirates and got on with no wait at all. Our next goal was it to pick up some Fastpasses for Big Thunder Mountain and you could tell there were no crowds that day as the return time was just about an hour later. So we walked back to the Indiana Jones ride and what surprise, no line, so they were only using half the ride vehicles.I love this ride right after breakfast, we call it "Turn over the breakfast" ride because of the loop.
When we got off we could see that the lines hadn't built up yet, so we just got in line right away again. After our second round on the Indiana Jones coaster we decided to walk over to Phantom Manor and yet again, no line! We just love walk ons.
Lucky for us the Doom Buggy stopped right in front of the piano scene and we were able to take a good photo of the shadow of the ghost. When we got off the ride it was already time for our Big Thunder Fastpass. Before getting on the ride we picked up another one which we wanted to use after our lunch at Walt's. We hoped that we would be able to still squeeze it in, since we needed to drive to the airport by early afternoon.
So we got in line for Big Thunder Mountain Railroad and there was only a short line for Fastpass.We got the last cart without even asking for it and enjoyed our ride a lot. Since it didn't make much sense to get in line for any other rides we went back to Mainstreet and picked up a few small bits and pieces and some more Mickey cookies. Then it was time for our reservation at Walt's. This has always been a favourite of ours and we make it a point of having a meal there every trip. We checked in and were seated about three minutes later. We got a nice small table for two right at the main window of the room, so we had a good view of Main Street
Our waiter was young and very helpful and nice. We ordered some Diet Cokes and decided on the three course menu. Before our starters came out we were served some bread rolls which were still warm and some butter. Very nice! Tom had the New England Clam Cowder – clams, potatoes, lardons and onions. He has had that before and likes it very much. I tried something new. Smoked Salmon, crab meat with Granny Smith Apple and a toasted Bagel.
I didn't find the crab meat anywhere, but the salmon was melt in your mouth and the sauce went very well with it. For our main course we had both chosen the Grilled Filet of beef, Cabernet Sauvignon Sauce, celery chips and seasonal vegetables. We both ordered it medium.
It took quite some time for them to come out after we had finished our starters and so we were treated to another "snow on Main Street" experience. When our main courses finally arrived I thought that both looked dry and boy, they were! They were not done medium they were really well done. I had trouble cutting into mine so we both decided that with a price of €37,- we should send it back and we did. The server apologized a few times and when he brought out the new plates waited if they were cooked to our liking. Well, mine was still medium done, but it was very tender and still moist so I didn't mind and Tom's was just cooked as he wanted it. So we were both very happy with our main course. Right when we had finished our main course and were handed the dessert menus Tom got a test message. It was from the airline, Lufthansa, to tell us that our flight home had been cancelled. Now that was not such good news and I went outside to call them and ask what could be done.
Reception was not very good, but in the end I was able to book us on the very late flight, which left Paris at 7.10pm instead of 5pm. There was supposed to be enough time to get to our connecting flight to Linz and we should have been home by 10.25pm. So we went on to concentrate on our dessert choice. Dessert is usually something special at Walt's and this time they didn't disappoint us either.
Tom had chosen the Apple Crumble, Salted Butterscotch Ice-cream and Chilled Cinnamon Compote. It was very yummy. Even though I was full I could not resist to try the Rich Chocolate Cake, Brownie Ice-cream and Mint Sweetmeat. It was a wonderful dessert and I would order it again in a heartbeat. After we had finished our meal and paid the bill we went back to the park. We had been given two more hours of park time, so we were going to enjoy them.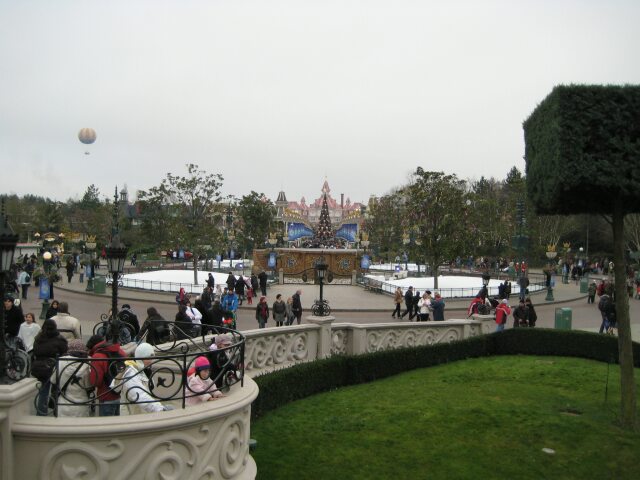 We used our Fastpass for Big Thunder Mountain, walked over to Fantasyland and back to the castle to take a few more photos down Mainstreet before we decided to leave the park and drive to the Shopping Center to pick up a few more things we wanted.
It was nice to have enough time to still walk around and have a good look at things, before we filled up the car with gas and drove back to the airport. We returned the car and went downstairs to check in. Once we reached the Lufthansa counter we were shocked to see A LOT of people queuing up in front of the ticket counter.
It looked like not only our plane had been cancelled. We checked in, got seats together on both flights and went to find some seats to finish off any leftover drinks and the crisps we still had. While we were sitting there anxiously awaiting our time to board the plane Tom got another text message from our airline. Our plane was delayed, at least 20 more minutes. Now, that would make it for a tight squeeze to catch our connecting flight, but it was still doable.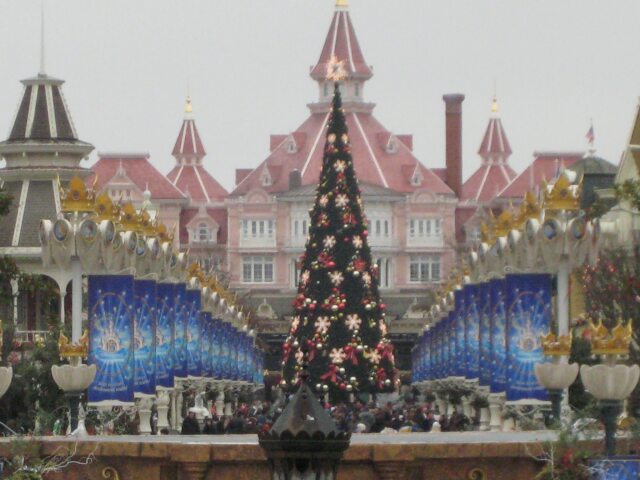 From that time on about every 15 minutes Tom got text messages from the airline. Nobody would tell us why there was such a huge delay and so many planes cancelled, so we started calling friends to find out if there was something going on in Frankfurt. No one seemed to know anything, and even though we were told our connecting flight would be late as well we had to prepare for not getting back home in time. So we both called co-workers and let them know that we were stuck in Paris. Our plane finally left at 8.35 and by the time we would be landing in Frankfurt our plane to Linz was supposed to take off. During the flight we were informed that fog was the reason for all the delays. At least it calmed our nerves.
They were still handing out cheese sandwiches and chocolate bars and hot and cold drinks, but the sandwiches were so dry I couldn't even swallow one bite, so I stuck to the chocolate and Coke. As "luck" would have it our arrival gate at Frankfurt airport was located at the complete opposite end of our departure gate. So that meant a long hike or better jogging across the airport, since our plane to Linz was still delayed.
We ran, but in winter clothes and with luggage this was not an easy thing to do. For the last part of the way I was so out of breath I told Tom to go ahead and tell them I was trying my best, but that was it. When I finally made it to the counter the lady made a "fun" comment, which I did not find funny at all and I did let her know. We were then told to go downstairs and take the bus to our plane. The plane was packed and all the overhead bins were so full I had to hold my carryon, with our coats put on top on my lap. I have never been allowed to fly with something on my lap, but the stewardesses didn't seem to care at all. We could not believe it, but even though we had been hurried across the airport, we were now locked up in the aircraft for more than an hour. We left Frankfurt right around midnight and got back to Linz by 1am. Since we had been sitting in the plane in Frankfurt for more than an hour we were sure our luggage would be on board. Well, we were WRONG!
Luggage is brought out fast here, so when the conveyer belt stopped we knew that was it. So we went to the lost luggage counter and I was not very happy. Poor lady there, who had to deal with me. We picked up our car and I drove Tom up to the house, then went back to my flat and in was in bed by 2.30am. Tom was supposed to be at work at 5am and I was supposed to get up at 5.15. Needless to say we both were very tired at work that day.