On February 14, Valentine's Day, we started our Pirate Adventure!
I got up early, got the rest of my stuff and put it in the car, locked my flat and drove to the baker to get some rolls for breakfast. Then I went to Tom's where we had a leisurely breakfast. Our flight left at 11.30, so there was lots of time to have a laid back morning. At 9.30 we put all our luggage into Tom's car, locked the house and left for the airport. We arrived there at around 10am, parked the car and went for check in.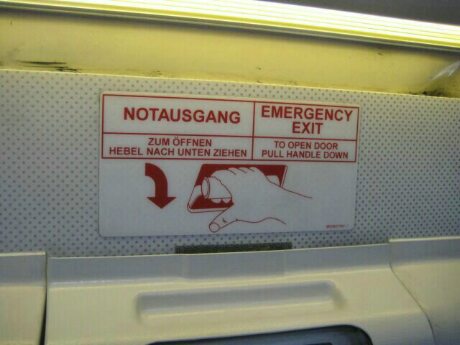 We were so lucky. There was NO one in line ahead of us. We went up to the check in counter, got our seat assignment for both, the flight to Frankfurt and the flight to Orlando and went through security. There were several delayed flights, but ours was on time. Yay! At 11am boarding started and boy were we surprised to have scored a seat at the Emergency Exit. These are the only seats with legroom!! Nice start to our birthday vacation.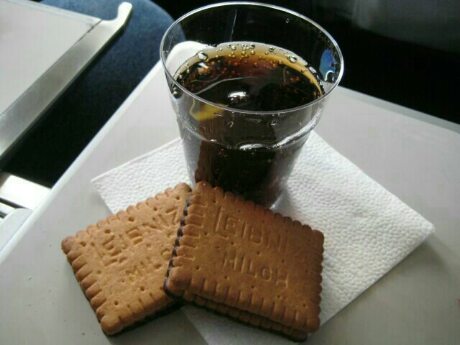 We took off on time and soon after that the flight attendants served snacks. We both had Diet Cokes and the cookie snack that was handed out. The flight to Frankfurt is short, 55 minutes, and by the time we had finished our snack, it was time for the plane to land in Frankfurt.
We had about 90 minutes to get from one gate to another, so we started the long trek across Frankfurt airport. We had to go through passport control and more security before we were able to do some duty free shopping. Then we headed towards the departure gate, had a drink and found a place to sit and wait for boarding.
We can't have sat there for more than 10 minutes when they called us to the departure desk.I had visions of us being put on another plane, which had happened to us before, but the surprise came, when we actually spoke to an airport employee.
She mentioned that we had hit the jackpot – we had been upgraded to business class!!!!!!!!!! The grins on both our faces were HUGE and we immediately sent a text message to the catsitters to let them know of our lucky streak! About 25 minutes later we boarded the plane together with other business class guests and found our really comfy seats. The flight attendants in charge of business class helped stow the luggage and settle us in.
We left on time and were served some snacks right after we had reached cruising altitude. Tom and I chose to try some of their German white wine to celebrate the great start to our trip. We both had some roasted, salted Macadamia nuts with it. Our glasses were constantly filled and lunch was served a short time later. And what lunch it was! It started out with an appetizer being served. Tom had the Shrimps Cocktail with Herb Mushrooms, while I had the Fruity Chicken Salad with Stilton Cream and Almonds.
Both were served with a Mixed Lettuce with Tomato served with Ginger Lime Dressing and a fresh roll. Heaven on earth! Shortly after we had finished our starters the main courses arrived. Tom chose to try the Stewed Halibut served with Mustard Sauce, mixed Vegetables and mushy Peas. It looked and tasted like in an expensive restaurant. I had the Fettuccine Pasta with creamy Mushroom Sauce and white Cheddar. Perfectly cooked pasta with a wonderful tasty sauce, what else can you want?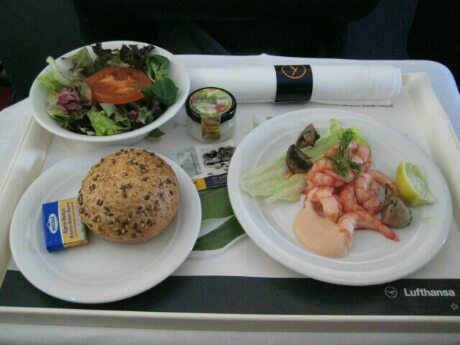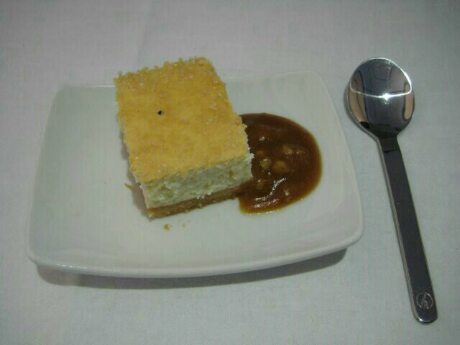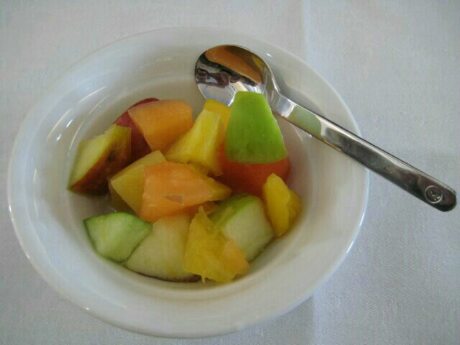 Never during all that time did our glasses get empty! Finally the desserts arrived. Tom had some really fresh Fruit Salad with Mango and Papaya, while I chose the Shortbread Cheese Cake with Apple Caramel. Very good offerings. We were stunned with all the yummy goodies we had had, and really enjoyed being served some coffee and tea as well and we were served some chocolate truffles with them. After that huge meal we were tired and tried all the different functions of the seats, turned them into beds and had a rest, while still watching movies. What a way to travel. About two hours before we were supposed to land dinner was served – we were offered more alcoholic beverages, but declined, because we were to pick up a rental car. Tom had Roasted Breast of Poulard with Romaine Lettuce, Carrots and Basmati Rice with Almonds, while I tried the other dish they offered, Roast Beef with Mixed Pickles and Pumpkin Ginger Pie with English Mustard Sauce.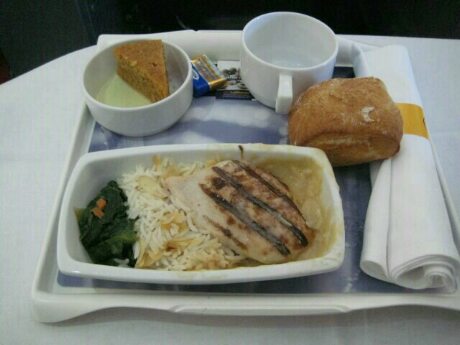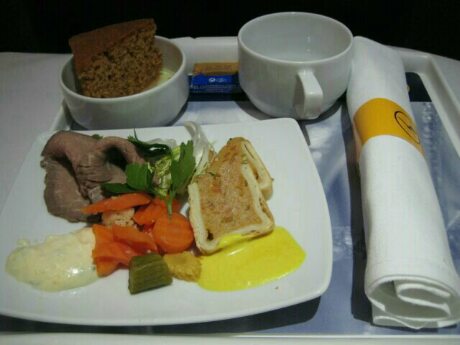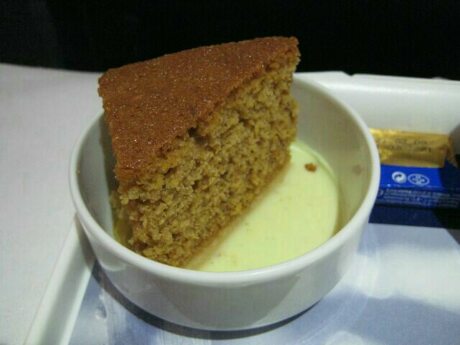 Both dishes came with a roll and Treacle Tart, English Cake with golden Syrup.
A short time later we arrived in Orlando, much better rested than we had thought we would. Since we had been in business class we were one of the first people to leave the plane and were able to get in line for immigration fast. The line itself moved very slowly. It took us about an hour to get to the front of the line and then go through the immigration process. We picked up our luggage and cleared customs and went to the rental car counters. What we found was the longest line I have seen in a long time. It took us more than an hour to get to the front of the line and finally to someone to assign us a car. We had prepaid the car with all the insurances there were and the young lady behind the corner was rather annoyed there wasn't anything to sell to us. So she told us to get Sunpass, but since we only drove a short, about 3 $ worth, distance we declined and she got really annoyed. We were finally assigned a car and went to the parking lot to pick up the car. When we finally found it, the car was nice, but it was a large car and there was nothing to cover the boot of the car and you could clearly see inside.
We didn't like that, so I went back to ask if there was another choice and it took a long time to be assigned another car. After we had finally loaded our stuff into the car, we positioned the GPS system and off we went towards Walt Disney World. We arrived at the Caribbean Beach Resort at around 10pm, check in was easy, even though the Cast Member was very tired and yawned a few times. We drove to Trinidad South and went to check out our room, which we found without a lot of trouble.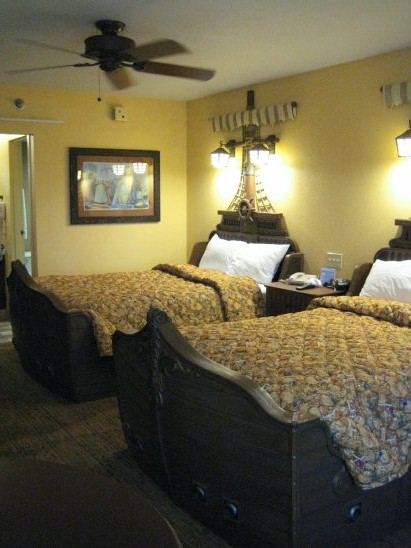 The room was nice, but smelled like it had not been aired in quite some time. We left some fresh air in and checked out the room. You could see the room had not been used in a few days before everything needed a good dusting, but we were too tired to care much for the dust. We "threw" everything into the room, got changed and walked over to the food court, since we were hungry again. The foodcourt did not look too appetizing because they had already started closing it down.
We finally decided to go to Downtown Disney to pick up some sandwiches from Earl of Sandwich and some drinks from the Hess gas station across the street. Picking up the sandwiches was a breeze. Tom had The Original 1762 - fresh roasted beef, cheddar and creamy horseradish sauce, while I ordered the Tuna Melt - albacore tuna salad and Swiss cheese. Within a few minutes we had our late night snack in hand, headed out the door and back to the car and drove across Buena Vista Drive to the Hess station.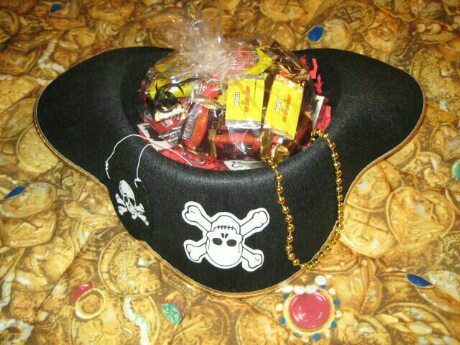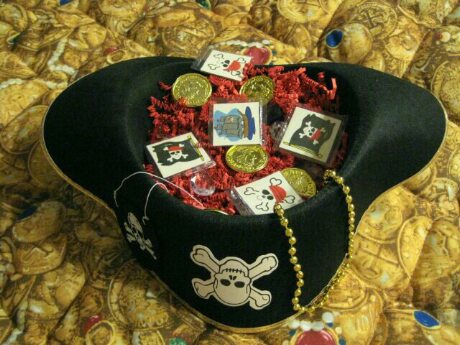 We were surprised to find really good deals. The Diet Coke we picked up was way cheaper than at Walmart or Publix and the chips were much cheaper as well. Since they sold Krispy Kreme doughnuts we picked up a few as well. We drove back to the resort, where we had a surprise waiting for us. Once we opened the door we were greated by a Pirate hat full of goodies. Our friends Mary Ellen and Joe had ordered this wonderful surprise for us!
After we had recovered from our surprise we had a late night picnic and entered our Pirate ship beds for a good night's rest.