Leisure by day – party at night!
We woke up surprisingly early and peeked out the window! Blue skies – yeah! What a change to the grey skies and snowy countryside of Austria! Tom made some coffee, which was really thin and yuck and definitely needed some Coke to wash it down with and we had the remaining Krispy Kreme doughnuts for an early breakfast.
We were ready to leave by 9.30 and decided to check out the food court to maybe have a real breakfast there. The foodcourt was FULL and it didn't really lure us in, so we had a good look at the merchandise in the store and found out that the Magic Kingdom was indeed open for Extra Magic Hours until 3am, before we decided to head to Downtown Disney and follow our plans to have a really early lunch at Wolfgang Puck's Express.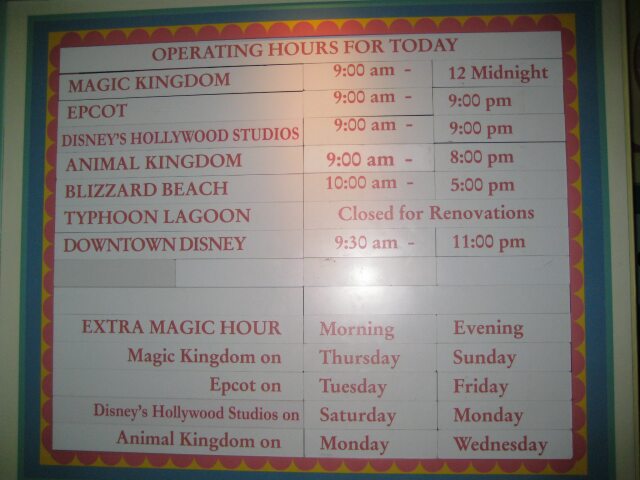 Needless to say, we arrived there early and "had to" have a look into the World of Disney Store. Plus I had that Disney Gift Card we had gotten that was "burning" a hole in my pocket. So we decided to do a little shopping once we had lunch. So we walked over to Wolfgang Puck's, checked the menu and saw our favourites were still on it and entered the restaurant. Tom had the Chicken Tortilla Melt- Spicy all-natural chicken, onions, sautéed red and yellow peppers and oven-roasted tomatoes tossed with tortilla sauce, topped with mozzarella, rolled in a warm, all-natural garlic focaccia bread, with a side of homemade chips and diced tomatoes. I went for an old favourite I had been craving for a long time, the Spicy Chicken and Sweet Peppers Pizza- all natural chicken, roasted red and yellow peppers, mozzarella, tomoatoes, leeks, crushed red chilis and fresh cilantro. We were handed our glasses, got our drinks and went to find a table, sat down and the table was really wobbly. So we moved to the next available and it was the same game – wobbly table. Table number three was our choice and soon a server came by to bring the cutlery and a short while later he brought out the desserts. Two Crème Brulees. What torture to have it sit on the table while you are still waiting for your main course. But we did not have to wait long. Our main courses were brought to the table and they were just sooo good. Tom loved his Chicken Melt and I loved my pizza. It was just as I remembered it. Yummy! Once we had finished our main courses it was time to "inhale" the Crème Brulee. Now, that is the best Crème Brulee ever. We both loved it.
After our meal we went to the Christmas Store and the Disney art shop. Then we were ready for some serious shopping. While we were at the store I remembered that there was a passholder offer for lanyards, so I went up to the Information counter inside the store, presented my Annual Pass and was handed two lanyards and two trading pins together with a voucher for an additional 10% if used together with an Annual Pass. What? You mean 20% off???? Yes, that was what she meant. Now we really shopped seriously. And the good thing was that we used our 200$ gift card for it! In the end we had a HUGE bag of shopping and still had 9$ on the gift card. Thank you, Disney!!! Since it was already way into the afternoon and we had decided to head back to the resort for some rest before dinner we headed to Goofy's Candy Company, to have some treats made before we went to the car.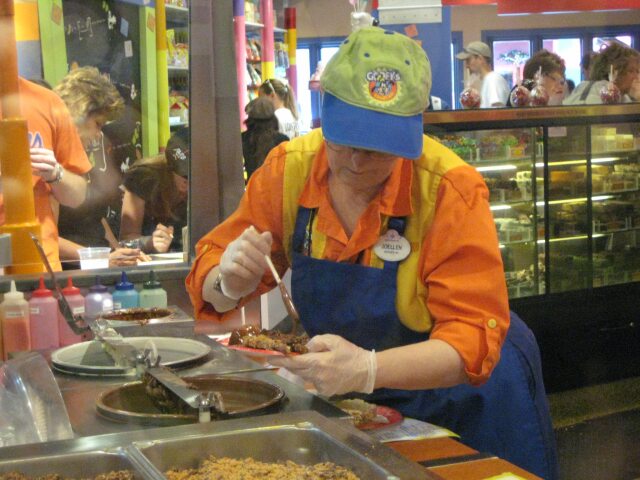 We got 3 Pretzel Rods, all dipped in dark chocolate, then one dipped into Oreo cookie crumbs, one into Butterfinger pieces and one into crushed pecan nuts. All drizzled with milk chocolate and some Marshmallows on a Mickey straw, dipped into dark chocolate too, then dipped into Oreo cookie crumbs and crushed pecans and drizzled with milk chocolate.
Side note: They have to go across the working area to dip something into dark chocolate, so the CM dipping our marshmallows put them on a plate to carry them back to the area where they have the cookie crumbs. She then placed the plate on the edge of the working area and leaned right into the chocolate. We all had a good laugh and she had to go and change her apron since there was a HUGE chocolate smear on it. We paid with our DDP credits and finally went towards our car to do a little grocery shopping at Publix before we went back to the resort to check out our Disney booty!
We both rested a little, nibbling on the goodies we had bought at Publix and watching a little TV. It now showed that we had had a long day the day before, we were both tired but we had a reservation at the Wave at 6pm. We finally left the resort at 20 to 6 and drove over to the Contemporary for our dinner. Right on time we walked into the restaurant, were signed in and handed a beeper.
We sat down and watched the other people waiting, but there wasn't much time to do that, since our buzzer went off soon after we had sat down. Our greeter took us to our table, a four top along the bench that runs along the wall. We decided against alcoholic drinks, since we were determined to go to Extra Magic Hours from midnight until 3am.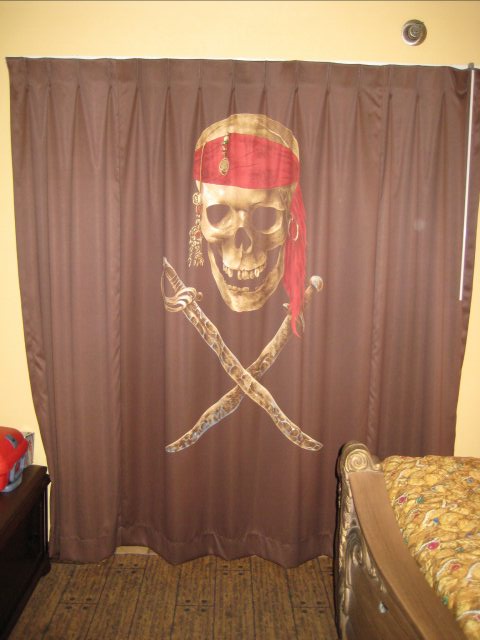 We ordered Diet Cokes and they were brought out within a few minutes together with the bread.It is a Multigrain Bread and very similar to European bread. Our server brought some Butter, sprinkled with red Hawaiian Sea Salt. We tried it and tried a little more and then even more. It was so good. For our main courses we had decided on the Braised Lamb Shank - with bulgur wheat- lentil stew and red wine sauce for Tom and the Grilled Beef Tenderloin - with oven- dried tomatoes, celery root mash, cabernet sauce and local vegetables for me. Both dishes were huge and just so wonderful. The tenderloin was melt in your mouth and the celery root mash was devine. Tom loved the lamb shank and it was a really generous portion, but he managed to clear the plate and so did I. Thank god we had reserved a little room for dessert. Tom had some of their Organic Coffee with it.
Better than the morning brew but nothing to write home about. I had the Lavender Infused Earl Grey which is just wonderful. Even the smell of it is to die for, let alone the taste.
When we were handed the dessert menu I was surprised to find a – No Sugar Added Dessert– option, so I went on to try that. There was a Chocolate Mint Mousse, Fresh Berries with Panna Cotta and Vanilla Bean Creme Brulee. Tom decided on trying the Crispy and Crunchy - Vanilla-braised Pineapple Spears, Almond-Pineapple-Raisin "Baklava", and Zucchini-Carrot Cake with Vanilla Panna Cotta. I loved mine very much, Tom's cake tasted like someone had had a very heavy hand on the gingerbread spice and the Baklava definitely tasted a lot like cinnamon. We had finished our meal in just 90 minutes and we still had 4 hours to kill before Extra Magic Hours were to kick in. We were both sure we would not survive another 7 hours in a rather full park, so we decided to go ride the bus back to the resort, have a little rest and get back to the resort shortly before midnight.
It took ages for the bus to load, it was packed and it took about 45 minutes to get back to the resort. Once we got back to our room we hit the beds. Luckily we had set the alarm because as soon as our heads hit the pillows we were off to dreamland. We were both SO tired when the alarm finally went off, but we had to go back because we still had our car parked at the Magic Kingdom. So we crawled over to the bus stop and amazingly enough there was a Magic Kingdom bus within a few minutes. Most of the people on the bus looked at us as if we were crazy, going back to the parks shortly before midnight.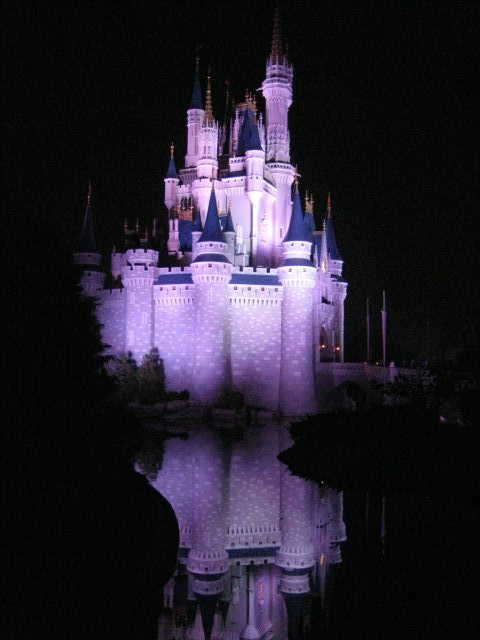 Well in the end 4 other people ended up being on the bus with us going back to the park. We arrived just before midnight, hit the turnstiles and went towards Town Square! And that was when our tiredness was gone! We headed into the park which started to clear out and went straight for Space Mountain to pick up a fastpass.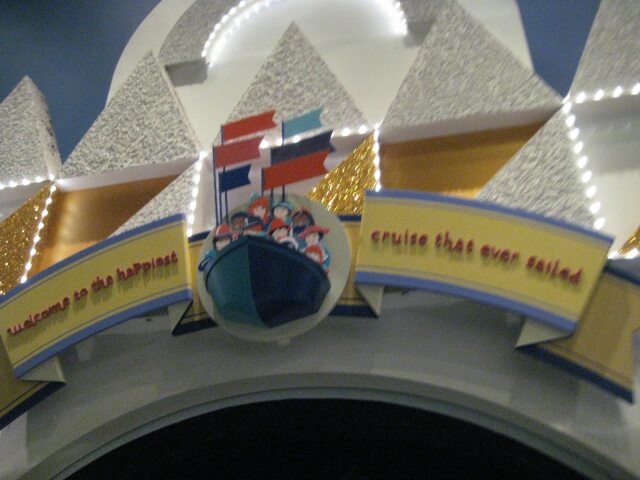 Then we rode the Tomorrowland Transit Authority and fought against the evil Emperor Zurg before we used the walkway behind Space Mountain to go to Toontown and checked out the store.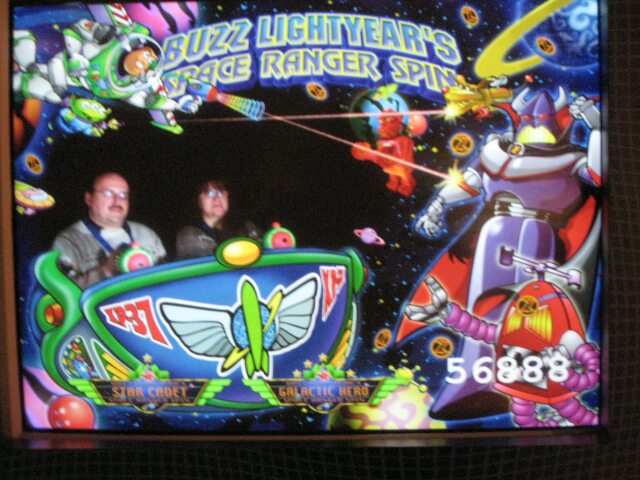 Too many people in line for Peter Pan, so we went on the It's a small world ride. Next ride was the Haunted Mansion, no line at all. We then walked over to Big Thunder Mountain Railroad and rode it twice before we headed to Adventureland to ride Pirates of the Caribbean. Back to Fantasyland we rode SnowWhite's Scare Adventure and Winnie the Pooh, before we hit Mickey's Philharmagic.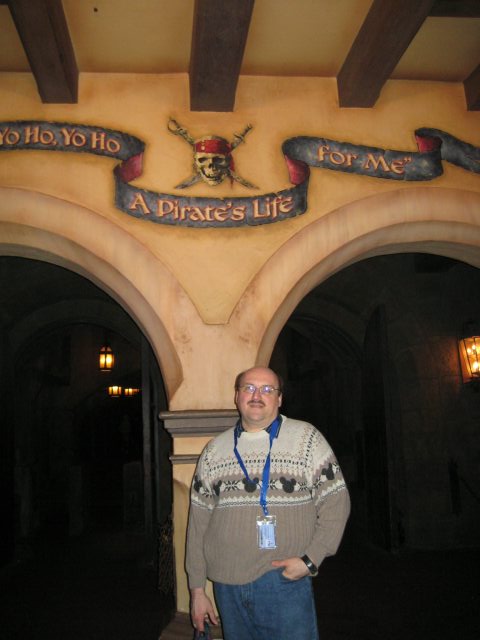 It was going toward 2.30 by then and we headed over to Space Mountain. We used the Fastpass line and there were not too many people in line, so once we had ridden it we got in line right again and rode it a second time. After that we slowly walked down Main Street and left the park. We picked up our car and drove back to the resort. Once we were back in the room we noticed HOW tired we actually were and we fell into our beds.