President's day! No parks for us today!
Since we had only gotten back at 3.30am we decided to sleep in today, and we did. When we finally got up, blue skies and bright sunshine were greeting us. We thought about the food court for breakfast again, but quickly changed our mind and decided to rather head to Downtown Disney for breakfast. We made it to Wolfgang Puck's Express at 10.30 and checked the menu board outside for what we wanted to have for breakfast.
Tom decided on Wolfgang's Breakfast Pocket -Scrambled eggs, peppers, Niman Ranch Bacon, onions, mushrooms, mozzarella and cheddar cheese baked into Wolfgang's pizza dough while I went for another pizza, the Applewood Smoked Bacon Pizza - scrambled eggs, Niman Ranch Bacon, mozzarella and cheddar cheese and Ranch Dressing. Both were really wonderful. Not your usual breakfast food, but I could grow accustomed to it! I had one of the best cups of Hot Tea with it, while Tom decided on Iced Tea. By the time we left it was nearly noon and we strolled through Downtown Disney and had a chocolate sample from Ghirardelli's for dessert.
It was packed at Downtown Disney, so we were not sure what park to go to and decided against a park at all. We needed to do some shopping, so it was the perfect day for that. Our first choice was the Disney Outlet shop in the former Belz Mall, but on the way there we changed our mind and went to another Mall near Turkey Lake Road, where we knew there was a Walmart and Petsmart. First things first we went to the Petsmart to pick up some toys for our kitty TinkerBell, Pixie for short.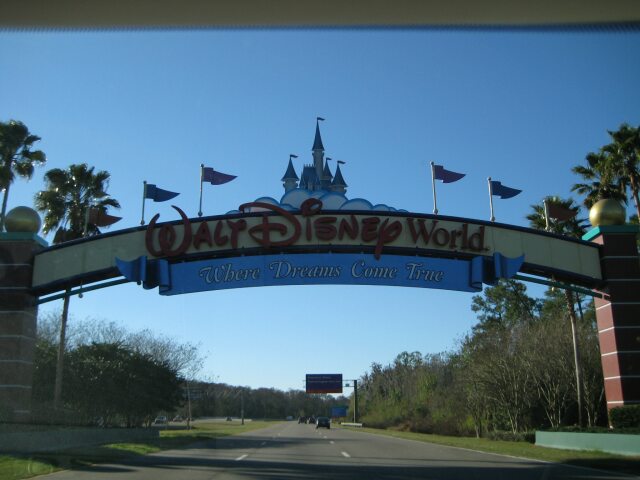 She loves feathery toys and there were a lot, so we ended up with about 35 dollars worth of kitty toys. We even had to apply for a Petsmart card to get some discounts, so those 35 dollars were after a hefty discount! Next stop was the Superwalmart there. They had a lot of things on offer and with trying on things we spent about 2 ˝ hours there. There were quite a few bags to put into the trunk of the car. Next stop Pr1me Outlet International for the Disney Outlet Store. Not too many clothes for us, but lots of things for friends kids to wear and play with. Needless to say we ended up with a few more bags there as well. By then it was time to go back to the resort to freshen up before our dinner at Spoodles.
We chilled in the room for a while before we headed over to the Boardwalk, parked the car and walked to the restaurant. Even the Boardwalk was packed and there was a long line outside the pizza window and the room where you check in for the restaurant was full too. We gave our name, were handed a buzzer and since there were no seats left we ventured into the sweet shop next door to look at their merchandise. We did not get far, because after only 2 minutes our buzzer went off and we were led into the dining room.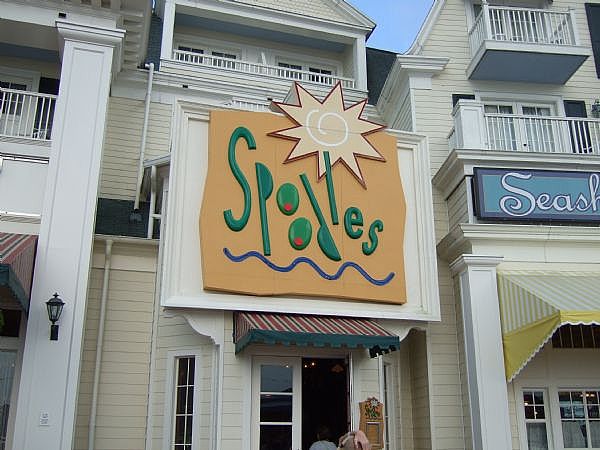 It pays to make reservations! It was a tiny table but you could see the open kitchen and we were happy with it. Our server came over shortly after we were seated. She was very nice, but obviously stressed since she had to take care of a 12 top as well.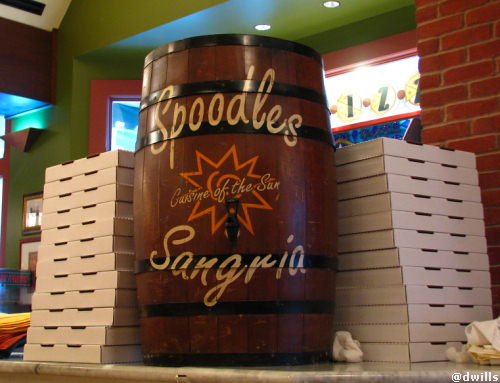 We ordered the usual Diet Cokes and a pitcher of their Sangria - a blend of red wine, brandy, triple sec, orange juice, and fresh citrus fruit, which we had read so much about on one of the Disney boards we visit. It did not disappoint, it was cool and fresh and nice! Once the server brought out the drinks she served some warm Foccacia Bread and Olive Oil with Tapanade in it. What a wonderful treat, the bread soaked up the oil nicely and we fished for the tapanade with our knives.
We decided on sharing a starter, the Garlic Shrimp - with Preserved Lemon and Parsley. These were very nice, plump and juicy and lemony and garlicy with just the right amount of parsley. The disappeared in no time. Tom chose the Oak-fired Steak Kabobs - with Multigrain Pilaf, Balsamic Red Onions and Harissa. Our server warned him, that the sauce was quite spicy and offered to bring it out on the side, but he loves spicy food, so he had it just like it is intended to be. The steak pieces were perfectly cooked, medium, just like he wants it and the pilaf rice was well seasoned.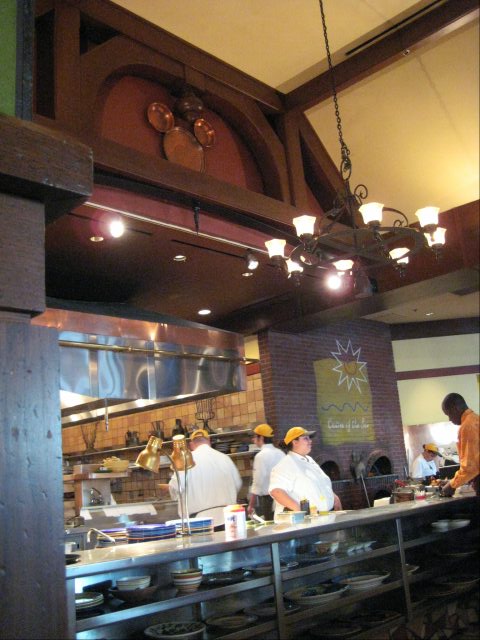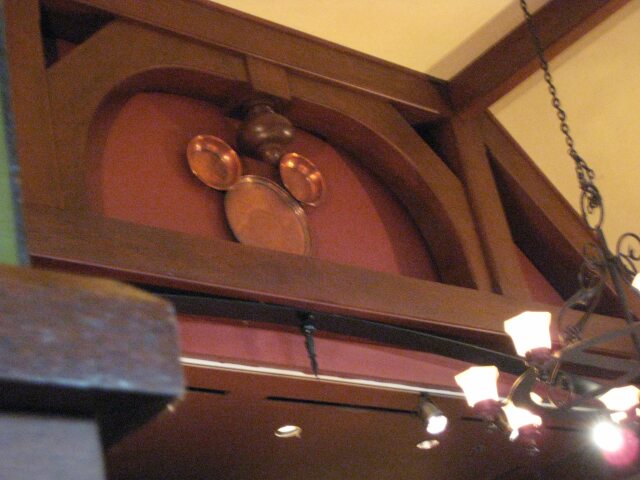 I had set my heart on the Wood-grilled Pork Tenderloin - with Homemade Gnocchi, Spinach, Mushrooms, Onions, and Red Wine Sauce long before we even travelled to WDW.So I ordered it and was not disappointed. The tenderloin was still a little pink in the center and very juicy and melt in your mouth tender. I loved the Gnocci, which looked handmade to me, and we both finished our dishes.
Thanks to the 12 top it took a while for our server to get over to us and ask about dessert. She recommended some things and I felt like the Chocolate Cherry Semi-Freddo - with cherry compote, was calling my name. This is frozen white chocolate mousse and dark chocolate mousse covered in Italian Meringue and then baked to a golden brown, served with a cherry compote. This was just so good! I was very happy with my choice. Tom had the Chocolate Espresso Cake with whipped cream. Dense, moist chocolate cake with a light coffee hint. It was very much appreciated. Finally after we had finished our dinner we went outside and were hit by the change in temperature.
It had gotten rather chilly and we were thinking about going back to the resort to get some warmer clothes, but we both were a little tired and the park we had wanted to visit in the evening was Hollywood Studios, which had Evening Extra Magic Hours.But with the crowd that we had experienced all day we figured that we would not be able to ride much, so we gave it a miss. Instead we went to Kissimmee and visited the Krispy Kreme doughnut shop. Their "Hot Now" sign was on and we got some hot doughnuts. Even though we were still stuffed from the wonderful food at Spoodles, we had to have some right then. So we sat in the car munching doughnuts before we headed back to Caribbean Beach and enjoyed a leisurely evening, checking e-mails and watching TV.