We arrived at the airport with plenty of time, checked our bags in and went through security. Linz has a tiny airport, so this is just a matter of minutes affair and we were at our gate. Our scheduled flight departure was 6.05am. Our crew arrived at 5.45am!! We left with about 20 minutes delay. The flight itself was uneventful, we had a waffle and some coffee, courtesy of Lufthansa. When we landed in Frankfurt we knew there was only half an hour until our plane to Chicago was going to depart. About 2 minutes after Tom had turned on his cell phone we got a message from Lufthansa. We had been rebooked to another flight, leaving 6 hours later!!! NO!!!!!! I was really angry, and it was only about an hour and a half into our dream vacation. We went to the nearest ticket counter to get our new tickets and the lady there was very nice and very sweet, but had real trouble to get our new tickets.
The problem was that we were originally booked on a United flight to Chicago with connecting flight to Orlando. Our new flight was a non-stop flight from Frankfurt to Orlando on Lufthansa. Both are part of star alliance, but this seemed to create a bigger problem.It took more than half an hour to sort it out and the lady at the ticket counter even called several people to make sure our luggage would be on the same plane. She then told us to go to another Lufthansa counter and pick up some vouchers because the layover was more than 4 hours. So, off we went, still hoping to be in Orlando soon enough to make it to Epcot for EMH! We went to the "other" Lufthansa counter and picked up those vouchers then went to look for somewhere to spend the money. We found a nice table service place and had some really early lunch at around 10am.
Tom had stewed venison with cherry red cabbage and "Schupfnudeln", a thick kind of noodle made from potato dough and a Bavarian beer to help it go down. I chose the roast veal with chanterelle mushroom sauce, "Spaetzle", another kind of German noodle and a bowl of salad.Both meals were delicious, especially knowing that Lufthansa was paying for them. There was still a lot of time to have a look around the airport before we went to our gate to go to Orlando.
The plane left shortly before 2pm and we had window. This was a 10 and a half hour flight, so we decided that after lunch we would both take a sleeping pill and try to catch up on as much sleep as possible. Shortly after take-off they served drinks and snacks and the snack was actually coming from our home country Austria. GOOD!!! About 2 hours into the flight, lunch was served.We both had the chicken with mushroom sauce and Spaetzle, which came with spinach and carrots and a green salad with balsamic dressing.
It was actually very nice. Dessert was some cake with cherries, cream and chocolate on top. Before we took our sleeping pills we had a chili chocolate truffle each.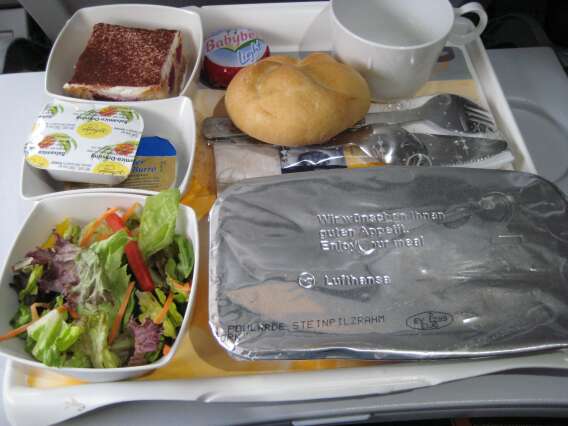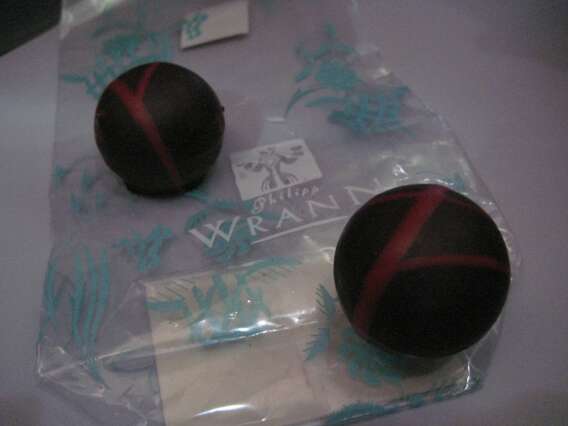 The movies on board were not very tempting, so to sleep was the right thing to do. I cannot sleep well on an aircraft, so I woke up quite often, but to sleep at least for a little while was nice.
We got woken up to fill in the customs declaration and the visa waiver and to have dinner, which was pasta and rice-pudding for dessert. I HATE rice-pudding!
We had a lot of fun with the flight attendant who, when she found out where we lived, made us write down what to do when they had a stop over in Linz. We landed on time in Orlando, 6.10pm.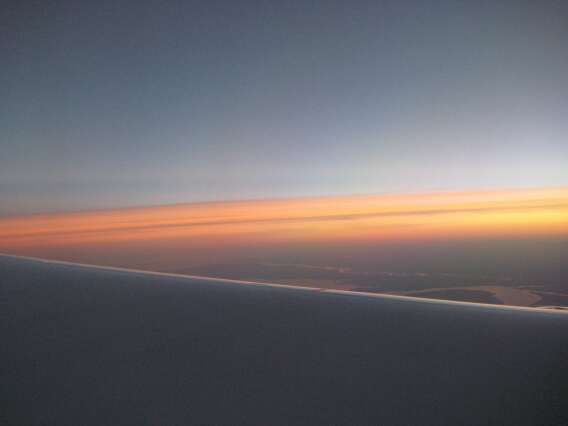 There were just a few people ahead of us in the immigration line, so that was easy and off we went to look for our luggage. Well, we looked and waited, and waited and looked some more and after a very long time we went to ask if there was any more luggage from the Frankfurt aircraft. No, that was it. Oh, fun, no luggage for us! So off to the lost luggage counter. There was only one couple ahead of us, so there was no long wait. But then it took very long. They could not locate our luggage anywhere in their computer! They had a hard time understanding that we had been booked on a United plane, than had travelled on Lufthansa. There was a long line building up behind us! Well, after about 40 minutes we ended up with 2 $50,- vouchers to pay for the necessities and the airline representative promised to let us know the next day when we would receive our luggage. Needless to say, that by then we had given up hope of still making it to Epcot.
So we took our hand luggage and walked to the Dollar car rental. Picking up the rental was done in no time and we were handed the keys to a grey Dodge Avenger with a really BIG trunk and nothing to put in it, LOL!! By then it was already 8pm and we fixed the navigation device in the car and started our voyage towards Walt Disney World. Having lost a few hours and no luggage was not the perfect start to out vacation. This was the first time driving under the Walt Disney World Sign that I thought I really didn't feel like vacation, but this was soon to change, very soon!
We had wanted to stop at the Publix near the Gaylord Palms Resort, but then ended up right at the lighthouse outside of Old Key West, following the navigation. So we thought that we would check in first. The first sprinkling of magic and pixie dust started right there at the security booth at the entrance to Old Key West. There was a very friendly "Welcome home" and some of my anger just disappeared. No line for check in, so that was another nice surprise.
The Cast Member assigned our villa and then said, she had to go get "something". More anger disappearing, since I had planned a surprise for Tom and had ordered him a Mickey stocking filled with goodies and I was sure that was what the Cast Member was going to get. Well, she returned with the stocking and a huge box. Mary Ellen and Joe had surprised us again!!!! We went back to the car and went to find our villa. It took some time to find the right stairwell, but finally we found it and entered our villa. Everything was beautiful. I love the spacious villas of Old Key West and we had gotten such a good deal on it with our AP! Now the vacation started to get better and better.
Tom finally realized that the Mickey stocking was all his and we decided to open the box Mary Ellen and Joe had sent. It was a live Christmas tree and a box of ornaments!! We were so surprised, stunned and thankful. This vacation was going to be the dream vacation we had wanted it to be.
But there was still shopping to do. We needed toothbrushes, toothpaste and a few other things, some drinks and snacks, some dinner and a few bits and pieces for breakfast the next day.
So off we went again, over to Publix, where we got everything we wanted and needed. We even picked up some donuts from Dunkin Donuts and two of the very cheap oversized shirts, to wear to bed. Back at Old Key West, we put up the little Christmas tree and had some VERY late dinner. So far everything was very well and we went to bed at around midnight.