Front row – again.This is one of the best rides and we enjoyed it very much. After that we went back to stroll through the shops because it had gotten really warm. Especially since we were coming from freezing cold Austria and did not really have "summer" clothes to wear. While browsing the shops we came across a Santa outfit for Pal Mickey, who has to come with us where ever we go in WDW.
The Cast Members helped us to cut the little outfit off the wrapper and then it was time for Mickey to change from being a pirate to being Santa. He looked adorable and got a lot of compliments, even from Cast Members. At around 11.30 we went back to the Yak and Yeti Restaurant to ask if they had a table for the two of us.
They DID and without any wait at all. We shared the Pork Pot Stickers, pan seared with soy lime dipping sauce. They were very yummy! Tom chose the Tempura Shrimp with chili plum sauce, coconut-ginger rice and stir fried vegetables for his main course and I had the Crispy Honey Chicken, tempura chicken with broccoli and carrots, honey sauce and jasmine rice. Dessert sounded delicious too, so we both decided to have some.
Tom had the Mango Pie in a shortbread cookie crust with fresh whipped cream and raspberry sauce, while the waiter had talked me into trying the Fried Wontons which were skewers of fresh pineapple and cream cheese wontons with vanilla ice cream and honey vanilla drizzle. I have to admit that the vanilla ice-cream was really tasteless, but the rest of my dessert was to die for! After lunch we checked out the other rooms in the restaurant. Then we slowly walked over to Everest again.
Since our Fastpass time had already started we rode Everest right away. There is nothing more fun than to ride a coaster on a full stomach. After the ride we slowly went over to the exit checking the shops on the way out. We had wanted to stay for the parade, but we had a reservation at Concourse Steakhouse and we needed a change of clothes which needed to be bought first.
After we had exited the park we stopped at the giant icon tree and took a lot of photos of the tree and Pal Mickey and the tree.
We then walked over towards the tram. A few feet from the boarding area we were approached by a Cast Member with what looked like a survey in his hands. He asked if we were going to the tram. Yes, we were. He then put a big smile on his face, handed us two buttons that said "Honorary Citizen of Walt Disney World Resort" and asked if we would like to be driven to our car in a golf cart instead of using the tram.
I think our mouths just popped open and we just nodded. The young man was very sweet. He told us all about the year of a million dreams while we walked towards the golf cart. He than told us that he had to take our name down for his records and we spelled it for him. Instead of putting his board away he took out a Magical Moments certificate and filled in our name, then handed it to Tom.
It took a while for me to find my speech again but then I just had to tell the young man, that he had just saved my holiday. We had no luggage and had lost a few hours of our vacation but this was more than anyone could have wished for. We got into the golf cart and off we went, past the tram which was still waiting there. Lots of people were watching us drive by and it made us feel like royalty!! Thank god we remembered where we had parked our car and we were dropped off right at our row. I took a photo so I was sure this was NOT a dream, but reality, waved goodbye and back we went to our car. Even in the car and on our way back to Old Key West we could not stop talking about our Magical Moment. We took a short break at the resort and chilled for some time before we went out again to go and shop for clothes. We only had about two hours before we had to get going to go to the Contemporary for our reservation at the Concourse Steakhouse.
We went to a few shops and finally found some things to wear and spent the 100$ we had received from the airline. Back at the resort we took a quick shower and changed into some new clothes and got ready to go to the Contemporary. I was stunned by the Christmas tree in front of the Contemporary. Even though there were not many big ornaments on it, it looked so majestic.
In the background you could see the castle in its "icy" glory. What a wonderful sight! We arrived at the podium just a few minutes before our assigned time and were stunned to see people being turned away. We were handed a buzzer and thought to explore the new store, but we only made about 10 steps before the buzzer went off.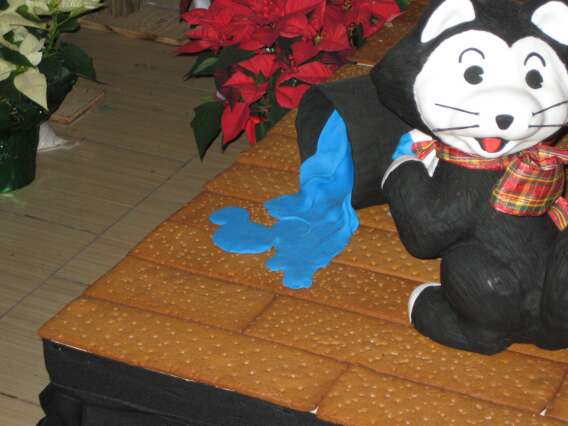 The host took us to our table which was right underneath the Monorail. Dinner with a massage!!! The whole area was "shaking" when the Monorail went through. We had a very nice and attentive server. Tom had the Buffalo Filet with mashed potatoes, fried root vegetables and Sauce Bernaise and I had the 7 oz. Filet Mignon with bread salad and gorgonzola butter. Needless to say we really enjoyed both dishes and are sad that this restaurant is going to be closed soon. But before that I had to have another one of their Key Lime Pies for dessert and Tom tried the Triple Chocolate Cake. We both could not finish our desserts but they were just wonderful. After dinner we went to have a good look at the Pinocchio holiday display they had at the 4th floor. Strangers were suddenly talking to each other, discussing where to find the 7 Hidden Mickeys in the the scene. We did find them in the end.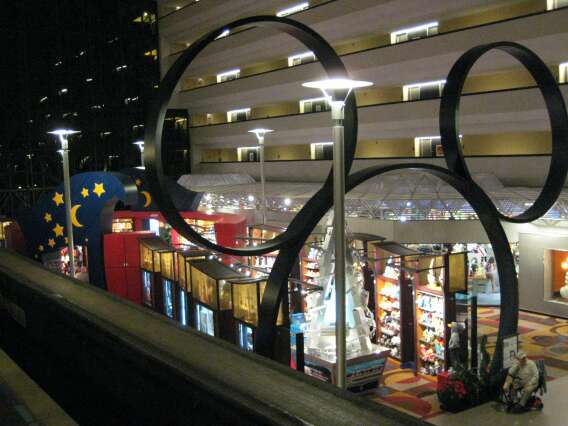 Then we checked out the new store that had just opened and the regular shop before we went up to ride the Monorail over to the Magic Kingdom. The platform was full and there were lots of express Monorails coming through but no Resort Monorail. After about 25 minutes we decided that if we hurried and walked over, we could still make it over to the Magic Kingdom in time for Wishes.
We asked the Cast Members if we were allowed to use the exit at the back of the station and walked over to the Magic Kingdom. All the time there was NO resort Monorail. We arrived at the Magic Kingdom, went through security and the turnstiles and entered our favourite park. Main Street was already packed with people waiting for Wishes. Just when we had reached our favourite spot Wishes started. Fireworks at the Magic Kingdom are always amazing! This time it was no different.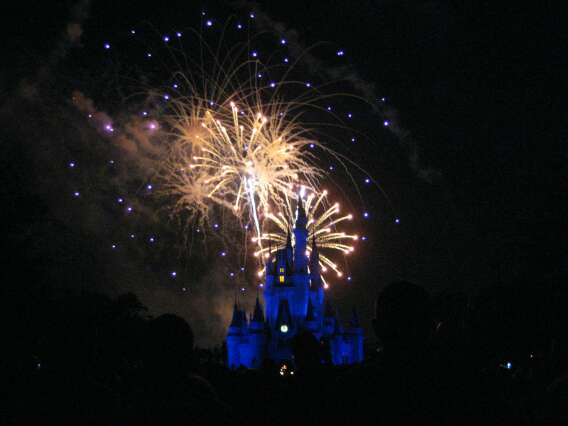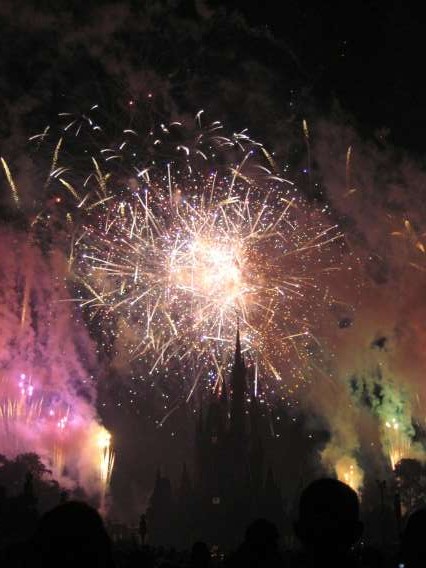 After the fireworks we went to ride the Peoplemover and take it all in. Since the Magic Kingdom was open until midnight we got in line for Space Mountain. The line looked longer than it actually was and the ride was fun as always. We then went over to Fantasyland and rode the Pooh ride, since the line was short. We went past Small World and Peter Pan, which had a LONG line and decided to try the new Haunted Mansion. Oh ……. temporarily down. Well, what about Big Thunder Mountain. They were still offering Fastpasses, so we got one and went over to say hello to the pirates. Both lines were open and we got on the left one, which is the shorter one and it was more or less a walk on. We had some time before our Big Thunder Fastpass was good so we went toward the Flying Carpets, when we discovered that the Jungle Cruise was open as well.
We had never done the Jungle Cruise before when it was dark, so we got in line and boarded the second boat out. Our skipper was hilarious! She did such a good job and even though there were NO newbies on the boat we all could not stop laughing. And Jungle Cruise sure looks different at night. By then it was time to ride Big Thunder Mountain Railroad. We went back to Frontierland to ride in the last row. Pal Mickey liked it as much as we did. It was nearly closing time, so we slowly went towards the exit.
It had been another VERY long day. We arrived back home at Old Key West at 12.30am and just fell into bed. We both slept very well in those heavenly beds!