After the ride we went back to the Tower of Terror since it was time to use our Fastpass. The Tower is such a fun ride, we both just love it. After riding Tower of Terror we went over to Rock'n'Rollercoaster to pick up a Fastpass. We had about 2 hours until that, so we decided to walk around the studios some more.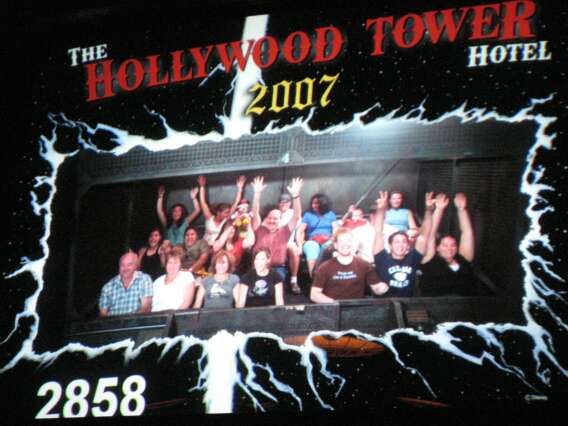 We checked out the stores in the Animation Courtyard, before walking over to where the New Toy Story Ride is going to be. Everything was fenced off and there was a CM telling people that this was a "dead end". We ended up chatting to the CM and she told us that we were just a little too early for the soft opening of Spaceship Earth at Epcot and that the Toy Story Ride should be open and running by the time we will be back in August.
Just as we went past the Narnia exhibit, it started to snow. What a photo opportunity! We strolled past the Great Movie ride again and had to take a photo of our little pal, next to his autograph. There were lots of Poinsettias at the beginning of Commissary Lane, so we had another photo stop with our little pal. Why not check out the Flatbread Grill? We walked over there, but were not too impressed.
I am not one to dine outside with the birds, so we thought we not try if we could get into Mama Melrose. We had a reservation there for later this evening, so we walked over there and asked if we could change our reservation.
At first the only available time they had was for shortly before the Parade was going to start, but while we were still thinking about it, she said, that something had just come up in 40 minutes! YES!! So we went outside again and over to where the Osbourne lights were. Boy there are a lot of lights. We walked through the streets, read the fun trivia and searched for Hidden Mickeys. We found the Halloween Cat and had time to take a closer look at some of the exhibits. Even the Cars were out and we had a look at them from a distance. The 40 minutes went by in no time and we went back to Mama Melrose. We waited for about 5 minutes until we were taken to our table.
Tom had the Toasted Italian Bread Salad, tossed with cucumbers, tomatoes, arugula, onions, basil and red wine vinegar, while I had my favourite the Mixed Greens with balsamic vinaigrette and gorgonzola cheese. Very nice! As our main course we decided to share two flatbreads, the Grilled Pepperoni Flatbread with Bell Peppers and sweet Onions and the Vine-Ripened Tomato Flatbread with basil pesto and caprino cheese.
They were very good!! We even went for dessert. Tom had the Warm Chocolate Truffle Cake and I wanted to try the Tiramisu. Well it was not what I would call a Tiramisu, but it tasted very nice. We showed our Disney Dining Experience card and got our discount, paid the bill and left. There was still time to ride Rock'n'Rollercoaster before the parade was about to start, so we went over there and Tom tried a few more hats while passing the open stands on Hollywood Boulevard.
Rock'n'Rollercoaster had a long standby line, 70 minutes if I am not mistaken, so we were happy to have our Fastpasses. It was about 10 minutes until we entered the pre-show area. As always we checked if the Hidden Mickey was still there – it was!! We got seated towards the middle of the "limousine" and had a blast on the ride.
There was even time to pick up another Fastpass for Tower of Terror, before we went over to the Parade Route. There were tons of people lining the route and we had a hard time finding a spot, but were successful in the end. We were standing in the sun and it was VERY hot!Right at the beginning of the parade there was Giselle from Disney's Enchanted. She looked so nice! The parade itself was a stunning.
We had seen it many times before, but with all the holiday "trimmings" it was even more wonderful.
I am not sure if I will enjoy the Block Party Bash, which we saw last year in Disney's California Adventure, as much as this parade. We took lots of photos of the vehicles and characters and after the parade we needed some time to cool off, so we went through the stores once again, looking for something to wear the next day, since we still hadn't heard from the airline. When our Fastpass time for Tower of Terror came up we slowly went over there and enjoyed another trip into the Twilight Zone. Since we wanted to leave after the ride we had a look around the store and even found a few bits and pieces we had not seen before.When we passed the popcorn stand cart at the entrance to Fantasmic we decided to have some popcorn and a soda and when I started munching on the popcorn I noticed that someone really important was missing!! I had left my Pal Mickey in the Tower of Terror shop.
I remembered that I had sat him on one of the shelves to have a closer look at a T-shirt. Tom ran back to look if he was still there, while I waited, praying that my "little guy" was still there. He was! I was VERY relieved!! We then went towards the exit, got on a tram that was just about to pull out and went back to our resort to "relax". Well, Tom got into the Jacuzzi, while I tried to find out how to reach the airline and ask if they had found our luggage.
Well, no one answered the phone in the Orlando office and we could not get any results by calling the Austrian representative of Lufthansa, no results in Germany, none in New York, but then we finally got a number in Miami, which we called and they had actually located our luggage and it would be delivered as soon as it reached the Orlando airport. Yippie!!! Now I could relax too!!!
We watched a little TV, had a few snacks and shared one of Tom's rice crispy treats, which had been in his stocking. At 6pm we left for Mickey's Very Merry Christmas Party. We had been to the Pirate and Princess Parties in August and could not wait to experience another Magic Kingdom Party. We parked at the Contemporary, since we wanted to pick up something from their gift shop anyway and walked over to the Magic Kingdom.
We arrived there about 10 minutes after the party had started and people were streaming out of the Magic Kingdom while a lot of others were entering. We got our wristband and walked under the train station and onto the Main Square. It was just so much fun to see the Cast Members all dressed up for the occasion.We passed Santa's Chair and people were already starting to line up for him. Since the hub was still so crowded, we went with the flow and went over towards Tomorrowland.
They were handing out Hot Chocolate and Cookies at the Tomorrowland Terrace Noodle Station. We thought to try them and queued up with a few other people. The Cast Members were handing us the goodies and we went to find a table and enjoyed our treat.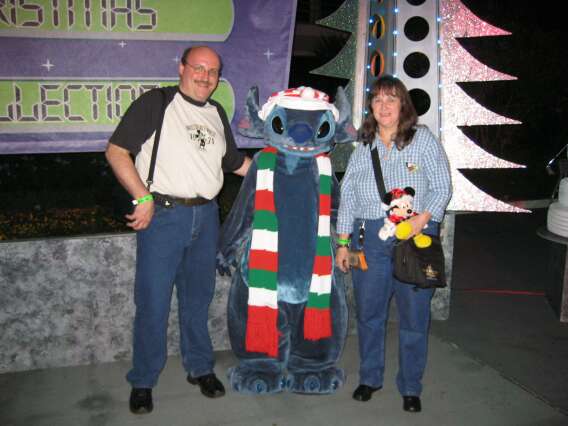 We then walked over towards Space Mountain and discovered that you could have your picture taken with Stitch. We got in line and had some fun photos taken before we got in line for Space. It did NOT take long until we were seated and blasted off into space. After the ride we took the quiet walk behind the Indy Speedway over to Mickey's Toontown Fair. We checked out Mickey's and Minnie's House all decked out for the holidays and went into the Judge's Tent to check out the Party Merchandise.
Tom got one of the Party Santa Hats and we decided to get a few other bits and pieces as well. When leaving Mickey's Toontown, we had our Photopass Photo taken at the sign before we went over to watch Philharmagic.
We slowly went through Fantasyland, watched SnowWhite and Belle having their photos taken and finally decided to find a spot to watch the parade. We were late and it was rather hard to find a good spot, but we ended up finding a decent one and watched the parade. It was SO wonderful!! There were so many floats and characters and so many dancers in between. They even had real horses pulling some of the "sleighs". Some of the floats even had the smell of freshly baked cookies! The parade was very long and I loved the Toy Soldiers and then there was Santa on his sleigh!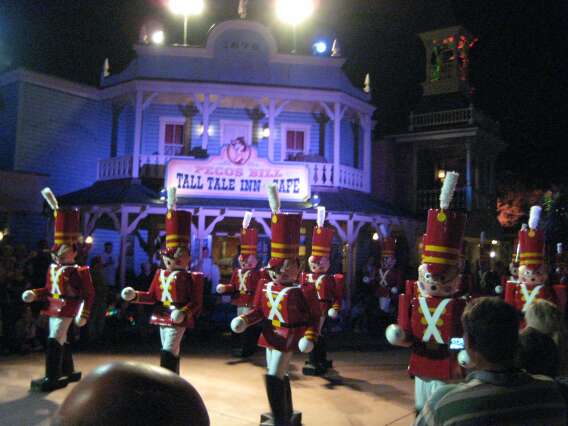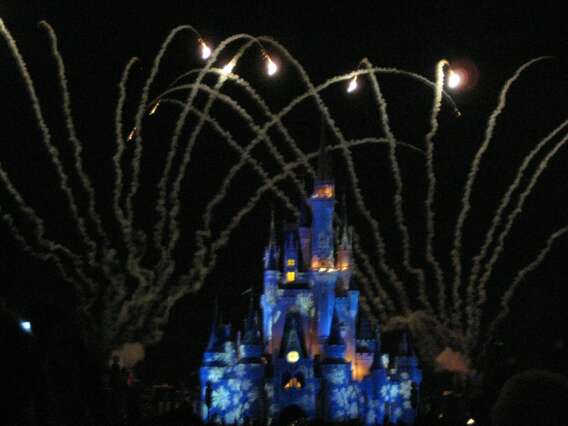 After the last float had gone by we walked over to Pirates and rode that. There were musicians out and people were having a wonderful time. We went over to Main Street for the fireworks. Main Street was crowded, but still manageable. The fireworks were wonderful and lasted for quite some time.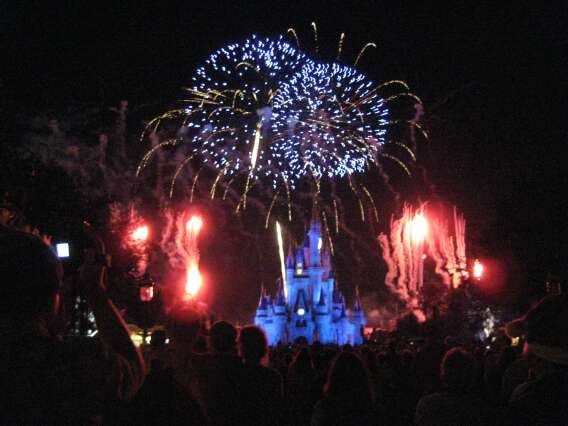 We checked out a few of the Main Street shops to wait until the crowds thinned out a bit, then went towards the Crystal Palace and had another cookie and hot chocolate. The castle was so beautiful lit that we decided to go over to the hub again and take a few more photos. When we walked over towards Space Mountain, we saw a line forming at the entrance to the Galaxy Palace Theater.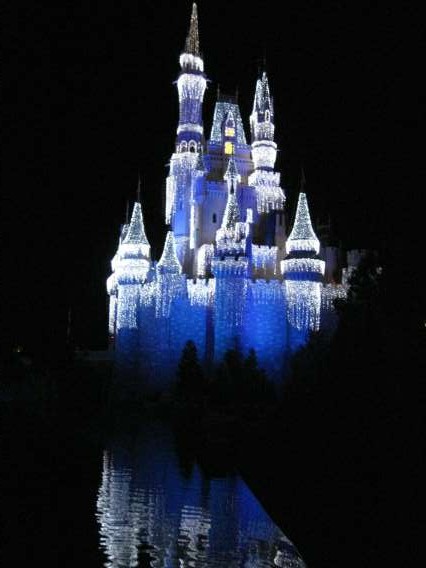 Checking our guidemap we discovered that Mickey's Twas the Night before Christmas Show was starting in 20 minutes. We got in line and it started to move about 2 minutes later. There was loads of seating and we found a good spot very close to the stage. Since we had both had very little sleep, sitting and waiting for the show made both of us really tired. The show itself was amazing. But even though it was wonderful to watch we both were very tired, Tom had a hard time staying awake. So when the show was over we left the Magic Kingdom, went over to the Contemporary, got into the car and drove back to Old Key West.
When we arrived at the room we had a message waiting. Our luggage had arrived. We were so excited that we thought we could at least ask if someone was still there to pick it up. And we were able to pick up our bags. There is nothing better than having your own things again! We unpacked and finally got into bed after 1am!