Today we had breakfast in our villa, because we needed to be at Epcot early for the Yuletide Fantasy Tour. We drove over to Epcot, parked the car and went over to the Tour Garden. There were already a lot of people waiting and at 8.45 our guides arrived, we all got nametags and listening devices. By nine we entered Epcot, just to go "backstage" to the right of Spaceship Earth. There we all got onto a coach and were divided into two groups. People on the left were in Bryan's group, people on the right were in Alicia's group. We ended up being in Bryan's group. We drove around Epcot and left the bus behind the Germany exhibit in World Showcase. Bryan had us all lined up in a half circle around him and asked if anyone knew any German Christmas traditions. Well, there were quite a few and when Tom mentioned that we were Austrian and celebrated German traditions, Tom had the honour to explain how we celebrate Christmas.
Next stop Italy and another fantastic story, you just should not think about it when it is told. Here we learn that the Epiphany (the three holy kings) who came from the Orient knocked at an old lady's door in Italy before they followed the star again. I hope they had turbo camels because travelling via Italy is one heck of a detour. Tom and I just looked at each other. Next stop is at the American adventure, where we learn about Hanukah and Kwanza. Then we wander over to Japan! Bryan tells us a few more stories, before it is back on the coach which is waiting behind Japan now. It takes us to the Christmas warehouse.
Tom and I have visited it before during the "Backstage Magic" tour while it was full, now this time, since the decorations are up, it was empty. It did not impress us much. But we spent quite some time, walking the empty warehouse and looking at the leftover ornaments. Then it was back onto the coach to go see the Gingerbread House at the Grand Floridian. We went into the hotel, had about 3 minutes to look around and out we went again. BUT, we all got a traditional Christmas cookie to try. Nice! Our next stop was the Magic Kingdom where we were dropped off backstage, then went onstage right onto the Main Square. Now, we had been at the Magic Kingdom two days before and the Christmas tree was way back at the castle. Magically it had found a new place right at the town square.
And the garlands over Main Street were up. A first for us!! We heard a lot of information of how they came to use the tree they use today and how they use Christmas items in shop windows to make up Hidden Mickeys and other fun facts. We then went off stage again behind the Plaza restaurant, got onto our coach again and went back to Epcot. We were then given a special pin and said our goodbyes. It was 12.30 by then and we both were hungry, so we thought why not have lunch here at Epcot. Well, we ended up walking around without finding somewhere to eat without a reservation.
So we decided to go back to Old Key West and try to have lunch at Olivia's.They did have availability and we were seated right away. We shared the Crab Cakes - with tossed greens and Key Lime mustard sauce as a starter. Tom had the Key West Sirloin Steak Salad with mixed greens, vine-ripened tomatoes, applewood smoked bacon with citrus vinaigrette and I chose the Chipotle Barbecue Chicken Breast Sandwich - with apple smoked bacon, pineapple jam, caramelized onions and smoked gouda served with homemade potato chips. Both were very good. Even though we were already full, we couldn't pass up dessert. Tom had the Chocolate Cake with raspberry and vanilla sauces and I had the Key Lime Tart with Raspberry Sauce. After such a wonderful meal we retreated to our villa and relaxed for a while – there is a Jacuzzi in there, remember!
After a nice long break we got ready to go back to the Magic Kingdom for another Mickey's Very Merry Christmas Party.
This time we parked at the Polynesian, since we wanted to have another look at their shop. We then hopped onto the Monorail and went over to the Grand Floridian to have a better look at the Gingerbread House. Actually I have to admit that I was less impressed with the Gingerbread House than I thought I would be. To glue gingerbread tiles to a wooden frame is not really what I call a gingerbread house.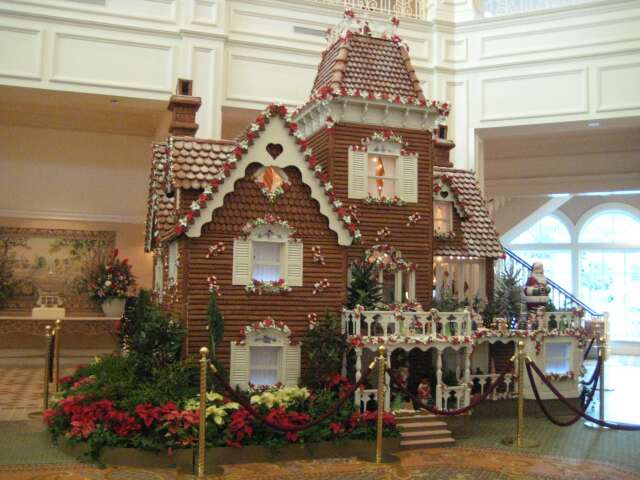 It was done nicely though and we even purchased a pin and some cookies for my friend Mary Ellen there. We did not hunt down all the Hidden Mickeys, but had our photo taken in front of the Christmas tree. We went upstairs to the Monorail again and were gone in about 5 minutes. Next stop Magic Kingdom. This was the earliest we arrived for one of the parties at around 5pm and there were less people there than the day of the previous party.
We got our wristbands and went up Main Street towards the castle. We walked around a bit, went on the peoplemover and found a spot to watch the castle being covered in ice. What a sweet show. All the characters were out in their holiday finest and seeing Cinderella's wish come true was magical. We stayed in the area for a bit and soon after we were to experience Wishes again! It is a fabulous fireworks display and never fails to amaze no matter how often you have seen it.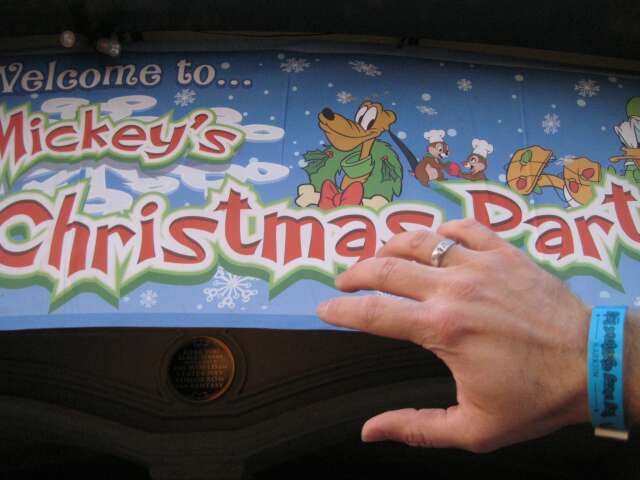 Since we didn't want to spend any party time at a restaurant and we had a long night ahead of us we stopped at Pecos Bill's. Tom had a Bacon Double Cheeseburger - served with french fries and I had the Chicken Wrap - served chilled with seasoned chicken, lettuce, tomatoes, and cheese tossed with Pecos house dressing, served with fries. We spent some time in there and then went to ride Big Thunder Mountain. When we came back people were already lining the sides of the street to find a good place to watch the parade. I found a place to sit down and Tom went to the Golden Horseshoe to get some hot chocolate and cookies. We were happily munching them while sitting there, waiting for the parade.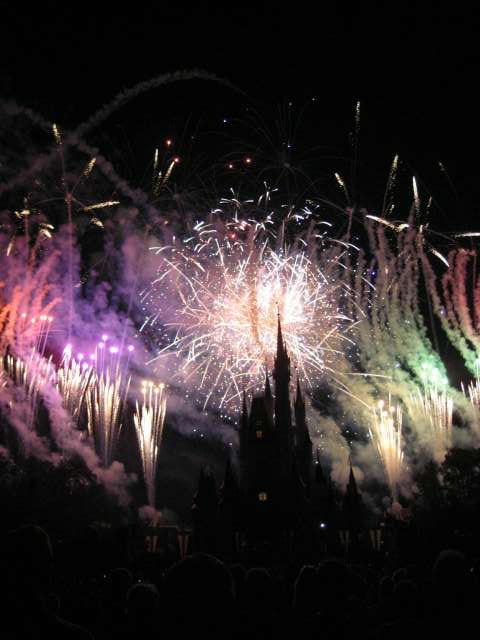 Shortly after we had finished eating the parade started.
It was the perfect spot to watch the parade and I was able to take a lot of photos without other people's heads in it.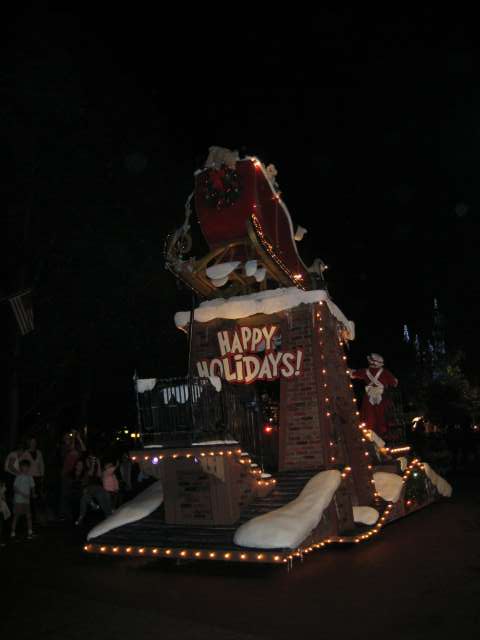 After the parade we went over to Pirates and rode it. I was even able to snap a photo of Captain Jack. We walked back towards Liberty Square and some singers were out singing songs, even on request.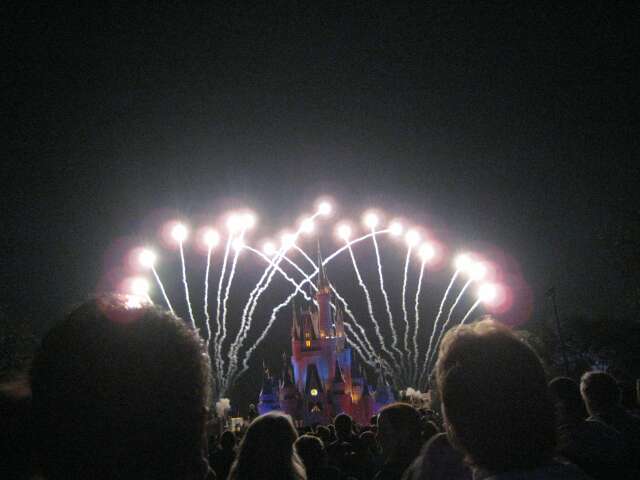 They had the sweetest interaction with a cute little girl and we watched for a while. Next stop Fantasyland, where there was a real short wait for SnowWhite's Scary Adventures. Then it was back to Main Street for the second set of fireworks this evening. Holiday Wishes - Celebrate the Spirit of the Season! Two sets of fireworks in one evening at the same park is truly something to write home about and the fireworks were awesome as usual.
We went over to the Tomorrowland Terrace Noodle Station which handed out Holiday Treats and we were ready for our second Hot Chocolate and Cookies.
We had a nice break in our usual spot, right over where the karaoke machine was.
We stayed around until it was time for the castle forecourt show "Celebrate the Season". Every time we had went to the parties we had wanted to see it, but never made it, so tonight we had to make it there. And it was so worth it.
All the Disney stage shows are just so wonderful and the music really gets you into the mood! After the show we made our way over to Space Mountain and since the wait was rather short we rode it twice. We then went over to Fantasyland to ride Peter Pan, which I love, but don't want to stand in a line for for an hour. This time the wait was 15 minutes and that was okay, since it didn't even take 15 minutes. As we went towards Liberty Square we thought we might give the Haunted Mansion another go.
We got stuck right in the attic scene and had enough time to take it all in in detail. There was still enough time to walk over and ride Big Thunder Mountain. We love to ride it as the last ride of a day. It is so much fun.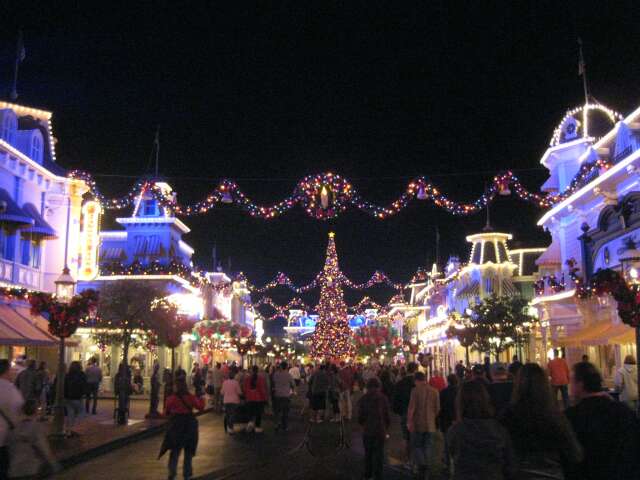 The line went so quickly that we actually were able to ride it twice before the evening ended. Then we marched towards Adventureland and over to the Main Street, where smiling Cast Members were still holding up signs and waving goodbye to guests. We went on the Monorail and there was one waiting. We went over to the Polynesian, picked up our car and went back to Old Key West. It was late again, real late, about 1am when we arrived back at the resort.