Fly - eat - fly -eat - fly - rent - SLEEP
Now, the time is really here. Our adventure begins today. But before we begin, let me introduce you to the "players".
For the first part of the trip there are only 3 players:
Thomas, or Tom, dear brother and travelling partner who is used to extensive walking, by being a mailman. He is the designated driver and carrier of backpacks.
Then their is me, Karin. I am used to writing, being a teacher. We both live in Austia, so bear in mind, that English is a foreign language to us, and there may be mistakes. Thanks for understanding! Living in a country like Austria, we both LOVE food, so this will always be a big part of our travel experiences. Beware, you will encounter lots of photos of food and talking about it!
And most of all there is our small travel partner, a guy going on 79, but very talkative and sweet, actually he is a mouse, a very "famouse" one - our Pal Mickey, who is coming back home to his "world" with us. He definitely is one of my favorite photo motives!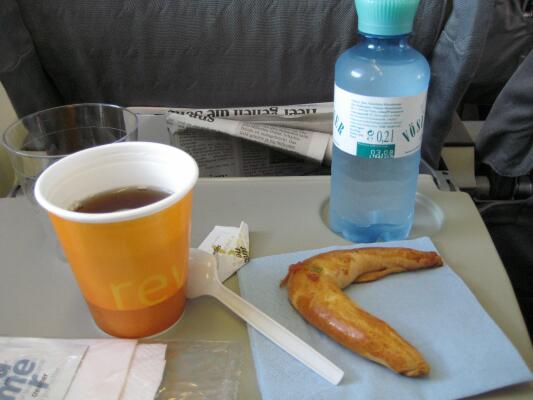 The day started early, getting up at 5am is no fun, but it was the start to a hopefully funfilled Orlando vacation. After a quick breakfast our friend and catsitter Christa picked us up to take us to the airport. Check in was quick, since Linz does NOT have a large airport, and at that time of the day there were not many people there. We then boarded our flights to Vienna and even though this is only a three hour flight, were served coffee, water and a warm apricot jam filled "Kipferl". Yummy!! (see photo to identify)
We left Vienna on OS 093 to Washington at 11.10am (now that makes roughly 6 hours of travel time, always counting from the time we had to get up!)
There was not much to do on that flight, except eat and sleep and watch TV. Now, that was exactly what we did. We had snacks, followed by smoked salmon with warm potato salad as a starter (top in the middle) followed by chicken filet with sauteed courgettes and rice (right). VERY tasty. Dessert was chocolate cake!
So, to pass the nine hour flight you watch a lot of the onboard entertainment. There was one movie that excited ME the most, even though I had seen it before a few times.
I took a photo of it, for everyone to make a guess! Well in my mind that movie IS a wonderful start to any Disney vacation! There was some more food, Chicken Cesar salad and Panna Cotta for "lunch" again.
You have to keep in mind that there is a 6 hour time difference between Austria and DC time, so while we had lunch at the beginning of the trip, we had lunch again at the end. We arrived in Washington DC at 2.35 (= 15 1/2 hours of travel time - remember the 6 hours time difference)
Immigration was done "in no time" compared to former experiences, then it was to pick up our luggage, go through customs and encountering a LONG line to check in our luggage again! We were ready for another snack after queueing for a while, so we got some Starbuck's Frappuchino and an espresso brownie (you know you have entered the US when there is a Starbuck's at every corner - NO Starbuck's in Linz!!)
It finally was time for the last leg of our trip. Our Ted flight to Orlando. Unfortunately there were only 3 cabin attendants and they need at least four to be able to leave, so there was some tense time if we would leave on time, but we did.
We touched down to beautiful Orlando weather at 7pm (which would have been 1am for our "body clock" and we were now on 20 hours travel time!)
Picking up our luggage went quickly and we were on the way to picking up our rental car. Found the Alamo office, presented the voucher, a few signatures later we were on the way to the parking structure on the other side of the road. Boy, did the heat hit me!! Being used to Hertz we were stunned to be offered to pick any car in the convertable car row. We picked a grey PT cruiser convertable which looked very nice (but "changes color to a very light purple in the sun), loaded our stuff in it and off we went.
Before going to check into the Royal Pacific Hotel, where we are going to stay for the first four nights, we went to the Publix "around the corner" from Universal and stocked up on drinks and snack food. Then we drove over to the hotel and checked in.
We got a nice room on the third floor with a view of the landscaping. Mickey was SO happy to finally being home again! While checking out the room we discovered our "welcome present" - cookies and milk!
So we had a few snacks, we had just purchased and had a few cookies and milk before we went to bed at midnight. Now remember with the 6 hours time difference it would have been 6am in Austria, so that ended our travel day with a total of 25 hours!!