An accident, a shopping spree, finding Nemo, meeting the Yeti and visiting the Coral Reef!
Today started with a walk down memory lane. A visit to Olivia's Restaurant at the Old Key West Resort. Let me explain. In May 2006 Mary Ellen and Joe were offered an upgrade to OKW which they accepted. They stayed in a 1 bedroom villa in building 35, villa no 3524 and loved it.
Tom and I took advantage of the AP discounts in summer of the same year and opted for a studio at OKW. When we arrived we had been upgraded to a 1 bedroom villa for 9 nights in building 35, villo no 3528 and we LOVED it there!!
So "our" villas were on the same floor, nearly wall to wall – speaking of the Disney magic!
So this is why we have a special feeling for Olivia's. We picked up Mary Ellen, Joe and Kristy at 9am and drove the short way to OKW. Hearing them welcoming you home makes me feel so very special. In no time the car was parked and we had a quick look through the shop.Then it was time for our reservation. We got a table in the middle of the room, had a very nice server and were watching the kids who had a blast.
One little girl was given a Magical Moment for doing belly dancing in her Jasmine costume and we had such a good time watching two boys at the table next to us, munching away on their breakfast. We had a nice breakfast too – Tom had the Omelette - three eggs with his choice of fillings, served with Breakfast Potatoes and Toast, while I had Chocolate Mango Toast - topped with powdered sugar and berry compote served with bacon. I don't remember what the rest of our "gang" had for breakfast. We were nearly finished when a little girl had a very unfortunate accident that left her bleeding and crying until she was taken away by an ambulance. Poor thing, she was so scared and this is the last thing you want to happen to you and then happening at WDW, but CMs were very helpful!!
We left a little while after she had been taken away. Mary Ellen wanted to show Kristy "our" building, so we drove over to building 35 to refresh our memories. After that the "boys" took us back to the boat dock to take the boat to DTD, while Joe and Tom drove there, so we would have the car handy for stowing shopping bags. The first boat was running at 11, so we had to wait for a little while, then boarded our boat and went to DTD. First stop – World of Disney. We all stocked up on souvenirs and the trunk of our car kept being filled with Disney shopping bags. Next stop Christmas store. Don't know what it is about Disney and Christmas, but it always gets me.So more Disney bags for the trunk! We "inspected" some of the other shops as well and then drove Mary Ellen back to French Quarter because her back was giving her trouble again and she wanted to relax a little for the EMH at Epcot in the evening.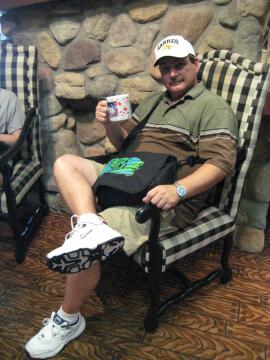 After dropping off Mary Ellen the rest of us went to Animal Kingdom. Just as we went into the park it started to rain. We decided to do something indoor and went to see It Tough To Be A Bug. Lots of new guests there, so it was a lot of fun! The rain had stopped when we left, so we headed over to ride Everest.
Kristy had never been on it before so we HAD to go on. The line said 20 minutes, but then Nemo the Musical had just ended and the fastpass line for Everest grew and grew and so did our wait time. It took a little over half an hour to get to the end of the line. Since it was Kristy's first time we asked if we could go to the front where you have the stunning views of Epcot and the Tower of Terror. We waited for just one train and then it was our turn.
Joe and Kristy were in the front row and we were having such good fun!By time we left Everest the line had grown to about twice the time we had waited.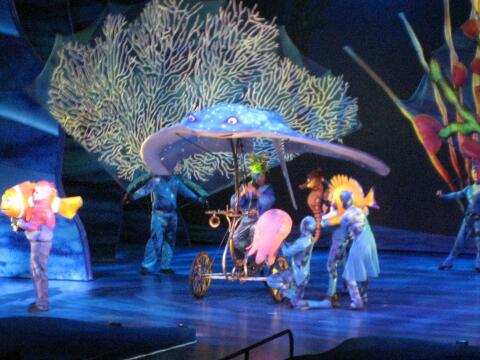 Joe was the only one who had seen Nemo the musical, so we tried to see it. When we reached the line they just started to walk into the theater and we even got really good seats and waited for the show to begin.The show was wonderful, so colorful, so much imagination that goes into all the scenes! We all loved it.
When it was over it was time for us to leave the AK again. On the way back to French Quarter we picked up a piece of Tie-Dyed cheesecake for Mary Ellen. She loves cheesecake and I asked Joe to take a picture of her tongue after she ate it. As we found out later, he DID take the picture of her funny colored tongue! We all wanted a little time to relax before our dinner reservation at Coral Reef.
Back at the room we found two letters/leaflets on our table. They had brought back the Bounce back programme!!! If we were to book before we checked out for a stay in late August, early September of 2008 they offered free dining AGAIN! Well, we wanted to come back next year anyway, just not that late, but we are very flexible when it comes to free dining! All we needed to do was tell Mary Ellen and see if they could make it back as well.
At 6.45pm we picked our friends up again and went over to Epcot. Needless to say, one of the first things we told them was about the Bounce back programme! They were going to try to phone in and book a room as well. To make the most of our "rack rate" stay we decided to go for Pop Century resort. Once at Epcot we went right over to the restaurant and were shown to our table with VERY little wait time. The table was a bit small for the 5 of us, but who cares if you have fun. And we were all able to watch the big tank. The visit to Coral Reef was a first for all of us, but we are now sure it won't be the last! We had a really nice server and were soon trying to decide what to eat!
Well, our starters were Sea and Land - Grilled shrimp with cucumber salad and BBQ beef skewer with creamy polenta for Mary Ellen, Joe and Tom and the New England Cod Cake - served with remoulade and topped with micro greens for Kristy and me! Very yummy!!
Tom and I decided to have the Pan-seared Ahi Tuna with asparagus and baby carrots with red wine fish sauce. Kristy had the Grilled Mahi Mahi served over Israeli Couscous and Honey-Soy Glaze and Mary Ellen and Joe both decided on the Grilled NY Strip Steak - served with potatoes au gratin, and broccolini. NO ONE complained about the food – it was too delicious!!
Joe skipped dessert in favor of a cup of coffee, while Tom had the Baileys and Jack Daniel's Mousse - topped with a ganache and chocolate cigar, Mary Ellen tried the Bavarian Cheesecake with berry sauce, which ended up not being her kind of cheesecake at all and Kristy and I both had the The Chocolate Wave - with brandied cherries – oh yum!! Now we were all very full and there was a whole evening of fun ahead of us. By the time we left the restaurant Illuminations was already over so we decided on going for the rides.But first of all Joe had to print out his boarding passes for the next day.
While he was gone we went over to check out Soarin, which was packed and we gave it a miss.
We phoned Joe and told him to meet us at the new Nemo ride, which Kristy hadn't been on by then. After checking out the Living Seas Pavillion for a while we decided to go and see the American Adventure. We arrived just in time for a performance.
After the show our way led us back to Future World to ride Test Track. That is always a fun ride and the wait time was pretty short. After riding Test Track everyone was tired enough to call it a day. We all hiked back to our car and dropped off Mary Ellen and family at their resort, before heading back to our resort. It was kind of a sad goodbye, already the last evening we had been able to spend with Mary Ellen and her family. But there was always hope for next year!!