A birthday surprise!!
Tom's alarm went off at 7 and we decided that 4 hours of sleep were not enough so we added another hour. We then prepared our own breakfast, made some tea (watercooker provided by the hotel) and enjoyed a leisurely meal.
While munching our breakfast Tom found a sign that said that the room had free wireless internet access. So we tried it and sent e-mails to Mary Ellen and the catsitters. We then packed up our things and left the hotel.
Since the rental car office had been closed on arrival we needed to go back to the airport. At 10 we boarded a free shuttle bus back to the airport and went up to the rental car office.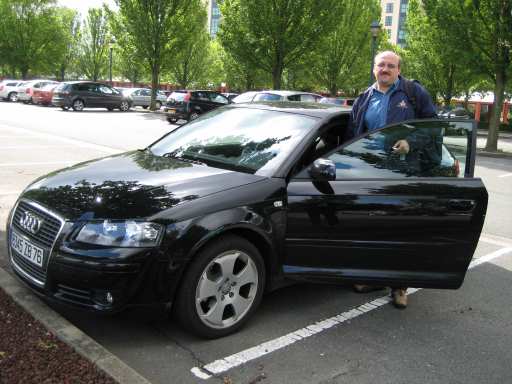 We had only booked a small car like the ones they drive at Lights, Motors, Action at MGM and when we showed our voucher there was NO car in that category! Meant that we got a FREE upgrade, day 2 started much better than day 1! Free internet, free car-upgrade. What we got was a brandnew black Audi A3! Tom liked it - A LOT!!! We then started on our way to DLRP - a 40 minute drive. We wanted to be at the hotel before 12 - maybe we would be able to pre check-in. A little while ago we had discovered this "hotel". It is VERY good value for money, because for less than the cheapest rate of a Disney owned hotel you get a whole house.
Well, we arrived at 11.45 and checked in - room not ready, but we needed to go shopping anyway. So we picked up the room-key and the remote for the front gate and went over to the supermarket in Val d'Europe. There is a tiny disney store, which we visited first thing. They had LOTS of merchandise celebrating Disneyland Paris' 15th anniversary and I got really excited - finally new stuff to buy. We then went to the supermarket and stocked up on food and drinks and snacks. It was 2.30 when we came back to the hotel to find out if our room was ready.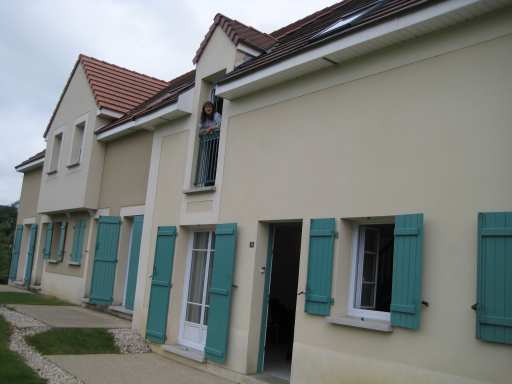 The maid had left, so we entered! We checked out the "room" and found out that we had been upgraded here as well. Instead of the house for 4 people we had been placed in a house for 6 people, which meant that we not only had a LARGE living room and kitchen, but 2 rooms upstairs. One room with a double bed and one with twin beds!!!! Well, that more than made up for the previous day. We had a little snack - can't pass up fresh baguette and then left to finally visit the Disneyland Park.
We parked at the New York, New York hotel, a nice perk that comes with the AP and walked into the lobby of the hotel. There is a small store, so we had a look around - more anniversary stuff!We then slowly strolled through the Disney Village and visited the shops. By that time the weather was still nice and we still had hope of not seeing any rain.The Disneyland Hotel greeted us as we went towards it and so we went over to the side entrance, used our APs to get in and were immerced in the 15th birthday celebration. They actually have done a VERY good job in decorating. Everything lights up and it looks VERY neat!!
We went along Main Street and strolled to Frontierland and Adventureland - unfortunately no rides to ride. The lines were far to long since we had a reservation at Walt's - An American Restaurant - at 5.30. So, after a little stroll we headed there and were seated right away.

We were seated in a room all by ourselves at a window table and the waiter, who was Scottish was very nice and constantly checking on us. Tom had the Boston clam chowder and I had the tomato tartar with goats cheese and balsamic and crostini. For main course Tom had Walt's burger which is HUGE and I had the sirloin steak with sauce bernaise and finger potatoes and roasted veggies.
I was stuffed, but the menu comes with dessert so we tried the new one on the menu - the concerto! Very yummy! While we were finishing our drinks I heard some cast members singing - they were celebrating someone's birthday. It took a while to realize they were heading our way - Tom had actually ordered a birthday cake and the Cast Members were singing!!!!!!!! TO ME!!!!!!!!!!!!!! I don't even dare say, but I actually enjoyed it and it was fun. Tom was so proud of himself - A - for ordering it and B - for keeping it a secret, LOL!!!!
They brought out a whole chocolate cake with candles on it - I blew them out while making a wish. We both were served a LARGE piece of the cake and ate as much as we could after having had a whole meal and left the rest of the cake, because we would not have been able to take it with us.
After our visit to Walt's we walked down Main Street and waited for the parade - I was glad we did, we never made it to see it a second time. The new parade is wonderful - NEW floats - I could not believe that after 15 years there were finally new floats!
By then it was 8pm and we still had two hours of park time and hadn't been on a ride yet. We wandered through Fantasyland, but all the lines were quite long but when we went towards Adventureland we found a new coke stand with a new Hidden Mickey on it.
Pirates was only a 10 minute wait (more or less a walk on) and since there had been rumours of Captain Jack being added we wanted to see if that was the case. NO Captain Jack so far. The ride was really nice and we decided to book a table at the "next door" Blue Lagoon restaurant for the next day.
Back to Fantasyland because we wanted to touch the crackling apple at the entrance to Snow White, huge mistake - that one is at home in Anaheim. But there was only a short line for Snow White, so we went on. When we left the ride it had started to rain, so we decided to call it a day, do a little more shopping at the Emporium and leave the park.