Rain, rain go away!
I woke up to wonderful sunshine through the window above my bed. We prepared our own breakfast and started our day slowly, since we both were still tired from the day before. We left our house and went to the New York, New York hotel to park the car, then strolled through the village and arrived at the studios just after they had opened.
Walking towards the Studio entrance we discovered that they had redone the previously not so nice looking square that connects the two parks. They put in a giant compass pointing out the locations of the other Disney parks, their opening dates and how far they were from that spot. It's really a nice addition!
After that we checked out the large stores in the production hall and Tom had to change the lighting in the building. Another interesting detail you learn to "do" while on a tour.
When we left toward the courtyard the first view went towards the Tower of Terror, which is supposed to open it's elevator doors in early 2008! We were amazed by the change it had made until our last visit in November 06. - and it will be finished SOON!!
We then went over to the new Toon Studios which were not officially open by that time. They were doing test runs of the new Crush Coaster and the new Cars ride. And AP holders were allowed to ride before the official opening!
We watched the Cars ride for a while - lots of fun. The cars go very close to each other and we stayed for quite a while. We then went over to the Toon Studios character greetings and explored this new area. There are a lot of interesting new areas.
After that we decided to try RnRC. It is at the other end of the park, but since Walt Disney Studios Park is still small it's just a short walk. They had already opened the FP machines so we went to pick up a FP since Lights, Moteurs, Action had just ended and people were flocking to RnRC. After several tries to get a FP a CM came over and told us in broken English that our tickets (APs!) were no good for FP. Well, this is NOT our first AP there and we had used FP numerous times, so I didn't quite believe him. In the end he handed me two FPs to get rid of me.
That was one thing I needed to clarify. So since there was LOTS of time before going on the ride we went to guest relations and after talking to a VERY nice CM from Germany we were told that the other CM had made a mistake and he was telling the RnRC guy about it.Since there was still time left we went back to the Backlot Express Restaurant opposite RnRC and had some hot chocolate and a mickey head brioche - filled with LOADS of chocolate!
After that delightful snack we went over to RnRC, used our FP and rode it with actually near to no wait. When we left we saw that the wait had actually come down to 10 minutes, so we decided to ride again. We got in line and rode again and had lots of laughs because of the many first time riders who really got a kick out of the start of the ride. When we left Lights Moteurs Action had just ended its performance and we didn't want to get into the LONG queue. So we decided to change parks and went over to the MK.
Entering the MK we saw the character train coming down Main Street. On to checking the tip-board but the times for the rides were LONG. We picked up a FP for BTM, which we didn't use in the end, checked out Indy, but the lines were too long and decided that we would rather go to see the new Tarzan show. Since we had time to kill we thought we'd check out Colonel Hati's Pizza place. We ordered a pizza to share and some coke. After finishing our meal we went over to the Tarzan theater which is covered andwere very close to the start of the queue and so got magnificent seats!!!!! The show is just amazing - we saw it for the first time and I was just stunned!!!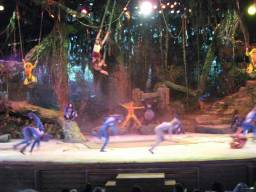 When the show was over it rained really hard and we decided to leave and come back later since we had a reservation at Blue Lagoon restaurant. It was nice to have a little break. The rain did NOT stop and we weren't really in the mood to go to Blue Lagoon, since it is at the far end of the MK and quite a hike. We had always wanted to try the Steakhouse in the Disney village, so we went for that. We parked our car at the hotel New York, New York and went to the steakhouse, got a table right away, ordered our drinks and entrees and admired the atmosphere of the restaurant.
Tom had ordered the Pedigree Angus steak with spiced butter and a baked potato and some salad. It was very nice. I had the grilled tuna steak with mashed potatoes and sweet potatoes and bacon cream. It looked nice, smelled nice and was stoney cold! I had to send it back. When a new portion was served it was just disneylicious!! Couldn't help but order dessert - I had the gooey (wasn't gooey at all) chocolate cake with raspberry filling and white chocolate sauce and white chocolate ice-cream. It was VERY good!!!!!!!!!!!
Tom ordered the speciality coffee, which let him choose a coffee - he had espresso, and three dessert samples. He had a chocolate chip cookie, a black and white brownie (thought that was fun to read) and some toffee ice-cream. He said everything was yummy! I only tried a tiny bit of the ice-cream and it was yummy!!! We have the empty plates to prove it!
It was raining cats and dogs so we hurried back to the car and back to our hotelroom. We watched a little TV and then went to bed - even though we hadn't really done much I was SO tired!!!!