Rides, rides and more rides
We got up early today, but since it rained we decided to drive over to the supermarket which opened at 8.30am and got some fresh baguette and croissants for breakfast. We then had a VERY relaxed breakfast before we headed to the parks which opened at 10am.
We arrived there shortly after 10.30 and headed straight for the MK. When we entered we heard some music and all of a sudden out of the blue the big side gate opened up and out came the character train.They go down main street and the characters get off at the hub to sign autographs.
Well, we waited to see them go by since they are dancing inside the wagons and were waving and having fun. We then went to Discoveryland (Tomorrowland) and picked up a FP for Space - it was for about 50 minutes later.
We didn't want to go through the shops to kill the time and so we went to see if the walkway between Discoveryland and Fantasyland was open - it was, so we went through and decided on having an ice-cream - skipped the idea once we saw how long the line was.
We thought about trying It's A Small World, but again, LONG line, so we went over to Pirates - NO line, so we rode that again. We then went over to Indy - thought about picking up a Fastpass, but there was NO line again, so we rode it twice!!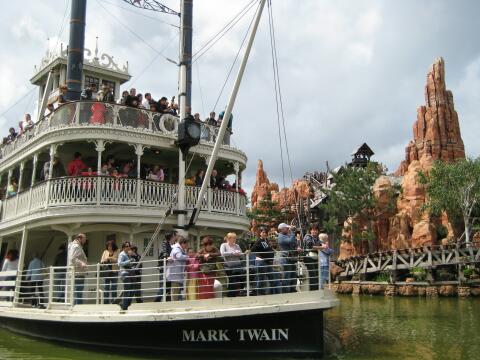 We then went over to Big Thunder Mountain Railroad and picked up a Fastpass for that because there was a LONG line. We strolled around the island for a while until we discovered that Big Thounder Mountain Railroad was STUCK!!!!!!!!!!!!!! So I took about a million photos of the people being evacuated! Well, with no BTMR to ride we went back to the central hub just to see the "birthday song!" being performed. The letters Disneyland dancing up and down Main Street - they have added new words to the MMMarch for that.
Now it was time to go and ride Space, but not without picking up another FP, again for half an hour later!! When we left we had just 10 minutes to kill before going on again.So we took a few pix and sat on a bench before picking up another FP - again for half an hour later, LOL and went on it again.
So we rode it with Fastpass, 3 times in a row. I cannot do it more often than 3 times in such a short span of time, because this is a VERY FAST, but bumpy ride and I usually bump my head a few times, which sometimes gives me a headache. Well, this was the day of "1000" rides, so we went back to Fantasyland to check out the rides we hadn't done - too long a line at Peter Pan's Flight, but then we discovered that the Storybook Land Boatride was open - this one is VERY often closed so we got in line and rode it.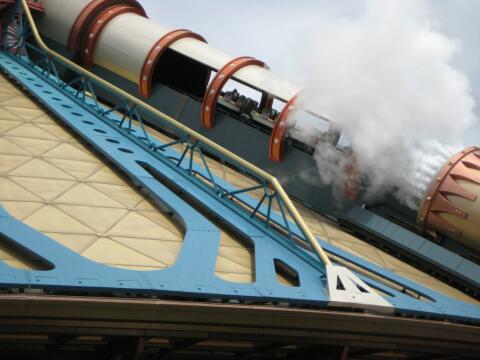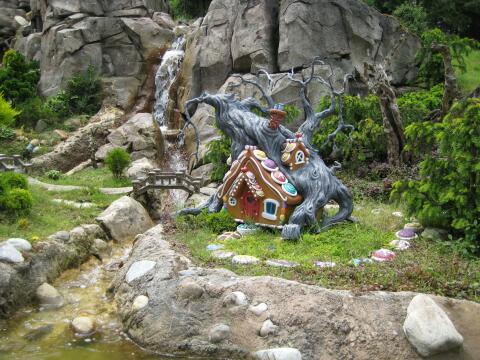 Shared a boat with a Dutch family and had a lot of fun. Tom then suggested to get in line for Casey Junior Circus Train as well. I guess we were the only ones without kids but the ride was wonderful and gave you very different views of the park. This one was a first for both of us, but I guess we might do it again.
When we got off it started to rain, so we thought we better head somewhere dry to sit and have a snack - so we went to the Backyard Barbeque and to our amazement it was as good as empty. We both got a hamburger and fries accompanied by a coke and we enjoyed some "downtime" while the rain lasted.
Now it was time to try Phantom Manor or the Haunted Mansion as you call it. NO line - how l love that! When we left the ride we went over to the we graveyard listening to the ghost who knocks at the side of his toom and reading the inscriptions on the "graves".
There was still time left before we wanted to see the Candelabration (lighting of the "candles" on the castle), so we went through Fantasyland again and went into Snowwhite's shop. There were a few hats to try on and Tom volunteered to be the model. After a while we decided to head out to the hub to stake out a spot. It had started to rain again and they postphoned the beginning.So we thought about trying an ice-cream at the Gibson Girl's Ice Cream shop. Once inside the shop Tom wanted to put on his glasses and they are gone!!!!!!!!!! We thought about where he had had them last and I could not remember it, but he could - he had taken them off to have his picture taken in a hat for Mary Ellen!! We decided to go back to the shop and search for them - maybe they were still there. We searched the whole shop but didn't find them.
Last attempt - I asked a CM at a till about them and he didn't know anything about it, but he wanted to go and check it for us - he found them, someone had turned them in!!!!!!!! We thanked him about a million times and told him that he had made our day truely magical.
B
ack to Main Street and it was pouring down. Some CMs tried to remove all the water from area where the characters are supposed to have their party, but within 5 minutes of trying so the show was cancelled. Well, it was almost time for our ADR at the Silver Spur Steakhouse so we went over there.
We were seated within a few minutes, just to be "reseated" a few minutes later. Our server was very annoying - commenting on anything we ordered! We both had the Cesar Salad and when he came to take away the empty plates he made us take our cutlery off to use it again!!!!! Well, I was so stunned I didn't do anything against it. I cleaned both sets with my napkin and that was it. Well, here comes our main course - Tom had the Grilled Sirloin with fries. I had the Salmon with rice and veggies - and guess what - our "lovely" waiter takes away my knife and gives me a steakknife (for eating my FISH!!!!!) I tried, but the handle was broken, and I asked another waiter for a "real" knife! Our waiter commented on it!!
Dessert was Chocolate and Praline Craquant with orange sauce - yummy!!! But this time we got no cutlery at all, LOL. I went and got some from another station and it showed in the tip for our waiter. The food was very yummy, but the waiter was very "European"! When we left we thought that we might have a look how long the wait for Big Thunder Mountain Railroad was - and it said 30 minutes - so we got in line - nothing like riding a coaster on a full stomach.

We were done within the 30 minutes and got in line again, CM at the entrance laughed and wished us a wonderful second "run". The wait was even shorter and we got in line a third time - greeted by a "What you again???????" and a huge laugh. Rode it for a third time - and that made up for the long lines all the other days.
After round 3 we decided to do a little more shopping (we get 20% off everything - how wonderful) and within 5 minutes they announced that the park was now closed.
T
he shops stayed open late, so we browsed the shops and found a "few" more things to buy and by the time we were done Main Street was nearly empty. Couldn't resist but take another few pix of a deserted Main Street, before heading back out to our car. Got back to the car just in time for another downpour, but we made it back to our "residence".