We got up extra early today, had some in room breakfast of tea, Oreos and a magic cookie bar and headed out to be at Disney Hollywood Studios at rope drop. We had never managed that before, so it was nice seeing how they entertained their guests. When they finally let people in, Tom joined the stampede to Toy Story Mania while I walked there more slowly, because me legs hurt. When I arrived Tom was nearly up to the FP machine, so I waited at the entrance for the ride for him.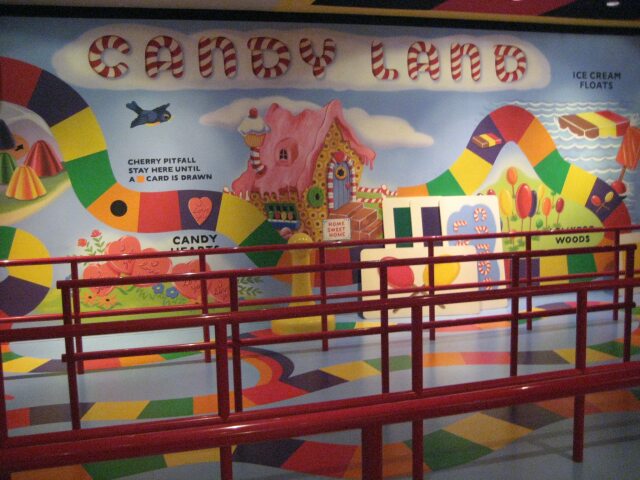 Our FP was for 11 so we had more than enough time to get in line and ride Toy Story Mania right away. When we were halfway through the line the lights went out and everyone had to evacuate the building. The ride was down for a few hours. No fun! We thought about what to do and since we were close to the Backlot Tour we decided on that one.
They were just letting people in so we tried to catch up. Well, they closed the line just as we approached it. The sign said 10 minutes, so we thought what the heck. Well, it was a 20 minute wait and we were really disappointed they didn't do the water stunts in the pre-show. They showed the equipment, but no stunts. The rest of the tour was business as usual, we got onto the Tour trams and did the usual tour. The fun thing was, that there were several families on the tram who had obviously never done it before and were stunned by Catastrophe Canyon. So much fun to watch. When we passed the Lights, Motors, Action stage, they were just preparing for the show and it was fun to watch while driving by.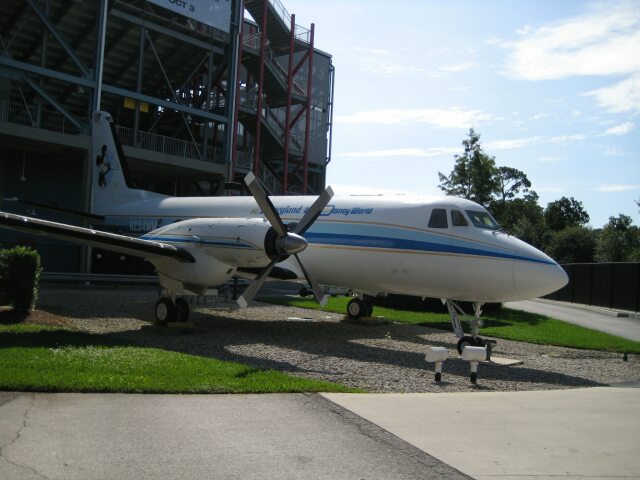 After the ride we checked out the store at the end of tram ride and Tom found a fun T-shirt. We walked over to New York Street and then to the main square where the hat is. We had a look if Toy Story Mania was open, but no, not yet. So we got onto the Great Movie Ride and then went over to Rock'n'Rollercoaster, which was down too! Well, the Tower of Terror was open and only a short wait, so we got on and rode it. Okay, let's have one last check of Toy Story Mania before we leave. It was open!! We got into the Fastpass line, which was long too, but at least we got to ride it. The ride was fun as always and even though my wrist hurts after shooting at all those things it is a real fun ride!! It was time for a snack and I got an Ice-cream Cookie Sandwich and we shared a bottle of water. The water was very cold and therefore very good and the sandwich had a Mickey face, so it had to be good. After that break it was time to leave the Disney Hollywood Studios and drive over to Epcot.
We headed straight for the Land Pavillion to pick up another Fastpass for Soarin. Since it had been quite some time since breakfast, we decided to try Sunshine Seasons for lunch. Tom had the Rotisserie Pork Chop with Mashed Potatoes and Glazed Carrots. I had the Grilled Salmon with Olive Pesto Sauce and Salad with Apple-Balsamic Dressing and Rice Pilaf. Both were equally yummy. For our desserts we chose the Strawberry Shortcake and the Bavarian Strawberry Cake.
The Strawberry Shortcake was really wonderful, while we both found the Bavarian Strawberry Cake a little too sweet. After lunch we headed out to wonderful sunshine and rode Mission Space in the orange team. We went through Mousegear again and did a little shopping. After a drink at the Club Cool we headed over for World Showcase for a while.
Then it was already time to walk back to the Land Pavillion to use our Fastpasses. We got to ride in the top row without even asking for it, so that was good fun. When we left after the ride we saw that there was no line for the Living With The Land ride, so we got on. One more time we got the front row and it was real good fun. By now it was mid afternoon and we decided to have one more snack. So back to Sunshine Seasons, where we shared a California Roll and Tom had a beer while I tried some lemon flavoured water. The sushi was nice, Tom liked the beer, but the water was really horrible. Very chemically tasting lemon flavour, definitely not worth the money!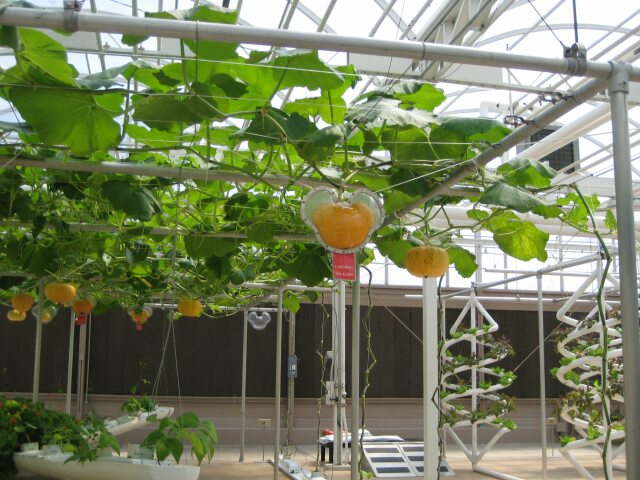 After our snack we went back to our resort and found a long awaited surprise! The new bounceback Free Dining offer. Tom took a few photos of the flyers and we uploaded them to so we could share the good news with friends on the Disboards and after we had done so I got on the phone and booked for next year!
More Free Dining in 09, what can one wish for. When we had finally finished booking and uploading we just had time to freshen up and get changed before we headed out to the Polynesian to have dinner at Ohana's. Thanks to using our own car we were inside the hotel within 20 minutes. We signed in, were handed a beeper and went to look at the shops. Some time later we settled opposite the sign in desk and waited for our turn. While waiting it was amazing to see how many people were turned away. About 15 minutes after our reservation we were called and escorted to a table right in the middle of the main dining room. It was actually a table for 4, so we had plenty of space.
Our server turned up right after we had been seated and we ordered our drinks, Diet Coke and we each had a Backscratcher. While we were waiting for our drinks to arrive the entertainment started! We were sitting front row for it – how wonderful. It was so much fun to see them make a big fuss about the birthday and anniversary people. Then our server returned with the drinks and soon after we were served their 'Ohana Welcome Bread and the Mixed Greens with a honey-lime dressing.
We started munching away on the salad and bread and soon after the Peanut Sauce, the Chimichurri Sauce and the Sweet and the Sour Sauce, followed by the Pork Dumplings in Sweet n Sour Sauce, the Honey-coriander Chicken Wings and the Stir-fried Vegetables arrived. They then brought out the Noodles.
That was such an awful lot of food and it did not end there. We enjoyed the food and all the time watched the entertainment. By then they had started to get ready for the coconut race and it started right in front of our table. We could not have had a better view of it. Right after the race had started and the space around our table was free again the meat skewers arrived. There were Asian Barbecue Pork Loin, Marinated Sirloin Steak, Mesquite Grilled Turkey and Spicy Grilled Peel - n - Eat Shrimp.
All of which were very yummy! We were so stuffed, but the best was yet to come, Ohana's famous bread pudding a la mode with Bananas Foster Sauce. Needless to say we did eat some of it, but were not able to finish the dessert. After we had paid the bill we decided to go over to the Magic Kingdom by boat. We went out onto the boat deck and saw one of the boats just leaving, so we knew we were in for a little wait, but that was a big mistake.
The Waterpageant was out and the boats were not allowed to cross through so we had to wait a very long time for the next boat. But at least we were able to enjoy the Waterpageant. Once the boat arrived we got on, but were on hold aboard the boat because the Waterpageant had moved on and we had to wait for it to clear again. It had taken nearly an hour to get to the Magic Kingdom and it took some more time to go through security and the turnstiles.
We were a bit in a hurry because we had signed up for the preferred fireworks viewing at the Magic Kingdom this evening. They have it where the tables are down by the water, right underneath the seating of the ice cream parlour. There were already a lot of people there and the view itself was somewhat obstructed by trees from the water's edge so we went up the path a bit and found a spot that had a clear sight of the castle. We were soon followed by a lot of other people who had signed up for the preferred fireworks viewing. It was nice watching the fireworks from there, but I love them just as much from Main Street USA. After the fireworks we found a very uncooperative cast member, who was very unhelpful with were to pick up our wristbands for the Extra Magic Hours.
So we just marched on into the park, hoping to find cast members handing them out. The park was very full, but there were still Photopass photographers, so we had a few photos taken. Shortly after that we found a spot where wristbands were distributed, picked ours up and went further into the park. Since there were still so many people we checked out a few more shops before we tried to get on any rides.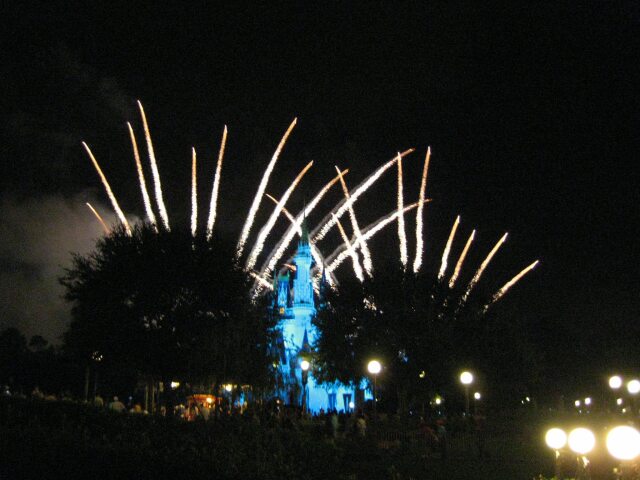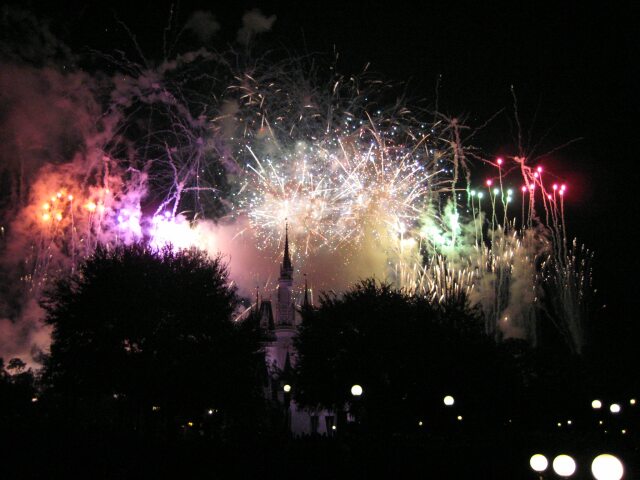 We were very surprised that even though the park appeared full, the actual ride lines were short. We got on It's a small world first, then visited the Haunted Mansion, went over to Big Thunder Mountain, which we rode twice, then we went on Pirates and the next ride was the Jungle Cruise. We were so surprised it was still open and it was so much fun to ride at night. We slowly went over to Tomorrowland and rode Space Mountain twice. Since it had gotten late by then we finally went back to Liberty Square and Frontierland to ride Big Thunder Mountain again twice before we went on Splash Mountain as the last ride of the day. There was only half an hour of the Extra Magic Hours left, so we slowly walked towards the exit and caught the first Resort Monorail back to the Polynesian. We picked up our car and went back to Port Orleans, where we arrived shortly after 1am. Needless to say that we just fell into bed, it had been such a long day.