Nearly time to leave!
This was another late morning for us. We slept in, did a little more packing since we were moving to Universal Orlando the following day and went to Downtown Disney for an early lunch. Needless to say that Wolfgang Puck's Express was our choice!
Tom had the Chicken Tortilla Melt - spicy all natural chicken, onions, sautéed red and yellow peppers and oven-roasted tomatoes, tossed with tortilla sauce, topped with mozzarella, wrapped in warm, all natural garlic focaccia bread. Served with a side of sour cream slaw and tortilla chips while I wanted to try the Rigatoni with Chicken Bolognese - all natural chicken bolognese topped with Grana Padano Parmesan and a side of Caesar salad. Like always the food there was very good, the portions generous and we were not disappointed with our choices. Dessert? Tom had another helping of the All Natural Chocolate and Vanilla Frozen Yoghurt with strawberries and I had my all time favourite – the Crème Bruleé. After lunch we decided to spend a few more of our snack credits at Goofy's Candy Company.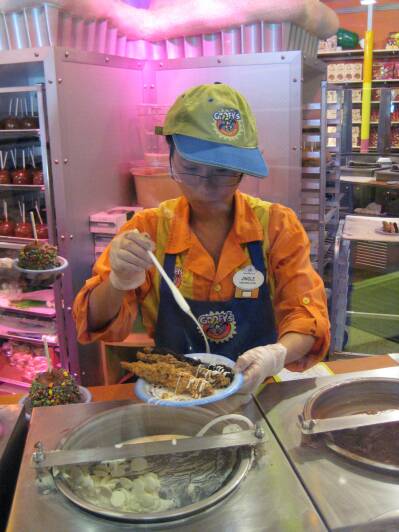 We picked up a few of the giant lollies and some more Make Your Own treats, some Chocolate Covered Marshmallows and some Pretzel Rods. After visiting a few more shops we decided it would be better to take our shopping back to the resort.
Our room had already been made and we were able to retreat there for a while. In the afternoon we walked around the grounds of Port Orleans Riverside before we went back to the room to do more packing and finally freshen up for our dinner at the Captain's Grill at the Yacht Club Resort. We had a reservation for 6pm, so we drove over to the Yacht Club at around 5pm to still have time to enjoy the resort before we went to have dinner there.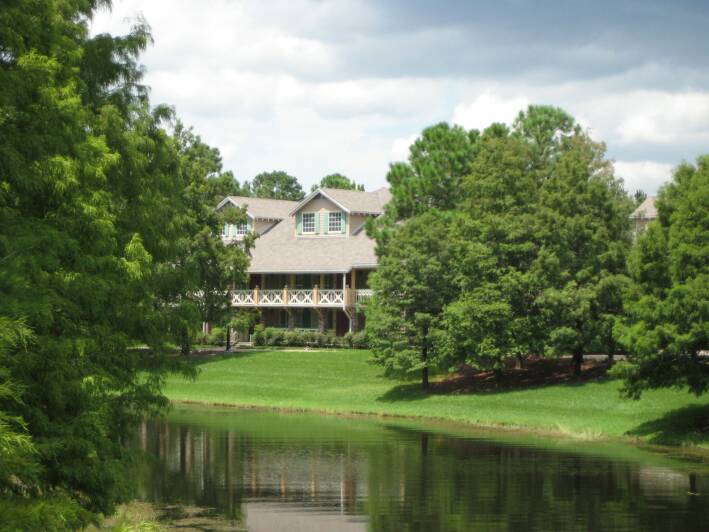 After we had checked in at the podium we were taken to our table right away. It was another table for 4. Our server Francesco came over and we explained to him that we were on the Disney Dining Plan and wanted to use our Disney Dining Experience Card for any extras. Well, he said, this could not be done! There was no way we could combine discounts. I told him that we had already been staying for nearly 2 weeks and never had a problem, so he went to ask a manager. It took quite some time for him to return, but now we were allowed to use the Dining Plan and the Dining Experience. So we finally were able to order our drinks, diet Coke as always and once Francesco brought these, he brought a basket of rolls and some butter as well. We decided on ordering an appetizer to share, the Spinach Cheese Dip - Grilled flatbread, chopped onions, tomatoes and bacon. It was quite a generous portion and more than enough for us to share.
As our entrees Tom had chosen the Grilled NY Strip - with herb potatoes, seasonal vegetables and red onion jam, which was very tender, melt in your mouth meat, yummy potatoes and greens. I wanted to try the Market Fish, which was salmon - with colcannon potatoes, Virginia ham, and lemon-butter sauce. Before I had not been sure if the ham and colcannon potatoes would go so well with the salmon, but actually it was heavenly! Once we had finished our main courses, Francesco appeared, and told us about our dessert options. I have to admit that his English was not very understandable and that he had obviously learned the menu by heart, the way he just got over with it. Needless to say we didn't understand a word of it so we asked for a printed menu. Now his reply to that was, that our English was good enough to understand him, so why would we want a printed menu? Excuse me??? When he realized we were not ordering without the printed menu he moaned and brought one a little later, stayed and waited what we wanted.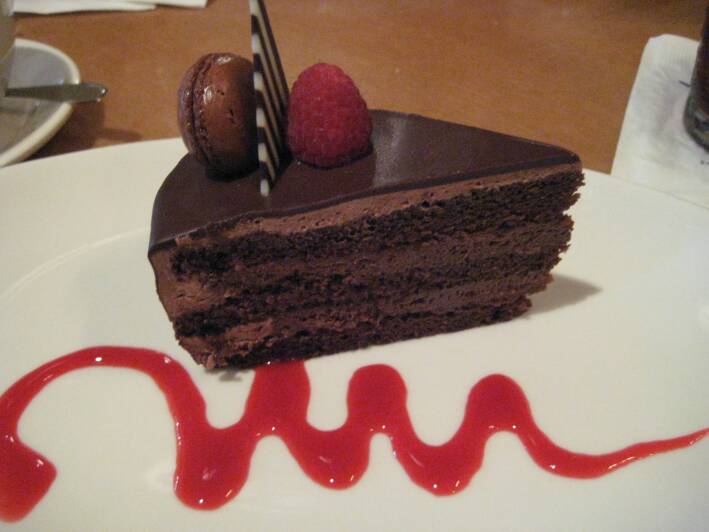 We really felt pushed, not having time to think about it or read it twice. But Francesco took his time after we had ordered. It took ages for him to reappear with an Espresso and a Cappuccino. Needless to say the Espresso had no more crema whatsoever! For our desserts we had ordered the New England Blueberry Tart - with yogurt gelato for Tom and the Chocolate Mousse Cake - dark chocolate mousse and raspberry sauce for me.
Both were very nice and the Chocolate Cake was very rich, so I was not even able to finish it. Francesco decided to bring out our bill right with the desserts and when we finally looked at it that he had NOT applied the Dining Experience on the starter and coffees. So, we handed it back to him and after more moaning from him he went to correct it. This was the only time during the whole trip that we tipped only 15% because we thought that was more than enough for the kind of service we had received. It had started to rain cats and dogs while we were having dinner and it had not stopped yet so we decided to visit the Yacht Club store one more time. While we were looking at things we could not help but noticing a mother and her two daughters. The mother was discussing the size of the Minnie doll they wanted to buy. Needless to say the little girl wanted the bigger one, but after her mom reasoned with her, she gave in without any more pleading. We could not believe how well mannered that little girl and her sister, who did not even beg for something, were. We quickly discussed rewarding the two girls, Tom took out two Disneyland Paris pin and we approached the mother and asked if we were allowed to give the girls the pins. You could tell they were into pins. They both were wearing lanyards and looking at cast member pins. Mom was okay with it and the girls were very happy. When the mother thanked us over and over again we just told her that this was just passing on the magic. And we were surprised as well. When we left the store a cast member approached us and told us to pick a pin of his lanyard. Some of the cast members had watched us giving away the pins and wanted us to experience some magic as well. We were stunned and Tom picked a "Band Concert" Mickey off the lanyard.
After that we went back out to our car and drove over to the Disney Studios. It was packed. We picked up our Extra Magic Hour wristband and went to ride Tower of Terror. There were still Fast Passes so we picked one up and got into the regular line. After that we went to ride the Great Movie Ride and walked around the Studios a bit, before our Fast Pass time came up. We rode Tower of Terror again and then called it a day. We headed out to the parking lot and drove back to our resort. When we arrived at our room the froggies were out again to say good bye. We did the rest of our packing and went to bed shortly before midnight.