Miami, here we come!!
A new adventure …….. one that involved some travelling and sightseeing, some Disney fun and a "Disney family" reunion and a Disney cruise with "the fun group", the Tags!
It all started on Saturday, Aug 15, after a short night's sleep because we had started packing far too late, as usual.
Our day started early – at 3.30am. And after getting ready, some breakfast and saying goodbye to Pixie, the cat, we went outside to wait for the taxi, which promptly drove past the house twice until he realized where to stop. We made it to the airport in plenty of time for our 6.05 flight, checked in and went through security.
It didn't take long until boarding was announced and we got on board. The first leg of the trip we travel on a small plane and we were lucky as in our row there were only the two of us in three seats – yeah – space! Shortly after we had taken off for our 50 minute flight we were served coffee and tea and a small snack – appropriately enough it was called an "American". We arrived in Frankfurt on time and had more than enough time to make our way to the new gate.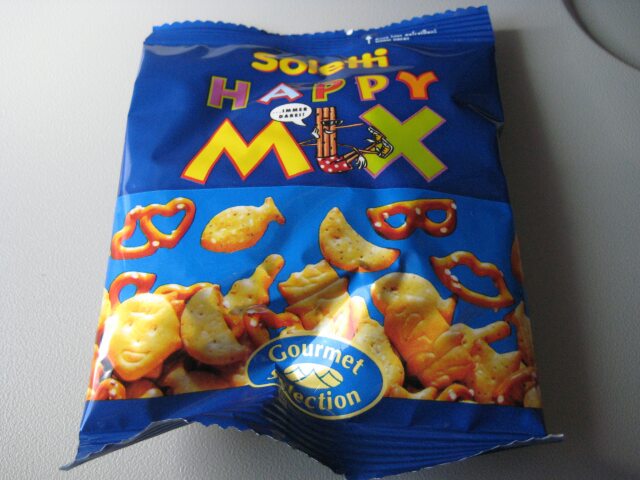 There was even time for some duty free shopping. Soon it was time to board the plane and we got lucky again – 3 seats for the two of us – yeah – space to stretch your legs a bit!
We started right on time and about 1 ½ hours into the flight we were served some snacks and drinks and later some lunch, some mixed greens with balsamic dressing, chicken breast in sweet and sour sauce, served with rice and a piece of lime cake. After lunch we both took some sleeping aid and we slept for most of the 10 hour flight. About two hours before we landed we woke up and were served another "lunch". To our surprise the offering was "chicken or pasta" again!
This time we opted for the pasta, Penne pasta al arrabiata with a little pesto on top and some yoghurt for dessert.
After lunch we were informed that we had to fly a little longer due to storms in the area, so we were to "enjoy" another hour on board before we finally landed at Miami International Airport.
We got off the plane fast and got in line for immigration. It didn't take as long as the year before and we were happy to go to baggage claim. Unfortunately our luggage was with the last few pieces they delivered and it took forever until we had collected all 3 pieces. We went through customs, had our luggage scanned one more time and off we went to pick up our rental car. Well, it was actually easier said than done. You need to stop a shuttle by jumping out into the street. Three shuttles went by until one finally stopped. We then hit the traffic jam and it took quite some time until we finally arrived at the rental car company pick up station.
And there was the next queue to join. Another long one. Tom got in line while I stayed at the side with the luggage. Once he had finally made it to an agent I joined him. Even though our voucher had been paid in full beforehand, included ALL the insurances and the second driver it took forever until the paperwork was done. Once we finally had our paperwork in hand we found out that it had started to rain, well, not just rain, it was pouring down with rain. So, out we went to join the next queue to pick up the car. After about half an hour we were finally able to hand in our papers and a rental car employee went to get the car. We had booked a convertible and we were really lucky, since this one had a really large trunk and ALL our belongings fit into it.
Once everything was loaded in we were told to leave the "pick-up" location, so they could bring in more cars. We drove a few yards, then stopped to install our GPS device and off we went. By then it was raining really hard and it took us some time to get to Miami Beach. We unloaded the car, checked into the hotel and went up to our room! 9th floor, waterfront, what a treat.
But we needed to move the car, so we left our luggage in the room and off we went again. It had already been a long day, but we were hungry and wanted to drive to the Bayside Market Place for dinner. We parked the car at the parking garage and went to Bubba Gump's Shrimp Company. Once we had been seated we knew our vacation had started! Tom had a Diet Coke and I ordered a Strawberry Speckled Lemonade – yummy!
We shared the Dynamite Shrimp, succulent popcorn shrimp with a sweet glaze and a special blend of Thai spices as our starter. Yummy spicy shrimp to start off your vacation, what more can you wish for? Tom wanted the Bourbon Street Mahi Mahi, charbroiled Cajun spiced Mahi Mahi with Bourbon Sauce and grilled Shrimp, served over Mashed Potato and he was not disappointed. I had to order my favourite item on the menu, the Dumb Luck Coconut Shrimp, served with Cajun Marmalade and Fries. I was in vacation heaven. After we had had dinner we walked back to the car and drove to Publix to pick up some snacks and drinks.
We parked the car in the garage two blocks from the hotel, walked to our hotel and went to our room. We sat on the balcony for a while but we had had a really long day, so we got to bed early after trying some of the snacks.