There is nothing like the thought of losing valuable Walt Disney World time to get us out of bed early. We got up really early this morning, watched the sun come up and got ready for breakfast. Right when the restaurant opened we went down and were seated immediately. There was only one other couple there at this time in the morning. We had the usual buffet breakfast, some bacon, eggs, potatoes, some pancakes and French toast and some fruit and some coffee and hot tea. Once we had finished breakfast we went straight back to the room, picked up our luggage and checked out of the hotel. We had a 4 ½ hour drive ahead of us and we were in the car by 8.30, leaving the parking garage and saying good bye to Miami. . It's a really long and boring drive from Miami to Orlando and we were really trying to put miles behind us.
In no time we went through the gates of Walt Disney World and stopped in front of the gate of the Caribbean Beach Resort. The guard looked up his list and agreed that we had made the "good" list as he called it and with a smile he waved us through. We stopped at Old Port Royale and went towards the food court to finally meet with our friends Mary Ellen and Joe, whom we hadn't seen in a year's time.
While scanning the room for them I spotted Mary Ellen waving and walking towards us with Joe right behind her.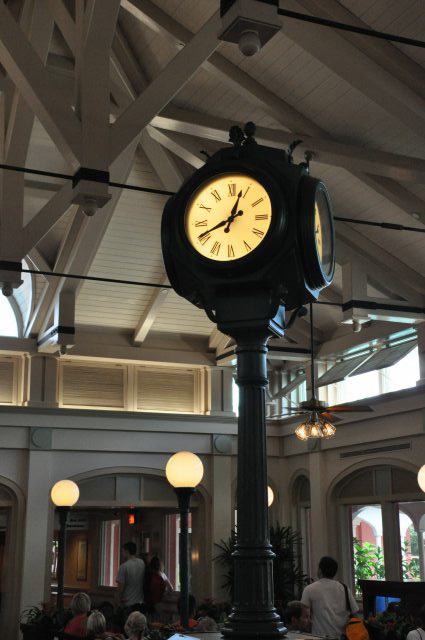 The funniest thing was when halfway on their way over Joe started running, pushing Mary Ellen out of the way and hugging Tom. After we ALL had hugged we had such a laugh about that. Back we went to Customs House to check in. I had booked both our rooms with my AP discount and had not been sure if they would have been able to check in without us present.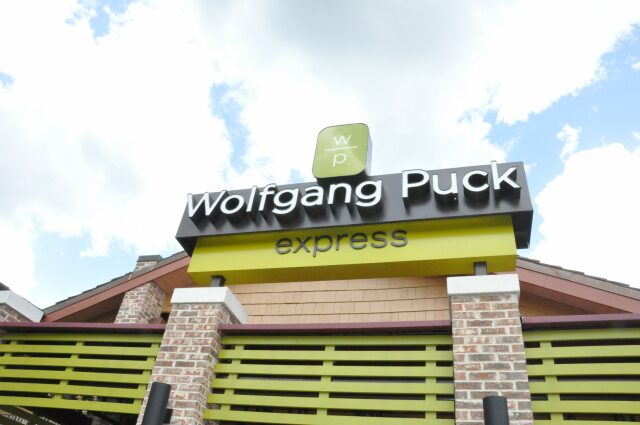 So we checked in together, picked up our vacation documents and the Gift Card, Disney had offered to give to Tom and I for the trouble we had had with making dining reservations. I even remembered to ask about our cruise documents and yeah, they were there. Unfortunately our rooms were not ready, but they took Joe's cell phone number and promised to send him a voice message when our connecting rooms would be ready.
So what to do than spend some of those dining credits we had paid for. We all squeezed into our Sebring convertible and drove over to Downtown Disney.
Lunch was supposed to be at Wolfgang Puck's Express and when we arrived there was a long queue and the restaurant was rather full. But the thought of the yummy food let us get in line anyway. Surprisingly it didn't take long until it was our time to order some food. We both ordered some Diet Coke and Tom had the Rotisserie BBQ Beef Fire roasted Focaccia Melt - Slices of house-roasted Niman Ranch rotisserie beef, sautéed mushrooms, caramelized onions and Wolfgang's signature BBQ sauce, topped with mozzarella, rolled in warm, all-natural garlic focaccia bread.
Served with a side of homemade chips and a small salad. This is one of his favourite dishes there. Since this was the start of the Disney part of our vacation I needed an old favourite too, the Four Cheese Pesto Pizza - creamy goat cheese, mozzarella, fontina and Parmesan with Roma tomatoes, fresh basil, garlic-basil pesto sauce and sun dried tomatoes. This is NO diet food, but it is just so good! We both decided on having the Crème Brulee for dessert. After ordering we picked up our drinks and went to look for a table. The inside dining area was packed and the area covered by umbrellas was packed too, but towards the side there was one table with a small umbrella left. We sat down there and waited for Mary Ellen and Joe and our meals. Right after our friends had joined us it started to drizzle. A very nice server came over and helped us move to another table that was covered entirely. A short time later our meals came out and we enjoyed the first of many meals at WDW.
It was still pouring down with rain when we left and hurried over to the Christmas Store. We stayed in there for some time, got ponchos in the end, as we had forgotten ours at home and headed outside to explore a little more.
It was time for Mary Ellen and Joe to meet their friend Kryss, who was giving them free tickets for the next day and Tom and I headed to guest relations to renew our APs. We wanted to use the tickets from the year before because we had been told that if we would not use them, they would not expire, but nope – they had expired. After a short conversation with the cast member she went back to find out what she could do. She came back with a manager who told us that they would give us complimentary tickets that matched the ones that had expired, but we were not able to use them towards our AP. Well, I have many more tickets left, so we both used a one day ticket towards payment. After all that was settled we headed back to the meeting place with our friends, outside of the World of Disney. They were still chatting with Kryss and in the end we all decided that we could dig into an ice-cream sundae while chatting.
So we went over to Ghirardelli's and Mary Ellen had the Haight Ash Berry - Very Berry Sundae - strawberry cheesecake ice cream smothered with sliced strawberries under a layer of blueberry cheesecake ice cream, blueberry topping, whipped cream, our chocolate-covered blueberries and a chocolate dipped waffle roll. Tom and I shared The Gold Rush - Peanut Butter Hot Fudge Sundae.
It's Vanilla ice cream with hot fudge and melted peanut butter throughout. Topped with whipped cream, roasted peanut halves, cherry and Ghirardelli Squares milk chocolate. After we had finished our sundaes it was time for Kryss to leave and we went back to the resort to check out our rooms. Joe had left his cell phone number at check in and they texted him the room numbers. Once we were back at the resort we headed towards our rooms and were delighted to find that we were staying in a corner room and Mary Ellen and Joe were right next door with a connecting door.
We settled in, and exchanged our presents and Mary Ellen opened her birthday present. Spending time together was so much fun. Later we wanted to explore the resort, so we went outside and went for a little walk. Once we came back to the room there was just enough time left to relax for a short while, get changed and we freshened up a bit, before we headed back to the Polynesian for dinner.
Since we had expected that we would have a late lunch, dinner was scheduled at 8.50. We arrived shortly before our assigned time slot, just to find out that Mary Ellen's brother Vinny, his girlfriend Susan and her daughter Olivia had already signed us in. We stood opposite the sign in area and waited for our turn.
We waited, and waited, and waited a little more. We saw other guests, who were as many as we were sign in and be seated with just little wait. After an hour Joe had had enough. He went over to talk to the person assigning tables and after a little while we were assigned a table. A 6-top for the seven of us!! They quickly added a chair and we were handed menus. We all placed our drinks orders and were served our drinks a short while later, together with the Welcome Bread and the Macadamia Nut Butter. Since we were all really hungry we dug in and there was not much left in very little time. Our main courses didn't take very long. Every person in Mary Ellen's family had the Teriyaki-style New York Strip - sirloin strip grilled with pineapple teriyaki glaze served with mashed Yukon gold potatoes and stir-fried broccolini. Tom had decided to try the Miso Glazed Mahi-Mahi - served with soba noodles and baby bok choy.
I had the Shrimp and Scallops - panko breaded shrimp and pan-seared scallops with sticky rice and ponzu, spicy guava-passion fruit and wasabi cream sauces. We all were pleased with our choices. For dessert Mary Ellen got A Sweet Ending to Your Celebration... White Chocolate Cheesecake - Cheesecake with a hint of white chocolate, strawberry coulis, and whipped cream, Tom and I had the Chocolate Fondue, Joe had just a cup of coffee and Vinny and his family had the Kilauea Torte. When we had finished our dinner Extra Magic Hours at the Magic Kingdom had already started and we decided to give them a miss and head back to the resort with Mary Ellen and Joe. Tom put the top of the convertible down and we enjoyed the right back and spent some more time together, before we decided to call it a day.