A day of many rides
Our last day at Universal! Time just flew by. We decided that instead of going off-site we would give the Island Restaurant in the hotel a try. And it was good we did!
Tom had the Island Eggs Benedikt with spinach and tomatoes and I had the Island French Toast with Caramelized Bananas and Cinnamon Butter. Both were equally delicious.

After such a good meal we were all set to "hike" to Universal Studios.
We were VERY surprised to find the studios not very crowded an hour after opening.
With our Express Passes in hand we went to the Jimmy Neutron ride first. This is a simulator ride and quite funny. Next stop – "Twister". Again we used the Express entrance and as soon as we came to the end of the queue area the doors opened and we were able to enter. I think this is a great experience – even though it is just a ride. Time for a few photos in "New York" and then we had reached the Mummy Ride.Now this is a rollercoaster and always has longer lines. We packed our things into a locker and got in line, which was short. The ride is FAST and has a few twists and turns, but that is what we like in a coaster. Wanted to pick up our things, but there was such a long line to retrieve our things at the lockers that we decided to ride the Mummy again.
After that second ride we managed to retrieve our belongings from the locker, strolled through the Irish shop and over to the Earthquake ride in the San Francisco part of the park.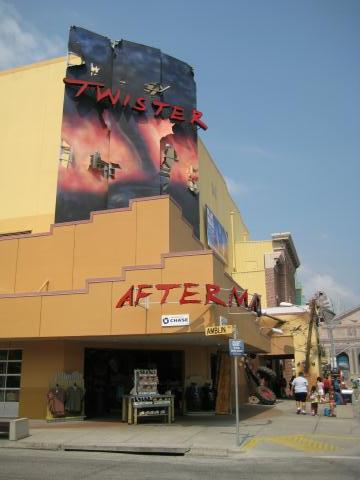 This is a three part walk on attraction – first part tells you about movie making history and the props they use, second part is about stunts, with "wet" effects and a "stunt fall" and the third is a tram ride where you experience a strong earthquake.
We then entered Amityville and to visit that vicious shark! And sure our boat got attacked too! On the way in two girls passed us – didn't mind that! But then we were seated and they sat on the outside. Good for us, hadn't they overtaken us we would have been sitting there and would have gotten very wet. So Jaws just splashed the girls.We then took a few photos of the "great white" and strolled around the lagoon, passed by MIB again and through Central Park and Battery Park back to the Monster Café, where we had some lunch.
We shared a Cheese pizza and a Pepperoni pizza and a Cesar salad. We didn't want to do any more rides there, so we left the park. Strolled through Citywalk and visited a few shops and even bought two watches at the Fossil shop there.Now we did not want to carry our purchase so we picked up the Cajun Marmelade from Bubba Gump's as well and took the boat back to the hotel. After a short rest we took a boat back to Citywalk.
Now it was time to ride the Islands of Adventure rides a final time. We started off with the Incredible Hulk Coaster, then over to Doctor Doom's Fearfall and the Spiderman Ride. All three in about half an hour! We then went back to Suess Landing and rode the Cat in the hat and the Highway in the Sky ride again.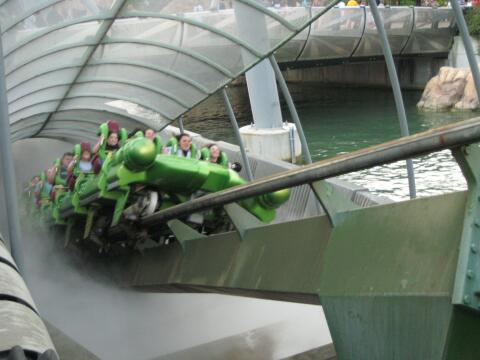 I had loved the Highway ride the first time around and boy were we surprised to discover that there are actually two different sets of tracks! This time we rode through a restaurant and the outside portion of the ride was different too!
We then strolled past Poseidon's Fury and the Mythos Restaurant and went towards the Duelling Dragons. They were very much slowing down the lines and it took "forever" to load a train. So we rode the Ice Dragon first, then went over to the Fire one to ride and after that said good-bye to them. We took the same route back and rode the Hulk coaster again, went over to Spiderman again and then the Hulk again. Time to say good-bye to this park as well. It was already time for dinner by then and we went back to Bubba Gump's again. Had to wait about 10 minutes to be seated, then had a funny girl serving us. She was talking so fast we didn't catch a lot of what she said and then she was even doing quizzes with us.
Dinner was fine – again we shared the Cajun shrimp. Tom went for Mama Blue's Southern Charmed Fried Shrimp - With hot and crispy fries and cocktail sauce for dipping and I had the Dumb Luck Coconut Shrimp - Bubba always loved this one. Served with Cajun marmalade and fries – AGAIN!! Tom tried their Kona beer and I had the Strawberry Speckled Lemonade again!

Well, after such a dinner we were both stuffed and tired from riding all those rides all day long, so we went to have a look at the lines for the water-taxi. And to our big surprise they were really short so we were able to take the next boat back to the hotel. Only thing left to do was packing. Having rented a convertible it meant to repack to fit things into the boot of the car. No big deal and we were able to get a good rest before our journey to Tampa and Busch Gardens.