Since we had got back to the room late the day before, we decided to sleep in and cancel our Yacht Club Galley breakfast. There were some leftovers from Tampa in the cooler so we had those for breakfast, followed by a chocolate croissant from the food court.
As it was a rather late start we decided not to go to MGM and tried to check out the Disney Outlet Stores. First was the one in the Orlando Premium Outlet Mall near the Dixie Stampede. The shop is rather new and had nice things (even some from 2007) which were mostly half price. We then went to the other one near Irlo Bronson which didn't have anything we really wanted. We then went grocery shopping and had a late lunch at a nearby Denny's.Back at the hotel we tried to relax a little since this was the night of the Princess and Pirate Party. We had never been to a "WDW party" before, so we were really excited about going.
We had a few snacks and then picked up new pirate ears for Tom at the hotel gift shop because the ones we had bought in Disneyland Paris were all over the place. They even sold the tiara I had bought in Paris for myself at the some of the Arribas brothers shops!
We went to the MK early, around 5pm. When we arrived at the Ticket and Transportation Center there were loads of Princesses and Pirates around, both young and a bit more grown up.Right at the turnstiles there were Cast Members with wristbands, treasure maps and treasure bags.
We were not really sure if we would go treasure hunting, but kept them anyway. First we went to get one of Disney's Photopass cards. It was used a lot during the rest of our stay!
It felt so good to be back in the MK. We strolled through the shops and took in all the smells and sounds of the MK. We went on the People Mover and it seemed like no time when it was 7pm and the party started.
We had so much fun watching all the Princesses and Pirates and had a lot of photos taken. In Frontierland we found a good spot to watch the parade. Wow, and what a parade it was. There were knights and princesses and princes on horseback, all the characters, a pirate ship and Jack Sparrow and even Tink found time to visit, sitting on a large treasure chest.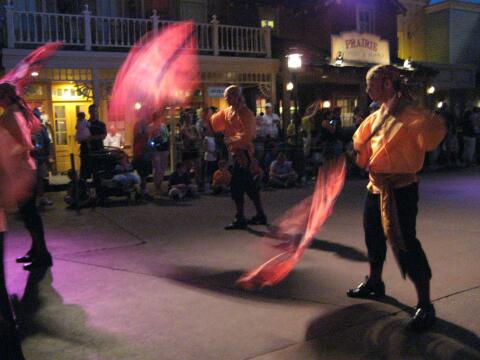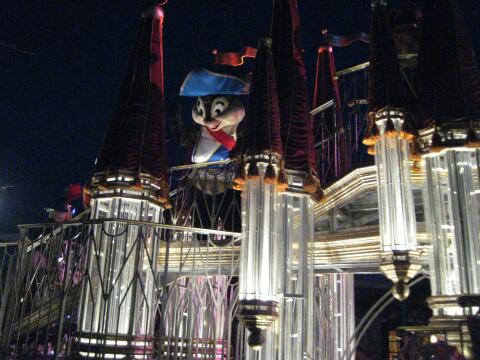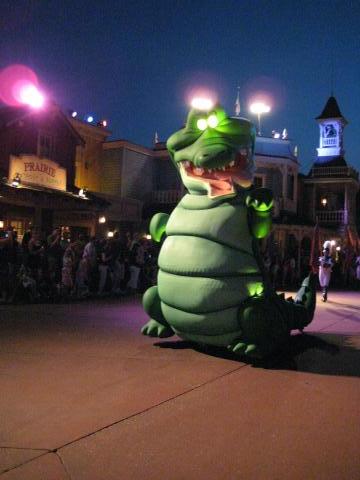 We were really thirsty after the parade and had a Coke at Pecos Bill. Our table was close to where they handed out the treasure. We sat there a lot longer than we had wanted to watching one particular Cast Member who interacted with every one of the guests. Every pirate had to say Arrrhhhhhhh and many guests who were not dressed up were adressed as Princess (even the men!). It was so much fun we decided we would go treasure hunting as well – and I am happy we did! It was so much fun!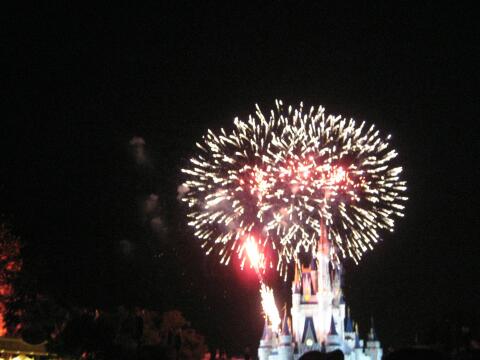 We started our treasure hunt at the Pecos Bill treasure spot, walked over to Big Thunder Mountain for a ride, then walked on Pirates of the Caribbean, walked towards the Flying Carpets and picked up treasure on the way. We went towards the hub then to watch the fireworks.
I have NEVER seen anything like it! Even the Cast Members were out on Main Street watching the fireworks!! They were just wonderful.
After the fireworks we went towards Tomorrowland and picked up a lot more treasure and went on Space Mountain with nearly no wait at all. It was time to go back to the hub to watch the show in front of the castle and it was great fun to see Cast Members playing games with guests.
The show was the same as they have on by day, but was real nice.
After the show we went towards Fantasyland and stopped at Cosmic Ray's to watch the kids dance with the characters. There were a few more treasure spots in Fantasyland and we could just walk on most of the rides. It's A Small World was nearly empty and even Peter Pan was a walk on.
The sidewalks were filled with pictures of pirate wands and crowns and treasure chests, treasure maps and skulls.
They had Cinderella's glass pumpkin out and the park was just full of characters. We left Fantasyland towards the Columbia Harbor House and picked up more treasure before we went back to Big Thunder. There were so few people on the rides, even though the park was full, that we rode it twice in a row within a few minutes. It was now going towards midnight and the end of the party. Splash was still open, so we tried and got in a boat all by ourselves, riding it with our pirate flag held high above our heads and laughing real hard in that laughing place. After riding Splash we headed towards the exit and even then Cast Members would have fun with guests and big smiles on their faces.
We got back to our room by 1am and could not stop laughing. We had such a blast. Mickey inspected his loot and we took photos of him to send to our friend Mary Ellen who had just a few more days before we would all meet in the Happiest Place on Earth. It was past two when we finally got to bed.