After a very short wait we were in the theater and the show started. It was just a lot of fun. We both laughed very hard. No pity for the guys who were picked on constantly during the show, just happy it was not us!

After that we picked up a Fastpass for Space Mountain and went on the Peoplemover. What an enjoyable ride this is. The view of the park was wonderful.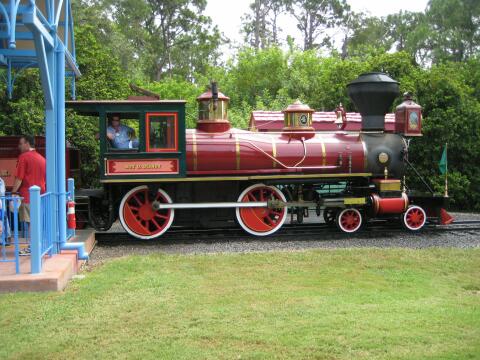 There was a very short line for Space Mountain, so we got in line and went on. Next stop was Toontown Fair.We used the walkway between Space Mountain and the Train Station in Toontown and were surprised to find it completely empty.Just when we came to the Train Station the Roy O. Disney Steamtrain rolled in.
Last year we had been on the Steamtrain Tour and had been able to climb on board the locomotive, so this was a special treat. We went past Mickey's and Minnie's house and looked around the large shop. On the way over to Fantasyland we passed a Mickey and Minnie pirate topiary. How cute they were!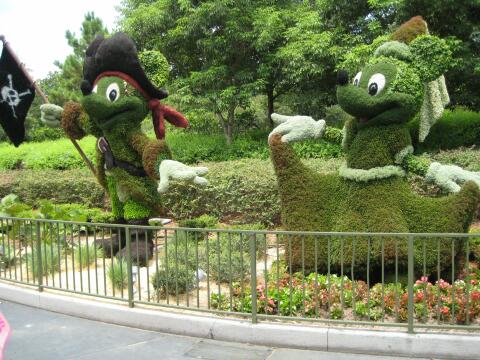 After walking right on the Mickey's Philharmagic show we slowly walked over to Liberty Tree Tavern, where we were seated nearly right away. Our lunch was disneylicious (delicious) as usual. Tom had the New England Pot Roast - braised beef in a cabernet wine and mushroom sauce
served with mashed potatoes and garden vegetables and I had the Pilgrims' Feast - traditional roast turkey with herb bread dressing, mashed potatoes and a garden vegetable. For dessert I had my favorite, the Chocolate Liberation Cake -- warm chocolate lava cake with raspberry sauce and cherry Chambord ice cream and
Tom tried the Butter Griddled Pound Cake -- served with warm pecan caramel sauce and vanilla bean ice cream. Yum, yum!!
We were stuffed when we left and right as we exited the Parade started and the Grand Marshalls went buy. There were not too many people there so we found a good spot and watched the parade.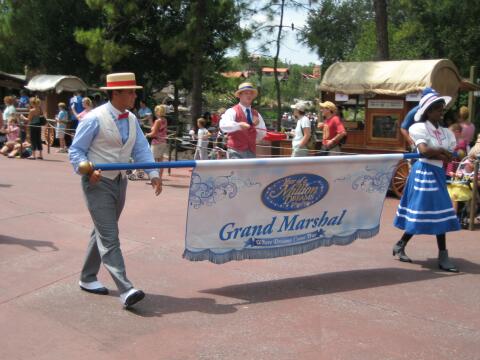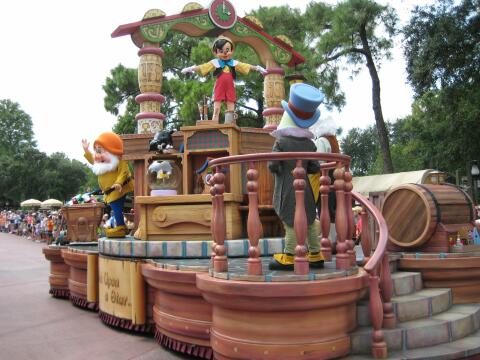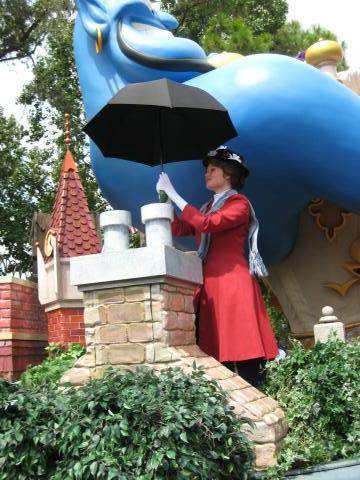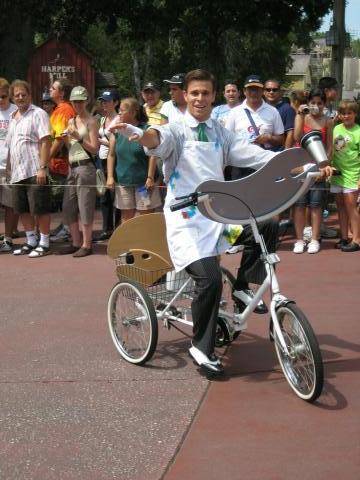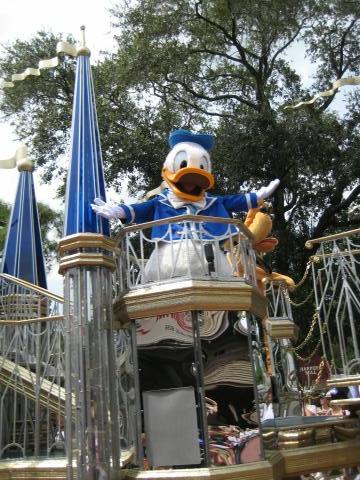 After that we went through Adventureland and over to Futureland and Space Mountain again to use our Fastpass. When we were heading for the exit we heard more Parade Music. The Family Fun Day Parade had just started, so we watched and cheered them on. By the end of the parade we both were rather tired and decided to go back to the hotel for a little rest.