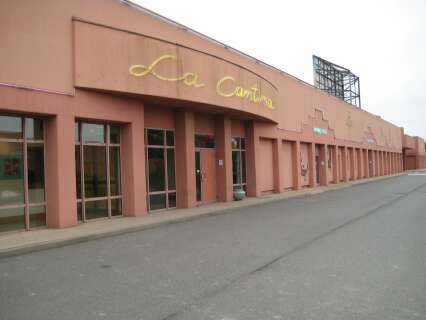 With your stay you get continental breakfast (even a hot breakfast at the more expensive hotels) and you can pick a card with a time on it when you should show up for your breakfast. Usually if you check into your hotel later in the day, all the good times for breakfast are gone, but we had been lucky with our 9.15 card. So right at 9.15 we went over to the restaurant to get in line for breakfast. Here we discovered that if you arrive at the assigned time, your card is like a fast pass!
There were actually two lines to queue up in, the fast one for people who came at their assigned time and a slooooooooow one for the ones who came either later or earlier than their assigned time. We picked up our tray and went to get our breakfast items. The buffet is well stocked, there are cereals, different cheeses and ham, French baguette, croissants and chocolate croissants and a lot of other things.
After having filled our trays we went to the seating area to find a table. The restaurant was full, but we did find a table, Tom went for our drinks, orange juice, café au lait for Tom and hot chocolate for me and then we started on stuffing ourselves. The breakfast was very yummy and we both enjoyed it very much. We needed to stock up on a few essentials, like drinks, baguette, some French cheese and sweets, so we went over to the Supermarket in Val d'Europe. Once we had what we needed we then went back to the hotel room, picked up the cameras and went to the bus stop to catch the bus to the park. When we arrived at the entrance to the park we were shocked that there were so many people. We wanted to do the Studios first, so we headed over there and found long lines for security check and turnstiles.
The park was so full. We went over to Rock'n'Rollercoaster and picked up a Fastpass before we went over to the other side of the park to get in line for the new Crush coaster. The line started right in the middle of the park – too long for me, sorry! So we thought we would try to do the backlot tour, but again we encountered a LONG line, more than an hour, too much for us especially for a ride we have been on many times before. So we went and explored the new Toon Studios. They look very sweet and lots of characters were out to greet guests. Next were the Art-shop and the shops in the Production Hall.
By then it was time to use our Rock'n'Rollercoaster Fastpass and it was good we had it because lines were so long we were stuck in the pre show room for 3 full runs of the short Aerosmith movie. The ride itself was fun as always. We then decided to change parks and go over to the Disneyland Park. Bad idea. The lines at the entrances were so long, people were queuing all the way past the ticket booths. Even the side entrances had long lines so we fled and went to the Disney village.
We had a look around the stores and thought it was time to have some lunch. Anette's Diner was our first choice – no thanks, people were lining up way outside the restaurant. We have been to a few Planet Hollywood Restaurants, but never to a Rainforest Café, so we thought we'd try something new and went to the Rainforest Café. There was a very short wait and we were shown to our table, right next to a plastic elephant which moved its trunk across our table from time to time. The elephant even "tooted" in regular intervals which made me laugh every time. Very silly feeling! Taking our order took some time, but shortly after we had gotten our drinks the food arrived. Tom had the Biggie Burger - a double fresh burger grilled to order and topped with bacon, onion rings and Cheddar. Garnished with tomato, pickle, Iceberg lettuce and Safari sauce while I had the Fish and Chips – filets of sole, crusted with bread crumbs, golden fried.
It was served with French fries and tartar sauce. Even though both were very nice we found them to be overpriced. We skipped dessert and tried to get into Disneyland Park again. This time we were successful.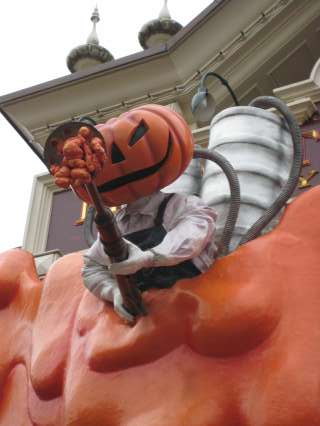 We were there just in time for the Stitch Halloween Parade, which is short and starts about 20 minutes before the regular parade. People were sitting at the edge of Main Street, so we tried to find a good spot to watch and about 5 minutes before the parade started the people who were sitting there started standing up – well, there goes your nice view. We decided to watch at our favourite spot, right at the end of the parade route. We had to cross the very crowded Town Square, but our favourite spot was nearly empty.
So that spot it was – and what a good choice it was, we had the most wonderful view!!
The Stitch parade has the Pink Witches and the Pumpkin Men marching in front of Stitch's float, followed by Lilo in a small car. A few minutes later the regular "Once Upon a Dream Parade" came by. Many of the floats stopped right in front of our spot, so we were lucky to take some really good photos.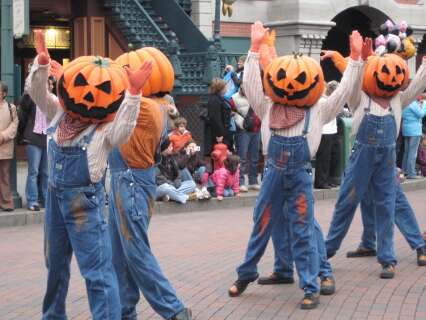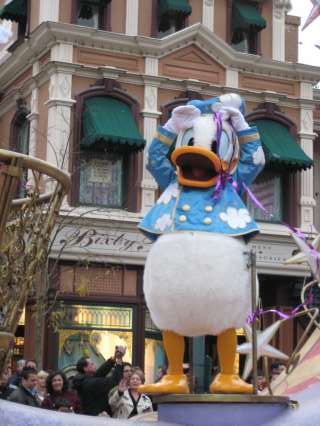 Donald rides on the first float with Mickey and Minnie and it was so much fun to see him getting back the bow tie which had fallen off . He tried to pick it up, but it was out of reach, so he decorated himself with the paper ribbons they were releasing!
The park was packed!! November 1 is a holiday and it seemed EVERYONE had decided to hit the parks. We went to the tip board, but wait times were VERY long, fastpasses were gone for the day, so we went to Walt's to book a table for the next day. We then left and went back to the Studios park. It was more crowded than usual, but still manageable.
I took a lot more photos of the new Tower of Terror which is supposed to open in early January. It looks great so far. We then tried Crush, but it was down, so we went over towards Rock 'n' Rollercoaster. When we went past the "Rendevouz de Stars" Restaurant Tom pointed out the new chef they had! Chef Remy!! So, in the park, where a mouse is the boss, a rat is the chef!!
Shorter line at Rock 'n' Rollercoaster, nice ride, but after it we were both tired and decided that even though the Disneyland Park was open until 10pm we would call it a day.
There was nothing one could do in the park with a "million" people in, so we went back to the hotel and had a picknick in the room. It was nice to just relax and snack while watching TV. We had an "early" night at around 11pm when we decided to turn off the light.