Breakfast in the park and a loooooooooong lunch at Walt's!
Tom had a bad night. His cough got really bad, especially since the air in the room was very dry. We had planned on hitting the Disneyland Park early for extra magic hours and breakfast in the park, but gave up the "early" part, so we both could have a little more sleep. Breakfast in the park is open to resort guests, who have signed up for it.
They give you a voucher at check in, which you use in order to get into the restaurant. Breakfast is served from 8 until 11.30 in the Chalet de Marionettes. We got up around 8, had a shower and got ready to leave. We decided to walk to the park to see how many people were there already. There is a separate entrance for resort guests with breakfast vouchers and the ones who want to go there for EMH. Loads of people were getting in line at the regular security line which was still blocked of, but the resort entrance had a fast moving line. Once inside we had to show our breakfast vouchers and resort ID in order to get into the park. Today it was still rather empty and I really enjoyed that. We strolled over to the Chalet de Marionettes and were surprised to find that the CMs were actually assigning you a table (this is a CS restaurant). This was a very nice change, because before that people were actually "fighting" for tables.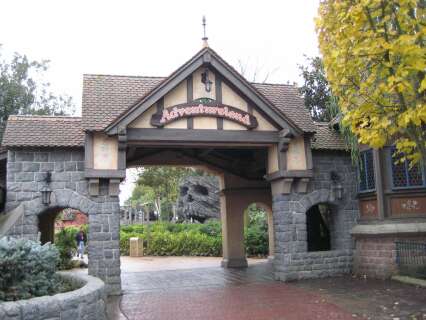 We had a nice small table, hung our coats over the chairs and went to pick up our breakfast items. This is self service as well and actually the same stuff they give you for breakfast in the hotel so we chose the same as the day before, ham, cheese, baguette, chocolate croissant, orange juice, coffee and hot chocolate.
After we had enjoyed our breakfast we went to see how much the park had filled up while we had been at the restaurant.Actually Fantasyland was rather full, but Adventureland and Frontierland were still manageable. So we went over to Big Thunder Mountain Railroad and picked up a FP. They should put up signs for how long the line for FP is, because it was LONG!! Next stop – Indiana Jones Coaster.
5 minute wait – good! We got to ride it twice in 15 minutes. Now that is my kind of a ride! Next stop was Pirates, which was another 5 minute wait. They squeezed us into the same row as another couple and it was a tight fit. But the ride itself was fun – even though I wish they would turn up the light just a little bit.It would be nice to see a little more of the scenes before the waterfall.
We then strolled through Fantasyland, explored the Christmas store and tried to find a spot for the Disney Villains' Halloween Showtime. This was the same show we had seen two days ago during the Halloween Party.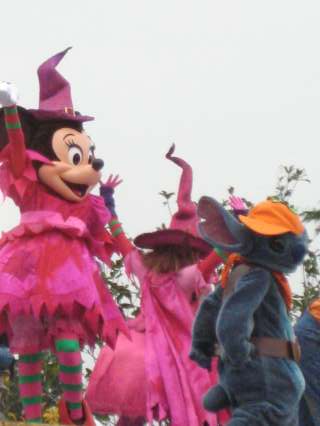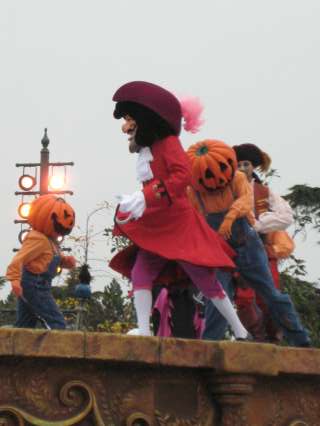 This time we had a really close spot and enjoyed the show very much. Towards the end some of the witches and pumpkin men handed out candy to the kids, which was really cute to watch. By that time it was nearly time for our reservation at Walt's but we wanted to pick up another FP for Space Mountain first. So, over to Discoveryland we went and encountered another LONG FP line.
It took us about 10 minutes to pick up the FP, so we then headed towards Main Street and went to check in at Walt's. We were told that even though we had a reservation there were no tables for two available and we would have to wait a bit.
I don't mind waiting a bit, so we went over to a counter to lean against and waited. The waiting area was full. They were booked solid. I have not seen so many people being turned away in a long time. Well, 15 minute passed, 30 minutes passed, still no table, it took AN HOUR until we were taken to our table. In the meantime we had even been outside to watch the character train go by!The seating area of this restaurant is upstairs and guess what, after waiting again on the upstairs landing we went past 4 empty tables for 2!!
We were supposed to be seated at the fifth of them, a really uncomfortable, tiny table right in the middle of the servers' path. Since there was a window table available I asked to be seated there, and the host had to go check and it took another while until we were actually seated at the window table.
Our server handed us the menu and took our drinks order. We ordered the 15th anniversary white wine and a bottle of water and started to study the menus. While waiting to order our food we watched the character train go by AGAIN! Tom ordered the Shrimp with Tapioca-like Pearl of Japan and Sea Foam as a starter. I chose the starter of the day, Pumpkin Soup, which was nice once the cream and parmesan melted into it, but still could have used a little more spice.
Tom mentioned that his starter could have used a little salt and pepper too. We both chose the Grilled Beef Sirloin, Béarnaise Sauce, mixed vegetables and roast potatoes. It was very yummy. By the time we had finished our main course we had been at the restaurant for nearly 2 ½ hours!! Service was very slow. We both had ordered dessert, Tom had the Oscar Ice-cream Sundae with Amaretto Biscuit, while I wanted to try the Gourmet Chocolate Dessert, which was really, really nice. But all in all we had spent about 3 hours at the restaurant!!
After that we went back to BTMR to try to use our then expired FPs, since they activated during our time at the restaurant. The CM wasn't too sure, but after she heard about our overly long experience at the restaurant, still let us in. The ride was awesome, as always. We then went over to the Silver Spur Steakhouse to make a dining reservation for the next day. The line for Phantom Manor was long again, so we passed it by.
Instead we went over to Space Mountain to ride it with our FP. The line at the FP entrance was long again, but once inside the line moved fast. We rode it, then watched a few trains "take off" before we went through Discoveryland and used the shortcut to Fantasyland. When arriving at the plaza at Pizzeria Bella Notte we noticed that you can clearly see the new ToT from there. I had to take a few photos. We strolled through Fantasyland and people watched a bit.
By that time, lines were long at all the rides so we strolled through the shops and had a fun conversation with a CM from Germany. We explored Adventureland at night and then walked over to Main Street to watch Candellabration.This is a show celebrating the lighting of the 15 candles on the castle. Mickey and some dancers have a show going on on the stage in front of the castle and the castle is lit in all different colours.
Then the candles are lit and TinkerBell at the top of the castles sprinkles everyone with a LOT of pixie dust. It is a really sweet show! Since it was really packed on Main Street with people trying to get back to the different lands, we decided to head back to hit the shops, pick up some of the things we wanted to buy and then head back to our hotel room. It had been a long day already and walking through the village even added to that, since we still stopped a few times to buy one or two other things there. Back at the hotel we were both glad we could relax on our beds. We had a little more snack food from the day before and were in bed by 11pm. We were both SO tired, Tom even more so, because he was still battling his cold which was getting even worse.