Tom had had another bad night battling his cold. We were lucky we had a later breakfast time, so we were able to sleep in a little. Right on time for breakfast at 9.15 we arrived at La Cantina and had a very nice breakfast. We met a family from Vienna and their little girl was very exited about going to the parks again and kept talking about her favourite moments all the time while we were having breakfast.
We wanted to try Rock' n' Rollercoaster, but when we arrived there, Lights, Motors, Action had just ended and people were streaming over to Rock' n' Rollercoaster. We decided to change parks. We went over to the Disneyland Park and rode Indiana Jones and Pirates, where we booked a table for lunch the following day at the Blue Lagoon, picked up a Fastpass for Big Thunder Mountain Railroad which was already for the late afternoon and then went back to Main Street.
There was a wristwatch, Tom wanted to have a closer look at and that's what we did. We had a closer look at it and I then purchased it as his Christmas Present. It is a limited edition, and we even received a 10% discount with our Annual Pass. How nice to have that. The discounts we got with it (20 % on merchandise and 10% on food at any location) have long paid for the actual price of it. We bought a few other bits and pieces and ended up with two bulky bags. You can have them delivered to the hotel but we didn't want to go hunting for them in the gift shop in the evening, so we took them with us and decided to take them home to the hotel.
The bus to the Santa Fe had just pulled out, but the one for the hotel Cheyenne, which is opposite the Santa Fe was just pulling in. There were only a handful of people and the thought of a seat on the bus was tempting, so we got on that bus. We went through the resort, took a few photos for my friend Mary Ellen (see summer 07 trip report) and had a look around their gift shop. We then put our bags into our room which had already been made, rested a little and went to take the bus back to the park.
We went to the Walt Disney Studios again. We weren't terribly hungry yet, but we had a dinner reservation at the Silver Spur Steakhouse, so if we wanted to eat anything we had to do it sooner rather than later. There is a restaurant to the right when you enter the Production Hall which sells McDonald's food. We joked about trying it again, because whenever we go there it never seems to work.
We got warm coke and cold fries once, another time the CM forgot the AP discount even after having being told twice, because he was talking to this girlfriend aso. So this time we were prepared to take our chances. We got in line, ordered two burgers, a Magic Cheeseburger and a Grilled Chicken Cheeseburger, two portions of fries and two diet cokes. We went to pick up the food and what do we get?
Two cokes and 4 burgers. We started to laugh, told the CM behind the counter what we had ordered, he had to go get someone to sort out the money and that was it. We found a table and had our lunch. Thank god we did. After lunch we went to pick up a Fastpass for Rock 'n' Rollercoaster but there was practically no line, so we went on the ride and when we left, we were able to see a part of the Cinema Parade.
Now it was time to go and get in line for Crush who was now open and had a REALLY LONG line. The signs said 90 minutes and 90 minutes it was. The ride itself is fun! You ride in a turtle shell, 4 people back to back. The ride cars spin and the ride is nice and fast. It is VERY WELL done.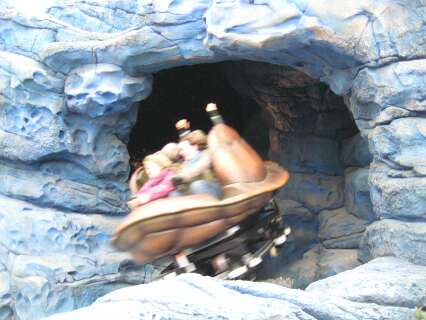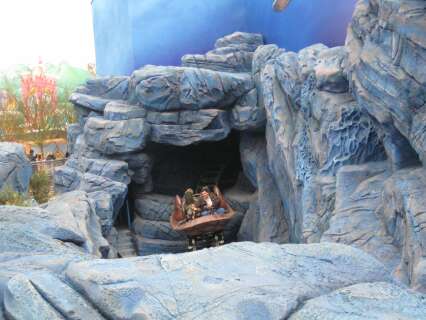 After that we went back to Rock 'n' Rollercoaster to use our Fastpass and while walking over there we noticed people peeking through a crack in the fencing in front of the soon to be opened Tower of Terror. I couldn't help but take a few photos. We have been waiting a long time for the Tower and seeing it progress is just so nice. We rode Rock' n' Rollercoaster, made one last trip through the store, picked up a few more goodies and went back over to the Disneyland Park.
Before we made our way over to the Silver Spur Steakhouse we went to Big Thunder Mountain Railroad, picked up another Fastpass and rode it with the other one we had picked up around midday.
By then it was already time for our dinner reservation. We went to check in at the restaurant and we were not on the reservation list. We talked to the Castmember and I told her that I had even asked about a written confirmation when we booked and didn't get one. She told us not to worry, she would seat us anyway. We waited for about 5 minutes for our table which was a nice round table towards the side of the restaurant.
It was a nice and quiet location. We skipped the starter in favour of dessert and ordered our main course. Tom had the Grilled Entrecote with fries and Barbeque Sauce, while I had the Grilled Sirloin Steak with fries and Sauce Bernaise. Both were VERY nice! For dessert Tom had the Apple and cinnamon crumble pie with caramel sauce and vanilla ice cream, while I wanted to try the Big Thunder ice cream sundae - Brownie, vanilla and chocolate ice cream with lots of whipped cream. Both were very yummy!! We were stuffed when we left. We had a look at how long the line was for Phantom Manor, but it was too long, so we strolled through Frontierland, over to Adventureland and got in line to ride the Indiana Jones Coaster. After that we went over to Pirates and rode that before we made our way to the castle to catch Candellabration again.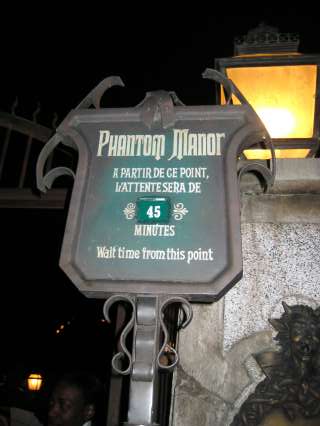 I tried to get a photos of TinkerBell dusting the park with pixie dust. I did get them, but I think I need to go there again and try again … hmmmm how hard this will be for us!! Going there again!!! We then went back to Frontierland, used our FP for Big Thunder Mountain Railroad and after that decided to call it a day. There were still a lot of people in the park, longer lines than usual and we still had to do the packing.
We slowly walked back to our resort, watched a little TV and packed all our things into our suitcases, so there was not too much left to do the following day, when it was already time to say goodbye again.