Downtown Disney – here we come!
We did sleep in that day, after having come in so late the day before. After debating about what to do that day we decided on having a late breakfast at Wolfgang Puck Express. So we got ready, found a parking spot close by and went to the restaurant.
Tom had his breakfast staple, Wolfgang's Breakfast Pocket - Scrambled eggs, peppers, Niman Ranch Bacon, onions, mushrooms, mozzarella and cheddar cheese baked into Wolfgang's pizza dough, with breakfast potatoes, some coffee and a berry juice. I had heard so much about the Crispy Cornflake French Toast - served with seasonal fruit and maple syrup, so I tried that. I ordered some tea and an orange juice to go with it. The portion was huge and there was no way for me to finish it. Once we had finished our breakfast we went through the shops again and did some more shopping, as there was only one more week of our vacation left. Instead of going to a park around midday we decided to drive to the Disney Outlet Mall and look for something we might have missed during our previous visits.
We did find a few more items, one of them being a Mickey ear bat hat for Tom for our next party and a few more other bits and pieces. Time just flew by and we made another stop to Pleasure Island. We looked through the shops, there was a sweet shop that had the funniest caramel apples, a cigar shop where Tom found some cigars he wanted to try and some shops with Disney souvenirs. We finally made it to Raglan Road and went in search for Cookes of Dublin. After we had had a good look around the Raglan Road shop we found Cookes. Even though it was past midday there were quite a few people in the restaurant. Tom and I studied the menu, then decided on our lunch.
Tom had the Georges Bank Atlantic Scallops, served with hand cut chips and their homemade tartar sauce and I ordered The Original One & One - Fish & Chips with their homemade tartar sauce. Our drinks were Diet Cokes again and we even found an indoor table, right opposite the counter where we had ordered our lunch. They prepared the dishes to order, so we had a little time to have a good look around and take in the small but unique restaurant.
After a few minutes our lunches were ready and they were really good. Tom had 6 large batter fried scallops which were really good, and so was my fish and chips. For our dessert we had ordered a Fresh Fruit Cup and the Fresh Mini Doughnuts. The Fruit Cup was tasteless with mushy grapes and watery melon and the Mini Doughnuts were tasteless and just pieces of fried dough. Next time we go back we will get another dessert, definitely. We were really stuffed and tired, so we decided to get back to our villa and spend the afternoon there. But before we did that we drove to the Boardwalk Resort and picked up the birthday cake we had ordered for a late birthday celebration.
A Mickey Head Cake! Once we were back at OKW there was another load of washing and drying to do and while Tom enjoyed the Jacuzzi I called Disney to book our next year's vacation. I needed to change our next cruises to other dates and 2 cruises instead of one and to change our Free Dining resort stay as well. After having finalized next year's vacation we relaxed on the couch and the balcony. We discussed staying in, but we still had a few more table service credits to spend, so by early evening we got changed and drove to Downtown Disney for the third time this day. Since we had to park close to the Cirque de Soleil, we really had to look hard for a parking space. We finally found one and walked towards Wolfgang Puck Café. It was packed and it felt good to know that we had a reservation as they were turning people without a reservation away. It took a few minutes to make it to the podium and sign in, but we were seated fairly quickly once we had signed in.
Our table was a four top towards the back of the restaurant right at a window with a wonderful view of the new balloon and the Saratoga Springs Resort. The restaurant was noisy and the server seemed a bit overworked. He greeted us, asked if we had questions concerning the menu and took our drinks order, more Diet Coke. It took quite some time until he came back, put the drinks on the table and brought out some Bread and butter.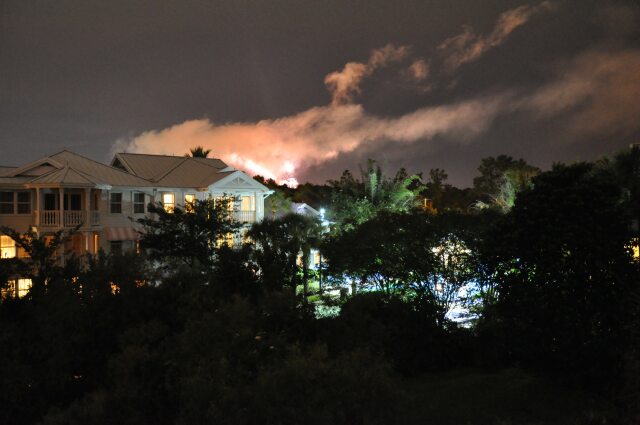 Unfortunately the bread had been sitting under a heat lamp for too long and was dry and bland. Tom ordered the Grilled Flat Iron Steak with Maytag Blue Cheese Butter - A great 10 oz flat iron steak with wild mushroom hash, Maytag blue cheese butter, crisp onion straw and French fries. I ordered the Chilean Salmon - Center cut filet of salmon, pan roasted with saffron whipped potatoes, asparagus and basil butter sauce. Both dishes were very good, Tom's steak was cooked perfectly and the salmon was very nice, but we were both still full from snacking during the afternoon. Since dessert was already paid for, we decided to at least try some. Tom had the Classic Carrot Cake- Homemade cream cheese icing with candied pecans. It was a really huge piece of cake and the icing was very nice, but he got nowhere near to finishing it.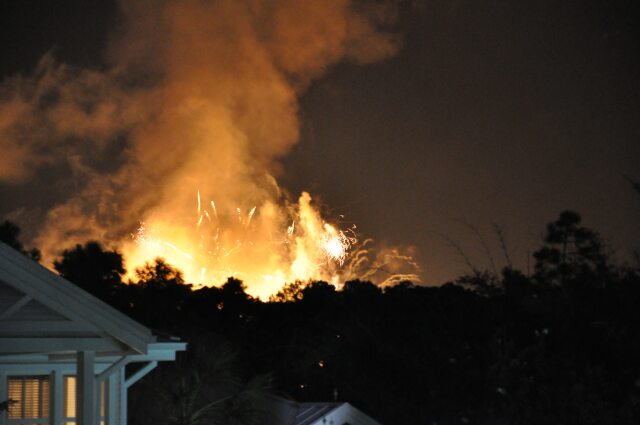 I tried the Florida Key Lime Pie - Swiss meringue with a buttery graham cracker crust. It really was a nice dessert but I was so full I only managed about half of it. Once we were finished and had settled the bill we very slowly walked back to the car and then straight back to Old Key West. We watched a little more TV and watched Illuminations from our balcony again before we called it a day and fell into bed.